Kids' stuff
Keene State's Young Entrepreneurs Academy teaches students how to turn a dream into a business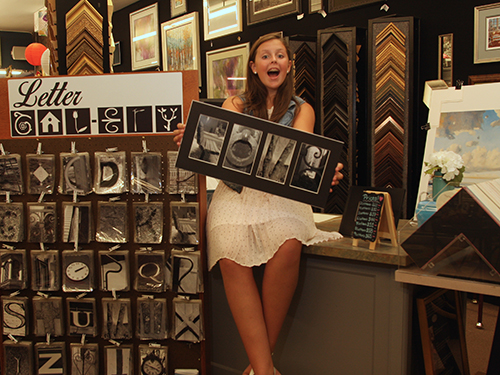 Some of the most successful businesses of our time were created by people under 30. Consider Steve Jobs, who founded Apple when he was 21, and co-founder Steve Wozniak, who was 26. Or Mark Zuckerberg, who started Facebook as a 20-year-old college student. Or Walmart founder Sam Walton, who opened his first variety store when he was 26. They all had something else in in common: They had a dream someone believed in.
The Young Entrepreneurs Academy, a program that gives middle- and high-school students a leg up in starting their own businesses, was piloted this January for the first time in New Hampshire, at Keene State College.
The academy teaches young people, in the 6th through 12th grades, the process of starting and running a legitimate business or social movement over the course of a full academic year.
The program was developed in 2004 at the University of Rochester and became a nonprofit organization four years later. Today, the national program is offered at 111 sites in 37 states, and it continues to expand. As of last year, YEA! graduated 2,298 students who have started more than 1,700 businesses and social movements.
Meredith Speranza, whose mother, Gayle Jagel, founded and is the CEO of the Young Entrepreneurs Academy, was the inspiration for the program. When Speranza was 7 and growing up in Rochester, N.Y., she wanted to start a dog-walking and grooming business.
"There were no resources to teach me how to start my own business," said Speranza. "My mother told me I needed to market what I did – I have vivid memories of putting brochures in mailboxes around the cul de sac."
Today, Speranza, who lives in Swanzey and works for C&S Wholesale Grocers as the company's talent and organizational development manager, is the instructor of the Young Entrepreneurs Academy in Keene.
The academy is open to students in Cheshire County and beyond. There are 16 students in the academy this year.
"Anyone can take this entrepreneurship class – it's hands-on," said Speranza. "They can dream as big as they want and turn anything they want into a business."
Prerequisite: 'passion'
The structure of the program is 29 weekly three-hour classes from November to May, which is how it will look this academic year.
"Students can just be thinking about a business, but they don't need an idea or any business experience to apply," she said. "They just have to have passion – something they love to do or are really good at. We can figure out where that special talent or skill intersects with a business opportunity." To apply, students must complete an essay, submit school transcripts, a letter of recommendation and attend an interview.
As the founding partner for New Hampshire, Keene State College is working with the Young Entrepreneurs Academy and the Greater Keene Chamber of Commerce to connect the region's middle- and high-school students with business and community leaders to help them develop their education in entrepreneurship before they attend college and enter the workforce.
Keene State is interested in developing the program throughout the state.
Over the course of the program, students brainstorm business ideas, write a business plan, interact with business professionals (who volunteer their time), take field trips to local businesses, pitch their business plan to potential investors, obtain funding, legally register their businesses, participate in a trade show and CEO roundtable and launch their own businesses or social movements.
During the first class, Speranza said there were 60 business ideas written on the chalkboard, and 10 of those businesses moved forward.
Among them were Samuel Foucher's Amé violins, (named for the French word "l'amé," which means "the soul"). Foucher, who has played the violin for two years, crafts his own in his workshop using hand tools and such locally-sourced woods as aged spruce and curly maple. Each one takes him about eight months.
"They're not factory-made, they are individualized and competitively priced," said Foucher. Foucher worked as an apprentice with a violin maker in Nelson and the experience inspired his business.
Mackenzie McGreer started a letter photography business (called Letter Gal-lery) that combines her love of her hometown and photography.
Her handmade gifts help people remember their visit to Keene using her custom-made photos that spell out words of the customer's choosing.
"The photos can incorporate things like local signs, architecture or nature – someone's happy memories or favorite landmarks," said McGreer. "They can spell out their own name with my photos, for example."
She sells her products online and free-standing displays in local retail stores.
Support needed
Among the 50 or so business professionals students heard from during the program were an attorney, who talked about legal structures for businesses and patents; a commercial accountant; an insurance firm representative; a banker, and professionals in marketing and media/communications.
"Students who required manufacturing services for their business researched who to call and set up a meeting," Speranza said. "That's where a mentor can play a huge role – in implementation of a product, helping someone figure out who will provide manufacturing, how and at what price. Students have to figure out the per-unit cost to set a retail price and look at monthly and yearly sales projections to determine when they will break even and make a profit."
Two of the students, Gabriel Andrus and Jake Dennis, did not expect the survival kit they developed would take them all the way to Phoenix. The Walpole middle-schoolers worked together to develop their business, Dash Kit, a product that is a collection of essential items (think nail clippers, lip balm, deodorant, toothbrush and bandages) in an enclosed case that can be kept in a vehicle console.
The business partners' idea was named the winner at the Young Entrepreneurs Academy's investor panel, a culminating event held in early May at Bensonwood Homes in Walpole that was modeled after the television show, "Shark Tank." The pair went on to compete in the Saunders Scholars Finals, the academy's national competition in Arizona.
During the investor panel, the budding CEOs pitched their businesses to a panel of investors that consisted of several business and organizational leaders from the Monadnock Region. Potential investors asked business owners such questions as the wholesale price of their product, whether they have local competitors and how they plan to expand their business.
Products and services pitched to the panel ranged from personalized computer tutorials to art supplies and frozen yogurt.
The majority of business owners asked investors for about $400 to augment funding from family and friends – Andrus and Dennis received $1,095 (they asked for $402) plus an anonymous $100 donation.
Dennis and Andrus had theories as to what made their business the winner. "We had proof of concept. We already made 32 sales," he said. "Plus it's very cheap to make – we have a high profit margin."
"We were confident in our pitch – we related to the audience," said Andrus. "Our product is very clear. There's no mystery."
Speranza said the YEA program needs funding, sponsorship and support in New Hampshire. Funding pays for everything from buses for field trips to money that is invested into businesses through the investor panel event at the end of the program.
Speranza said 50 percent of the students who graduate from the academy continue their business for at least a year after the end of the program, and 20 percent go on to start second or third businesses.
"Some may buy out their business partner or add different elements to their business," said Speranza. "Some will start small and get their product manufactured, others a few years from now may open their own retail store. The academy opens the door to a number of possibilities."