Kelly v. Sununu: on business issues
Gubernatorial candidates offer their stances in NHBR survey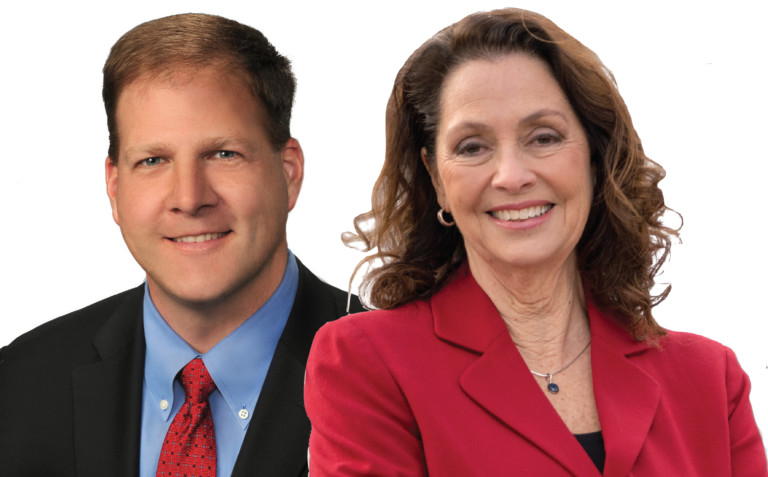 Labor, taxes, healthcare, energy, workforce. These are the concerns of and issues affecting businesses in New Hampshire, and that's what NH Business Review asked the two major party gubernatorial candidates about. Rather than tell you their positions, NH Business Review asked them to speak for themselves, which they did. Each had the exact same questions with the same wording and word limit.
Healthcare
Q. Would you make any changes in Medicaid expansion? Do you have any other healthcare proposals?
Kelly: I believe healthcare is a right for every person in New Hampshire. That's why I voted for Medicaid expansion that now covers 50,000 people in our state. I would make Medicaid expansion permanent.
Efforts in Washington to remove critical rights and protections made possible by the Affordable Care Act pose a severe threat to the health and well-being of Granite Staters. No one should face bankruptcy due to a medical emergency or be denied health insurance because they have a pre-existing condition. As governor, I will defend access to healthcare for Granite Staters with pre-existing conditions and make sure our healthcare system works for everyone in New Hampshire.
Further, as we face the possibility of the Supreme Court overturning Roe v. Wade, I will ensure New Hampshire remains a state that respects the reproductive rights of women, including by ensuring access to a safe, legal abortion. I will fight to make sure that New Hampshire funds Planned Parenthood and other family planning centers.
Sununu: As governor, I reauthorized a Medicaid expansion plan that protected taxpayers and the general fund, saved the federal taxpayers approximately $200 million, provided 50,000 Granite Staters with healthcare, stabilized our individual market and included a robust work requirement that will lift individuals out of poverty and provide them with workforce skills. I do not believe any changes are needed at this time.
Energy policy
Q. What is your policy on the role renewables play in New Hampshire's energy mix? Would you favor utilities funding, at ratepayers' risk, large energy projects if it might bring energy costs down?
Kelly: Our state's approach to energy is not working for most Granite Staters. Homeowners and renters are paying more to keep the lights on. Business owners are seeing their energy costs rise and are questioning their ability to keep doing business here.
Part of the problem is that the best interests of utilities and outside fossil fuel companies are coming ahead of Granite Staters. We have a choice: We can either look to the future or maintain the status quo — and pay the price.
I supported the two renewable energy bills that were vetoed. From Dover to Manchester to Franklin to Claremont, leaders across party lines want renewable energy, not just because it's good for the environment — but because it saves money, lowers rates and creates jobs.
We must prioritize energy efficiency and renewable energy. I know well how we can support clean, locally produced energy sources. Five years ago, I introduced and led to passage New Hampshire's first group net metering legislation.
We cannot keep exporting billions of dollars every year for foreign energy. Instead, we should produce more energy here at home, keep our money in our economy and attract more young people by building a robust clean energy economy.
Sununu: I believe in the power of the market to make newer technologies price competitive without long term subsidies, and as seen in New Hampshire, the market continues to drive the expansion of renewable energy. As stated in my 10 Year State Energy strategy, subsidies should be specific, time sensitive and technology neutral. While the PUC does allow for utilities to recover project costs through rates, we need to be sure the project is done right, in the New Hampshire way, and that we have protections in place to ensure the ratepayer isn't overly exposed. We should never place that risk solely on the ratepayer, especially without proper due-diligence.
Workforce
Q. What would you do to increase the availability of a skilled workforce? Would you use the unemployment trust fund or other state funding for workforce training or to reduce student loan burdens?
Kelly: Today, too many businesses in our state can't find skilled workers to fill available jobs. After all, employers are not seeking tax breaks — they want a prepared and educated workforce. My priority as governor will be to invest in education, job training and making college affordable.
I chaired the Governor's Advanced Manufacturing Council from 2008 to 2016, which developed detailed recommendations for ensuring workers could earn the skills they need to fill advanced manufacturing jobs. Industries and educators in New Hampshire cannot operate in silos; instead, we must ensure they communicate and collaborate so that the needs of businesses and workers alike can be met.
Further, tuition at public universities in New Hampshire is higher than in any other state, and our graduates have among the highest student loan debt totals in the country. Too many young people are leaving our state, which is why I would seek to expand the student loan repayment program and lower the cost of earning a degree. Our economy will benefit if young professionals can avoid shouldering tens of thousands of dollars in debt and instead buy a house and start a family in New Hampshire.
Sununu: As governor, I have already allocated $410,000 for New Hampshire's student loan repayment program for healthcare workers. Our most acute workforce needs are in healthcare, and I am working with the Community College System and University System to expand access and offering of nursing programs, creating on-ramps and off-ramps for individuals to continue their education and training on their own terms. I do not support using the unemployment trust fund for new workforce programs. My administration is working with private enterprise to leverage their expertise in innovating around existing government programs.
Taxes
Q. Would you extend or pull back cuts in the business profits tax and business enterprise tax? Would you favor targeted tax breaks for targeted industries or projects? How would you deal with the internet sales tax?
Kelly: While I would keep the business enterprise tax cut in place, I would repeal the business profits tax cut passed in 2017 that was largely a tax giveaway to the wealthiest corporations in New Hampshire. Instead, I would invest that revenue in a way that benefits businesses and workers, including in public education, job training and affordable college.
If I had called a special session to pass emergency legislation to support small businesses, I would have been working day and night to get the bill passed. I would have been in Concord, and not raising money at a partisan event two time zones away.
Sununu: I would not repeal or pull back the job-creating business tax cuts I signed into law last year. Tax relief is working for New Hampshire. More people are working than ever before in our state's history, we have one of the lowest unemployment rates in the country and the highest median income in America. Repealing these tax cuts would send us in the wrong direction.
I fought tirelessly to ensure that New Hampshire's small businesses would not be forced to collect internet sales tax by drafting legislation and calling the Legislature back for a special session. While a majority of the Democrats in the Legislature voted against the final bill, I will not stop fighting for our small businesses. We must protect the New Hampshire advantage.
Labor
Q. What would be your specific proposal for a family and medical leave insurance program? Would you support increasing the minimum wage, and if so by how much?
Kelly: Paid family and medical leave is about being with the people we love the most when they need us the most. It's about being with a newborn baby, caring for an elderly relative, or helping a loved one in an emergency. A paid family and medical leave program would also help aging workers stay in the workforce, increase the odds of success for working people recovering from substance misuse disorder and lead to higher workforce participation among new parents.
I support the bipartisan HB 628, which would have established a family and medical leave insurance program and passed the House three times. The Senate was ready to pass the bill until Chris Sununu killed it. He promised on the campaign trail to pass paid family and medical leave, but when he had his chance, he bailed on New Hampshire families.
I know what paid family and medical leave would mean for New Hampshire families. I understand the challenges everyday people face, because I've lived them. As governor, I will make paid family and medical leave a reality.
I support a New Hampshire minimum wage of $15 an hour, phased in over five years.
Sununu: While I support the concept of paid family and medical leave, I will not support an unsustainable program or one that would effectively create a backdoor income tax, such as the one proposed this year. I do not support a state minimum wage, and continue to believe that any change to the minimum wage should be done at the federal level.