Keeping a close eye on the environment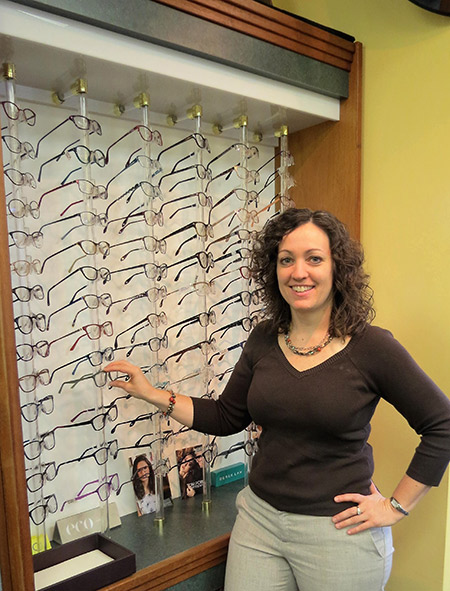 Optometry offices aren't often considered vanguards of sustainability, but don't tell that to the doctors and staff of Harbor Eyecare Center in Portsmouth. In fact, Harbor Eyecare is an optometry practice with a keen eye for sustainability.
Starting with a comprehensive renovation of the practice earlier this decade, there have been major efficiency upgrades, a full-on recycling program and a focus on sourcing recycled or used office materials. A few years ago, Harbor Eyecare moved directly into the green consumer arena by selling a line of frames made from recycled materials.
"With each financial decision we make, we ask if we are being more environmentally aware and promoting more sustainability," said co-owner Dr. Sarah Hudson.
When Hudson began her career almost two decades ago, she said that sustainability awareness was a non-priority in the eye care industry.
"It didn't exist. There was no mention of recycling plastic tops and glass
vials," she said. "There was no thought at all to the excessive waste in pack-aging. I would say in the last few years there has been a greater awareness. The industry has come a long way and now companies are making concentrated efforts to become greener."
A recent sustainability initiative has been equally significant for Hudson, founding co-owner Dr. Amy Pruszenski and their associate, Dr. Rinita Trahan. Harbor Eyecare offers MODO Eyewear, which has a line of frames made from 90 percent recycled material.
Hudson said that for every MODO frame sold, the U.S.-based company donates a frame to Seva, a charity organization that provides global eye care services in impoverished countries around the world. (Seva says it has helped restore eyesight to more than 4 million children and adults since its founding in 1978.) Additionally, with each frame sold, MODO donates to Trees for the Future, an organization that plants trees around the world, with an emphasis on Africa.
HEC is also involved with community charity work through partnerships with such service organizations as the Lion's Club and through community health centers like Families First Health & Support Center in Portsmouth. It is also a member of the Green Alliance, the Portsmouth-based organization that connects sustainably-minded consumers and businesses.
"When we do promotions, we try to do more than just increase our sales but to tie it to something positive," Hudson said.
Hudson said the firm's dedication to sustainable products and practices enhances Harbor Eyecare's mission to tackle all manner of patient issues that is equal parts friendly and professional.
"We know when we make a decision with the patient's best interest in mind it will always be the right one," Hudson said. "From there we can extend out and try to be a good member of our community, but it all starts with a healthy respect for those we welcome in as our patients."
NH Business Review's Sustainable Entrepreneurship series is run in partnership with the Green Alliance. To learn more about the alliance, visit greenalliance.biz.