Keene rezoning effort seeks to revitalize former manufacturing corridor
Residential, commercial, retail to be mixed in a walkable space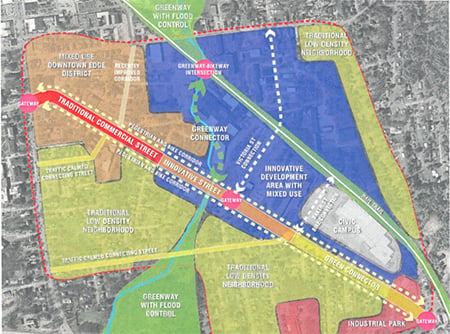 "If you build it, they will come," is the philosophy behind an initiative to rezone a Keene gateway neighborhood in serious need of revitalization.
A proposal unveiled four years ago to create an ordinance establishing three new zoning districts for the Marlboro Street area at Keene's eastern entrance (off Route 101) is nearing full city council approval.
The goal is to encourage new development and redevelopment of the area while preserving the character of the residential neighborhoods and improving the area's vibrancy.
Understanding the neighborhood's history gives context to how it's evolved into what it is today.
In the late 19th century through the early 1930s, Marlboro Street, close to Main Street and the Keene State College campus, ran alongside the Boston and Maine Railroad. A depot sat near the lower end of the street. Area businesses sold, transferred and shipped their wares all over New England, including a then-thriving Kingsbury Machine Tool Corp., which at its height manufactured special machinery for other manufacturers and employed more than 1,000 people.
Nearby, American Optical Co. made bomb sight assemblies. The Kingsbury property on Marlboro Street suffered repeated flooding and the 300,000-square-foot building failed.
"It was a major corridor," said Keene City Planner Michele Chalice. "It was based on industrial business, and our notion of acceptable industrial business has changed. The old smokestack businesses with a propensity for polluting became outdated. The zoning that allowed that no longer works."
What was left behind is a landscape Chalice described as visually challenging – bleak, even.
Three zoning districts
Four and a half years ago the project began with a $50,000 New Hampshire Community Planning Grant and city capital improvement funds to hire a committee of transportation, zoning and natural resources planners. Their task was to create a walkable place like downtown that caters to the roughly 500 corporate employees working in the area.
The committee came up with three proposed districts: residential preservation; business growth and re-use; and neighborhood business.
The new zoning would affect 256 properties totaling 266 acres. Existing businesses and homes would be grandfathered in if the new zoning is approved (with a change of use if applicable), city officials have said, and new construction or substantial modifications to existing structures will then follow the new regulations.
The residential preservation district is designed to provide, or re-create, a neighborhood of residential properties with a priority on family units while removing new group/boarding houses, apartment complexes, fraternity/sorority houses and institutional uses.
It also encourages the renovation of large older homes into B&Bs of five or fewer guest rooms and home ownership by allowing new duplexes. New duplexes will be potentially be allowed to achieve an increase in owner-occupied homes.
The business growth and reuse district focuses on allowing new technology companies and clean manufacturing, processing, assembling and wholesaling businesses that could co-exist with residential neighborhoods to set up shop in the area. It removes traditional smokestack industrial uses such as asphalt plants and adds the ability to mix uses, keeping research/development and corporate uses, but at smaller sizes encouraging a broader base of future businesses.
"We want to be able to update that zoning so that new technology companies coming in have the easiest, most efficient time possible," said Chalice.
The neighborhood business district is intended to create places for small businesses located right at the sidewalk to be supported by adjacent neighborhoods and workplaces and allowing smaller lots with residential units (apartments or condominiums) above the businesses and home occupations.
"We want residents and businesses to share parking with adjacent businesses," said Chalice. "These ultra-efficient buildings will benefit everybody."
New businesses, residents
Size limits of 3,500 to 5,000 square feet are designed to encourage multiple small business in these areas with a provision for additional height for new construction.
"We want to assure the first floor of a building can accommodate any flooding because (Marlboro Street) sits within a flood plain," said Chalice.
The zoning and regulations changes will also promote reuse and redevelopment of existing underutilized properties and improve stormwater management practices and access to public green space.
Another provision was made for a trail along Beaver Brook, which Marlboro Street crosses – part of the Cheshire Rail Trail system runs through it. Chalice hopes to see a greenway that connects people along the brook to Railroad Street (the location of the local co-op) and downtown.
"It's an amenity that would add positively to the visual aesthetic and offer community benefits," said Chalice.
In April 2016, the city's joint committee of planning board members and city councilors began a series of 10 public workshops to review and revise the details of the three proposed new zoning districts and in early July voted unanimously to recommend full council approval on the ordinance to establish them with accompanying rules and regulations.
The full council approval was tabled while language in the ordinance is clarified to allow the use of tax incentives in the area for encouraging new development.
Chalice said things are now in the home stretch. The joint committees are scheduled to meet in August to review the changes and hopefully approve the ordinance.
Once it's approved, Chalice said, economic development of the rezoned district to attract new businesses and residents is next.
"We want people to be able to walk to and from work, downtown or to the market," said Chalice. "We have a unique circumstance. The space is available right here to do this."