Keene railroad land project wins top Plan N.H. honor
Endicott Hotel, FIT housing project among other honorees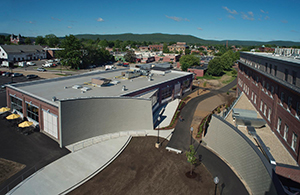 Plan New Hampshire has announced the 2014 recipients of Awards of Excellence for planning, design or development in the built environment:
Taking the Honor Award was the railroad land development in downtown Keene. An old B&M Railroad yard of about seven, mostly brownfield, acres is now a site that includes a restaurant, hotel, offices, a Cheshire Medical facility, eight condos, a food co-op, 55 rooms of living space for seniors and 24 living spaces for the workforce. With a bus stop, a bike path and walkable streets, the area is connected to the downtown and beyond.
The jury found this to be "an outstanding example of compact, mixed-use development where it can make a real difference for the community."
Owner: Monadnock Economic Development.
Key players: City of Keene, Daniel V. Scully Architects, George Hickey, Architect, CHA, SVE, Harvey Construction and Pro Con and Cheshire Builders.
A Merit Award was presented to The Endicott Hotel, located at the corner of Pleasant and South Main streets in Concord.
The building was erected in 1894 and was the first large commercial structure in the city on South Main Street and the first to be devoted completely to commercial use.
In 1994, CATCH Neighborhood Housing purchased The Endicott and redeveloped the property with market-rate living spaces above and continued commercial opportunities on the ground floor.
Jurors liked the idea of having choices for people to live in downtown Concord and were impressed with the thoughtful, comprehensive planning that went into this effort.
Owner: CATCH Neighborhood Housing.
Key players: CN Carley Associates, Steffenson Engineering, Nobis Engineering, Northway Bank, Cobb Hill Construction, Eclectica Design, Lavender and Lotus Interior Design, Renee Rucci Design and The Leading Edge Drapery.
Another Merit Award was presented to the Families in Transition Lowell Street Addition and Historic Renovation, 136 Lowell St., Manchester.
The work included demolition of a portion of an existing historic building and the construction of a three-story, 7,700-square-foot addition in its place. The remaining portion of the original building underwent a complete renovation.
Built in 1846, the house had undergone many renovations and additions through the years, most recently in the 1970s, when it was a halfway house for boys. Today, the property is a 12,300-square-foot facility that includes an administrator's office, a common kitchen and dining area, and 17 units of transitional living space for homeless women and their families.
Jurors were impressed with the rehabilitation of the original house, and the large addition on the back which blends beautifully visually from the street, and they recognized the planning that went into the project.
Owners: Families in Transition and Great Bridge Properties.
Key players: North Branch Construction, Burnell-Johnson Architects
An Honorable Mention was presented in recognition of the renovations to the Dearborn Memorial Building (Odd Fellows Hall) at 434 Lake Ave. in Manchester.
Built in 1908-9, the property was purchased by the city of Manchester in 2010 and was renovated for use by several human service agencies.
Owner: City of Manchester.
Key players: CMK Architects, Milestone Engineering, Pilot Construction (Phase 1 renovations)
Also receiving an Honorable Mention was the Memorial Bridge Replacement Public Outreach and Involvement effort.
The jury felt that it was an outstanding example of the significance of including as many people as possible in a community undertaking, especially those who believe their voice is not usually heard.
Owner: New Hampshire Department of Transportation and Maine Department of Transportation.
Key players: McFarland Johnson, HDR, and Archer Western Contractors.