Keene builder revives dormant family ski area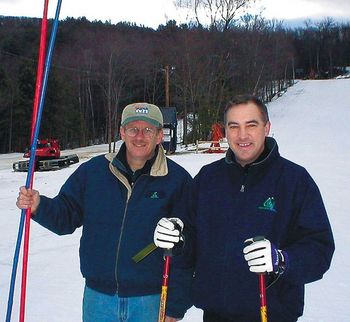 It's not often a businessman has the chance to rehabilitate a favorite childhood hangout, but for Fred Baybutt of Keene that's precisely what he's doing with Granite Gorge.
Baybutt, one of the members of the Baybutt Construction family, bought the former 200-acre Pinnacle Ski Area in 1999 and has revitalized an environment which sat dormant for more than a quarter century.
"I grew up skiing here as a kid," Baybutt said while giving a recent tour of Granite Gorge, which straddles the Roxbury and Keene town lines right off of Route 9. "Like many people in the Keene area, we had whole families who learned how to ski here, and I was fond of it. We bought the land because we believed the time was right to revive those family-based ski experiences for the region."
Even before the more than four years of a lengthy state and town permitting process, Baybutt and his crew began clearing trees and bushes from former trails that once served thousands of local skiers (on one recent winter day Baybutt could be seen halfway up an emerging slope trimming brush). One trail briefly opened at the end of last winter for skiers and snowboarders, and in December Granite Gorge officially opened with a limited schedule and two trails, with lights for night skiing, boarding and snow tubing.
The complex has one hand tow line, snowmaking equipment, a snow groomer and plans for a permanent lodge to replace the temporary trailer. Eventually, Granite Gorge will add five trails to the original five along with a 5-kilometer cross-country trail that will run along Otter Brook and the Otter Brook Dam area.
Slowly but surely, Baybutt said, his long-range vision is to create a small, first-class, family-oriented and — most importantly — local operation that will offer an alternative to the large, corporate-dominated ski resort industry.
"My family has had to calm me down because I've been so excited about this project," Baybutt said. "We have had to be careful with our marketing until we were set to go forward. (Because of the weather) we haven't had a chance to serve as many people as we'd like, but the initial feedback has been positive. And sure enough, I've seen people I grew up skiing with bring their children out."
Along with Crotched Mountain and Temple Mountain, the former Pinnacle Ski Area was one of a trio of small Monadnock Region ski operations that have been through a series of openings and closings over the past two decades as the ski industry shifted toward the resort model (according to the New England Lost Ski Areas Web site, there are more than 400 such locations in New England).
The area had become overgrown, its former building and bridge dilapidated, and became a haven for deer, which Baybutt said have been curious onlookers during the redevelopment process.
Baybutt and his family-based consortium bought the property for what he says was a "low six-figure amount" and has invested a "considerable amount" already in Granite Gorge's rebirth. He will keep the names of the original trails — Bunny Buster, Deer, Main Street Race, Jump Terrain Park and Headwall — and add new upper trails that will give some of them a 525-foot drop.
"The good news is we are debt-free and will expand slowly on a pay as we go basis," Baybutt said. "The one thing that has become abundantly clear is the beauty and potential of the mountain."
Another person coming back to the ski area is Chip Woodbury, the longtime ski coach at Keene High School, hired as director of ski operations — a title he held at Pinnacle.
"Chip brings an incredible amount of energy, knowledge, credibility and enthusiasm to Granite Gorge. He has helped bridge the past to the present," Baybutt said. Woodbury recently retired after 32 years of teaching and said he was planning a more leisurely retirement when Baybutt called.
"It's been fun for me planning what we are going to eventually do here. It will be something special," Woodbury said. "I taught many people how to ski here, and it's something to see them as parents bring their children here."
Granite Gorge is a commercial gamble, given the spotty history of small ski areas in New England. But Baybutt said he believes the time and geography are allowing for a comeback of Granite Gorge.
"The big ski resorts, the mega areas, aren't for everyone, and we aren't trying to do what they do," he said. "This is a niche place where a parent can safely drop off their kids for a few hours or the afternoon and they don't have to drive for hours or spend a lot of money. We are only five miles from downtown Keene, and there are a lot of skiers in the region. It used to be a fairly successful place and we believe it can be that again."