Keene-based MARKEM leaves its mark on the world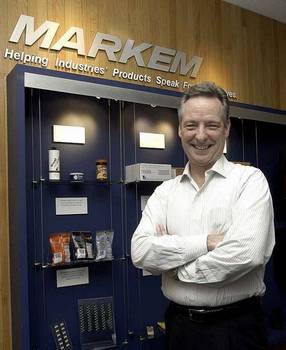 The creation nearly a century ago of a dye that would adhere to shoe leather proved to be more than just a foot in the door for one Keene business. In fact, continued innovation and an ability to adapt to an evolving global market have earned MARKEM Corp. recognition as a worldwide leader in product identification.
MARKEM, a maker of marking equipment, coding and identification products, software, supplies and product identification services, was founded in 1911 on a commitment to meet the changing needs of customers.
Originally located in Boston, the company moved to Keene in the early 1920s, when manufacturing demands outgrew existing space, bringing with it the sense of commitment and values instilled by company founder F.A. Putnam. Still led by members of the Putnam family, the same level of commitment extends to today's 1,300 employees and the worldwide communities MARKEM calls home, earning it recognition from Citizens Bank as this month's Not Your Typical Business award recipient.
"MARKEM strives to be a company where employees want to spend their careers," said Jim Whitaker, senior vice president of commercial banking at Citizens, adding that the company has been honored as being best large company to work for in the state. MARKEM was cited "as a company where people enjoy working," said Whitaker.
"This place is just phenomenal," said Kasandra Obuchowski, human resources business partner at MARKEM who has been with the company for more than 10 years. "The leadership inspires the people. We live by our fundamental behaviors of teamwork, collaboration and integrity."
"There's a level of integrity, of moral fiber, that comes from the family," said Rick Bangham, vice president of USA distribution. "Their value system is very focused on the customer and respect for people."
That respect is reflected in the loyalty of MARKEM's employees — more than 60 percent have been with the firm for over a decade. The company even has a quarter-century club for employees with more than 25 years' service. "You wouldn't believe how many people are in it – it's in the hundreds," said Bangham, himself a 27-year MARKEM veteran.
Maintaining a dedicated, capable workforce allows MARKEM to provide not just diverse and quality products, but exemplary service, and for Bill Eggers, packaging manager for Diamond Foods Inc. in Stockton, Calif., those products and customer service are responsible for the long working relationship between the two companies.
"MARKEM has always been a leader in technology, and they've always stood by their products," Eggers said.
A world view
While MARKEM got its start in the shoe industry, it's now difficult to come up with an industry it doesn't serve. From automobiles to food packaging and health and beauty aids to nutraceuticals and pharmaceuticals, MARKEM's mark can be found on everything from chipboard carton to flexible film and glass to pallets and plastic.
And with annual sales in the $300 million ballpark, it's clear MARKEM's customer service philosophy serves it well. According to Bangham, however, much of that credit also goes to the company's ability to look forward and understand that the entire world was a potential market.
"We're an American company and we're from New Hampshire, but as far back as the '20s the family could see that the whole world would need our products, and they expanded their business," said Bangham.
Headquartered in New Hampshire, MARKEM maintains development and manufacturing facilities in San Diego, Calif., England and Belgium. It also maintains a presence in more that 50 other countries. This, according to Bangham, has given MARKEM added financial security in an evolving world market.
In addition, continued advances in technology provide growth opportunities, according to Bangham, with the new "track and trace" industry igniting an explosion in the need for new products and services using a variety of traceability solutions, including radio frequency identification, or RFID.
MARKEM also has a deep-seated dedication to the communities it is located in, one that "really goes beyond what might be expected of a company. They really reach out," Citizens' Whitaker said.
The company works closely with the United Way and New Hampshire inventor Dean Kamen's FIRST, the national robotics program that introduces students to science and technology. It also most recently stepped up to the plate to aid those affected by October's floods, which devastated many in the Keene area. MARKEM executives also serve on the boards of local nonprofit organizations.
A well-known supporter of the arts, MARKEM was the primary contributor to Keene State College's Putnam Theater and was instrumental in the reconstruction and relocation of the college's Thorne-Sagendorph Art Gallery. MARKEM also has been involved in the remodeling of Keene's Colonial Theater on Main Street.
And the list goes on.
"One of our values is to be a valued member of the community," Bangham said. "We believe in being good corporate citizens."