Justice Conboy's retirement
For 25 years, she has served with distinction as a New Hampshire judge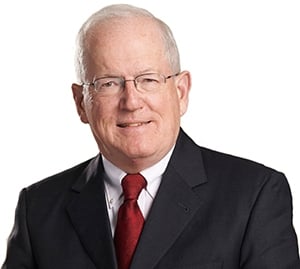 On April 13, at the Grappone Center in Concord, University of New Hampshire School of Law alumni and friends held a wonderful retirement party for Justice Carol Ann Conboy of the NH Supreme Court.
Having previously served on the Superior Court, Justice Conboy has served with distinction as a judge for 25 years.
While always gracious, she has made it known publicly that if she had her preference, she would continue to serve. Age has apparently gotten in the way!
Part 2, Article 78 of the state Constitution reads as follows, "No person shall hold the office of judge of any court, or judge of probate, or sheriff of any county, after he has attained the age of 70 years." Certainly Judge Conboy is not "he," but that detail apparently does not preclude the constitutional provision from applying to her!
Carol Ann Conboy did not come to the judiciary or practice of law in the typical way.
Prior to going to Franklin Pierce Law School (the name of the institution at the time she entered its third class of students in 1975), Justice Conboy served as an officer in the Air Force during the Vietnam War, was a high school teacher and a Phi Beta Kappa graduate of the University of Connecticut.
Conboy's loyalty to the UNH School of Law is indicated by her service for 23 years on its board of trustees. She continues to serve on the Dean's Advisory Council, along with other distinguished alumni.
At the reception prior to the dinner honoring Justice Conboy, her portrait was unveiled. The portrait, like many others of governors and prominent New Hampshire officials, is the product of Richard Whitney of Stoddard, perhaps the state's leading portrait artist and himself a distinguished alumnus of UNH. (Those interested should visit the Studios at Crescent Pond at 100 Chalet Drive in Stoddard or check out the website cresentpond.com). On April 27, Whitney's portrait of former Gov. Craig Benson will be unveiled at the State House at 2 p.m.
Interim Dean Jordan Budd of the law school chaired the dinner and addressed the crowd, made up of alumni, friends, attorneys and judges – a tough crowd to control!
After dinner, Douglas Wood, a 1976 graduate of the first class at the law school, a prominent New York City intellectual property and communications lawyer, spoke after Jack Middleton, Conboy's mentor at the McLane law firm, where Conboy worked prior to being appointed to the bench and after clerking for federal Judge Shane Devine, noted his affection and respect for her.
Finally, John Hutson, former dean of the UNH School of Law, retired Chief Navy Judge Advocate General and admiral, described his relationship with the justice and her contributions. They all presented the Distinguished Alumnus Award to her. Hutson will be remembered as having the vision, along with UNH President Mark Huddleston, to plan and implement the merger of the law school with UNH, which significantly strengthened the law school.
After all these accolades, Justice Conboy was gracious and thoughtful in her acceptance.
Chief Justice Linda Dalianis, who spoke at the portrait unveiling, herself will be subject to the constitutional retirement age soon.
Gov. Chris Sununu also attended the unveiling and gave remarks. It was not lost on anyone in the audience how much power he will have in replacing Justice Conboy, Justice Dalianis and perhaps one additional Supreme Court justice during his term as governor.
Governor Sununu has appointed a Judicial Selection Commission by executive order, as have most recent governors. Charles D. Douglas III, former Supreme Court justice, congressman and active Republican, chairs the commission, and Democrat Jack Sanders of the Pierce Atwood law firm, who previously has served on such commissions, is vice chair, giving the commission a great deal of experience. Lawyers and non-lawyers complete its membership. It will be instructive to see how the commission does its work in providing the governor with candidates for the many judicial positions that need filling in New Hampshire at all levels.
April 13 was a bittersweet event for Justice Conboy, but it was accomplished with great class, dignity and historic significance.
Brad Cook, a shareholder in the Manchester law firm of Sheehan Phinney Bass & Green, heads its government relations and estate planning groups.