Juno's successful Jupiter mission aided by Nanocomp
NH firm's Miralon material provides essential protection for journey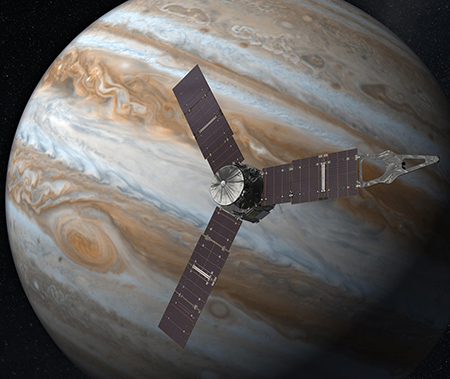 Nanocomp Technologies in Merrimack played a key role in ensuring the successful journey of the Juno space probe to Jupiter.
Nanocomp's Miralon sheet material was used to provide protection against electrostatic discharge, or ESD, as the spacecraft made its to the distant planet. Miralon acts as a surface layer on several components of the flight system's altitude control motor struts and the main engine housing.
Nanocomp worked with Lockheed Martin, the project's prime contractor, to integrate Miralon into the spacecraft during its development and construction.
Peter Antoinette, president of Nanocomp, said that by using the Miralon sheet layers, Lockheed Martin was able to implement electrostatic discharge protection directly into the composite, making the composite a more integral part of the spacecraft.
"The Juno spacecraft has many sensitive electronic systems that require ESD protection especially as it will be travelling through Jupiter's extremely strong radiation belts," said Antoinette.
He said that, on earth, the typical background radiation is about 0.39 RAD. NASA says over the course of its mission to Jupiter, Juno is expected to encounter cumulative radiation of 20,000,000 RAD, prompting the need for increased protection.
Juno launched in 2011 with a mission designed to increase understanding of how the Jupiter formed and the inner workings of the planet itself. Juno's elliptical orbit takes it over the planet's poles and just 3,000 miles over Jupiter's clouds, closer than any other spacecraft has come before.