John Gargasz of 10X Venture Partners
2014 Financial Executive of the Year winner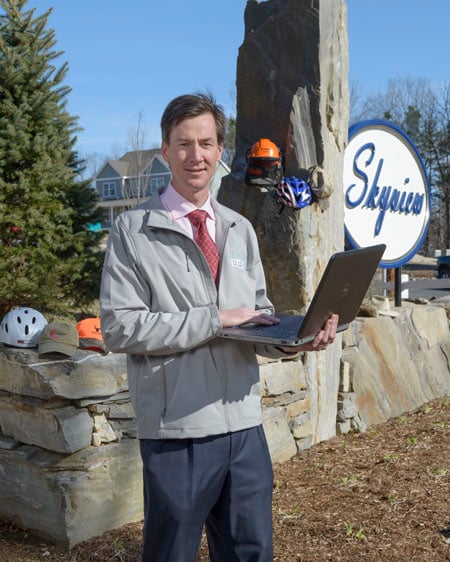 Six months, just six months. That's how long John Gargasz intended to work at his father's defense technology company, Codem Systems in Merrimack, after graduating with a mechanical engineering degree from the University of Colorado at Boulder.
Fate had other plans, though, and Gargasz ended up staying at Codem in various roles for a dozen years, until, in 2005, they had a successful exit when it was acquired by DRS Technologies.
"I would never have predicted I would be back in New Hampshire and working in the family business, but it turned out to be extraordinarily good fortune," said Gargasz, a Hollis native and father of two.
Gargasz stayed on with DRS for a couple of years, but realizing his own entrepreneurial bent, made his first investment in a Virginia company called Innovative Wireless Technologies, which he also joined as a staffer. From that he got the investing bug, and together with Matt Pierson, he started up 10X Venture Partners, an angel investment group based out of Merrimack that invests primarily in seed-stage companies within about a 90-mile radius.
The 10 or so angels make individual investments, and are all former operators or entrepreneurs – not finance types – meaning they all have in-the-trenches experience.
"That's one of our differentiators," he said. "The idea is we want to be able to advise and assist these companies with the tough lessons we've learned over the years so hopefully they don't make as many mistakes as we've made."
10X investors have stakes in several New Hampshire startups, including Mosaic Archive, ApplyKit, Nanocomp Technologies, and indirectly in Dyn through the Borealis Granite Fund.
In addition to his investing, Gargasz is a real estate developer – a role that he stepped into by mistake, when a developer to whom he had lent money defaulted on the loan. "We had to take collateral back on that loan, these three projects, then had to figure out how to be developers."
In the parlance of the tech world, he had to pivot – respond to a problem by changing it up and doing something differently. Founders "have all gone through those moments of despair and struggle," said Gargasz. "You just have to push through it."
Push through it he did, and now it's become more than just an aside; his Elkridge Real Estate Investors has hundreds of residential and commercial units in New Hampshire and Florida.
Gargasz is chair of advisory board of the Entrepreneurs Foundation of New Hampshire, which encourages Granite State entrepreneurs to make philanthropy a part of their business model in its early stages. Through the foundation, he serves as a mentor to New Hampshire nonprofits as they take entrepreneurial approaches to accomplishing their missions, and helps run Pitch Camp, an annual competition for nonprofit executives to compete for a chance at two $20,000 grants. He's also on the board of More Than Wheels, which helps low-income people buy cars and repair their credit.
Q. What has been your proudest accomplishment during your career?
A. The proudest accomplishments are the stuff you take from the depths of experiences of success, so from nearly being out of business at Codem to four years later selling a very profitable company, to one of our portfolio companies that was on the brink of extinction and that management team sticking with it, persevering, and now being a successful enterprise – it's those things that come toughest to you that you appreciate the most.
Q. What have been some of the biggest professional challenges you've faced in your career?
The biggest professional challenge is when you're put in situations where you have no ability to control the outcome. In a lot of entrepreneurial situations, you can change your product, you can change your price, adjust your marketing – that's all within your control – but when you're faced with things that leave you with no control, those are the biggest challenges.
Q. What are your hobbies and personal interests?
A. I love the outdoors. I'm a proud New Hampshire redneck. We do a lot of outdoor activities – hunting, skiing, I love going to Tuckerman Ravine, and sharing all that with my family. We just finished our maple sugaring at Loon Lake, where we have a house.
Q. What are some of the challenges and opportunities that you see on the horizon for 10X Venture Partners?
A. The (entrepreneurial) ecosystem is really on the rise and I look forward to the companies that are going to be formed. The cost of capital to form companies is way down given the infrastructure that's out there that can be leveraged, and the pace of innovation is moving faster.
For me, I am an entrepreneur, so I'm always looking forward to what the second half of my life brings. Maybe that will mean jumping back into something as an operator, not just an investor.