Joey Kramer picks Durham Marketplace to debut new coffee line
N.H. store is first outlet where Aerosmith drummer's single-serve cups are sold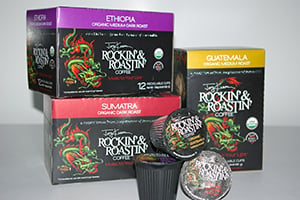 Durham Marketplace is the first venue for the single-serve version of Aerosmith drummer Joey Kramer's Rockin' & Roastin' Coffee lines.
"Packing the quality of Rockin' & Roastin' into the convenience of a single-serve model is sure to be a hit amongst our valued customers," said Chuck Cressy, the Durham store's owner.
The Marketplace was among the first outlets to feature the organic blends when they were first released in 2012, "and the grocer market and their support over the past year has been incredible," said Kramer, founder and CEO of the coffee company, which claims that its beans are grown using traditional shade methods that is better for the environment.
Kramer said he spent a year developing the single-cup version, which will debut in Durham alone.
"The problem with most single-serve cups is that they have a tendency to go stale quickly," said Kramer. "My main goal was to create a cup with an improved design that would ensure people would be tasting the same freshness they have come to expect."
The coffee, which retails for $7.99 per 12-cup box, comes in three varieties: a medium roast from Guatemala, a medium-dark roast from Ethiopia and a dark roast from Sumatra.