It's in the bag for Mirror Lake firm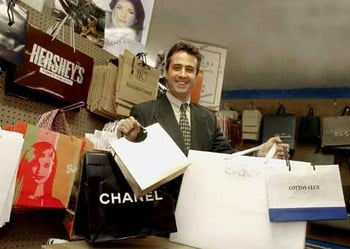 If you shopped for any Cartier, Estée Lauder, Gucci or Chanel gift items this past holiday season, you probably brought home a little bit of Mirror Lake, N.H., as well.
These high-end retailers join other internationally known brand names – including Montblanc, Movado, Sotheby's, Ralph Lauren, the New York Stock Exchange, J. Crew, Planet Hollywood, Apple Computers and Hershey – that work with a modest-looking New Hampshire business located outside Wolfeboro.
PAK 2000 makes high-quality packaging materials, and Claude Roessiger, the company's chairman, said his firm is probably the industry leader, annually grossing $60 million worldwide and making about 300 million bags (as well as other products) a year.
Roessiger said his office ended up in the Mirror Lake community "by accident." In the 1970s, he was working for a Swiss packaging firm that was looking to establish a facility in the United States.
"I knew I didn't want to be in an urban area," he recalled. "Packaging is usually not in the high rent district. It has a low margin so it winds up in a fairly rough area. Packaging plants tend to be in outlying industrial parks or developments or a gated facility. It's not in the best part of the city — you have employees coming to work with guns."
Still unsure what site he would choose, he was pleasantly surprised one fall day when he left his Wolfeboro home to attend a bank auction at a nearby cabinet-making plant.
"What do you do on an autumn Sunday in the Lakes Region? You go to an auction. So I went to an auction," he said. "I'm interested in woodworking machinery."
Roessiger bought a couple of pieces of equipment and noticed that the auction was winding down.
"Then when it looked like everything was gone, as everyone was drifting off, the auctioneer says, 'Wait a minute! There's still the land to be auctioned off,'" he laughed. "So now it's just him and me. And he says, it's a bank auction and the bank just wants to get the mortgage paid. I asked him how much was left on it. He told me what it was, and I said, 'Sold!'"
PAK 2000 renovated several of the small buildings on the property, hired a handful of employees and began operating a small manufacturing plant.
"We had it in a garage," he said. "We made nice bags with a good graphic style."
The company grew little by little. By the mid-1970s, it had about 25 employees and was grossing more than $2 million annually.
Then in the early 1980s, PAK 2000 became the first company to establish a high-quality shopping bag manufacturing plant in Asia.
"We became the first to offer high-quality paper bags in the U.S. market," Roessiger said. "And by end of 1980s we were at about $30 million in gross revenues annually."
In 1990, the company opened a manufacturing plant in Lancaster.
"We tried to manufacture high-quality paper shopping bags there, but economically it just didn't work," he said. The facility was later converted to make security bags used by financial institutions and retail businesses, which is a sideline at PAK 2000.
Then about eight years ago, the Swiss business that owned PAK 2000 sold its controlling interests to Asia Pulp and Paper, which is the No. 10 papermaker in the world.
Roessiger and the new management team soon took advantage of the opportunity and expanded.
"We established two manufacturing plants — one in Indonesia and one in China. They're the most capable in the world. They make the highest-quality packaging material the world has ever seen," he said. "Asia offers such advantages to us in terms of both quality and costs."
The quality of PAK 2000's products is particularly important because the company works with some of the largest, most prominent luxury brands in the world.
"We deal with the major commercial and consumer brands of the world – companies like Coach and Coca-Cola," Roessiger said. "You get involved with some very interesting people — people who are very serious about their brand image. And you participate with advice. But you know that it has to be perfect. It has to be well made. It's perfect, or it's not right. There's nothing in between."
Roessiger said it helps that he's the same kind of person, and that he hires people – particularly salespeople – who have a similar drive.
"I hate to have things 'not perfect,'" he said. "And that's the definition of luxury, isn't it? People who have the same idea do the best for our clients. Otherwise you wind up with a lot of misunderstandings. You need to have people who understand in an unusual way the business of our clients. You need people who speak the language of the clients."
Finding such employees in central New Hampshire can be a challenge, but it's not an insurmountable one, he said.
"You don't have a large pool to choose from, so it's more difficult to find them, but when you find people, they're just as good," Roessiger said. "We have lots of long-term employees, and I think that's the mark of a good company. We have a lot who have been here 10 or more years, some 20 or more, which is a lot when you think of how long we've been here."
There are currently about 40 PAK 2000 employees working at the Lancaster manufacturing plant and 40 more working at the worldwide headquarters at the Mirror Lake office. The sales and support staff of 25 brings the total number of North American employees to more than 100.
Roessiger expects PAK 2000 to reach $100 million in gross sales within the next four years.
The company is looking to hire more people as it continues to grow. PAK 2000 recently began moving into the area of "primary packaging," which is the packaging supplied by the manufacturer with the product. For PAK 2000's customers, that means high-quality items like wooden and high-end cardboard jewelry boxes.
"We want to be A-to-Z in all packaging, including primary packaging," Roessiger said. "We're broadening our product line, which will allow us to expand our sales to current clients and add new accounts."