Is your community business-friendly?
Thanks to its retention strategy, Rochester answers, 'Yes'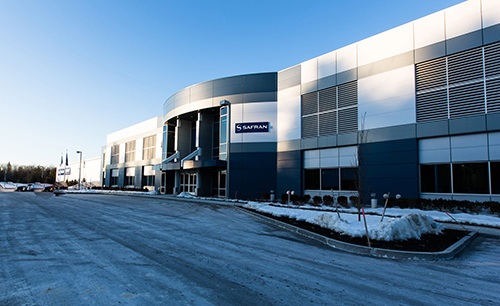 In 2012, the city of Rochester made headlines when a division of U.S. Albany International Corp. and the French firm Safran Engineered Composites named Rochester as the location for a state-of-the-art aerospace composites facility.
The storyline emphasized the dramatic impact this achievement would have on the local economy: hundreds of new skilled and semi-skilled jobs locally and hundreds more statewide; many tens of millions generated in annual payroll; and, of course, an enormous boost to civic pride and future community growth.
It also detailed the many collaborations among public and private interests required to push through the deal.
What didn't make headlines is the fact that when Karen Pollard, the city's key municipal point person on the Albany-Safran deal, arrived in Rochester a decade earlier, it had no commercial zoning and no economic development office.
Today, Rochester is a city on the move. It has multiple office and industrial parks, including Granite State Industrial Park, where Safran and Albany reside, a 2 million-square-foot shopping district underway on Route 11, and a far more modest office space on Wakefield Street where Economic Development Manager Pollard and her staff of three continue to rewrite the manual on innovative local economic development.
But the real change has taken place not only in the realm of bricks and mortar, but also in the city's development culture. Without this, the blockbuster deals wouldn't have happened and neither would the less spectacular, yet steadily impressive, job growth the area has enjoyed. Rochester's positive mojo owes to several simple, but effective, decisions Pollard's team has made.
One-stop shopping
"'No' used to be the first thing out of everybody's mouth," quips Pollard about her early years on the job. "Now we want to see how we can get to 'yes.' Cities have a lot of approval processes. We can't avoid that. But we can do so much more to help prospective firms navigate any roadblocks by providing more personal attention."
Offering such a level of service requires specialized knowledge about a wide range of planning and regulatory issues, including building, zoning and licensing. To bring this skill set in-house, staffers Michelle Mears and Jennifer Murphy Aubin were sent to the Economic Development Academy, or EDA. Developed and run by UNH Cooperative Extension, the EDA brings planning and development professionals from around the state together with extension faculty and other experts to share best practices.
"The idea is to implement what you learn there," says Aubin, who, along with Mears, used the EDA to create an "interactive economic development toolkit" that prospective businesses and even large-scale developers can use to streamline the process of opening for business.
And, once the firm does open for business, Pollard's team keeps them on its radar through such programs as the quarterly Seacoast Manufacturers Exchange, a network of businesses that focuses on professional development, training and basic problem-solving.
"If there are things that need to be done, we do it," says Pollard.
At a recent meeting, several dozen members toured the Great Bay Community College Advanced Technology and Training Center in Rochester. Great Bay is one of several colleges, including Granite State College and Southern New Hampshire University, as well as UNH Cooperative Extension, that offer general degree programs as well as specialized skills training "in almost anything you can imagine," Pollard says.
"Building the Advanced Technology and Academic Center at Rochester's Great Bay Community College facility was critical to the Albany and Safran deal," says Bruce Baker, the center's director. "Now we offer classes to dozens of other firms who are referred to us or who we meet through Karen's networking events. She's a real bridge-builder and relationship-maker."
Community connection
Recently, Pollard partnered with other civic organizations to secure funding for a Branding and Wayfinding Program that will help visitors and locals, alike, find their way among the parks, commons, shops, fairground, schools and other public places comprised by the city's sprawling over 46-square-mile area.
They've collaborated with main street businesses on zoning changes and encouraging public art spaces into the downtown and public buildings. They've expanded their scholarship program to help creative professionals turn their talents into business ventures and help one-on-one with site selection and approvals for new entrepreneurs.
"Our success in attracting new business owes to the sense of longevity of the companies we already have," says Pollard. "People want to feel some level of security in their jobs. This is critical to our sense of how business and community work together."
Andre Garron, state specialist in economic development for UNH Cooperative Extension, works with business, industry and communities to strengthen the state's economy. This article is part of a collaboration between UNH Cooperative Extension and NH Business Review.