Is ACA the first step in ending employer-based health care?
Current system's viability is a topic at NHBR Health Care Forum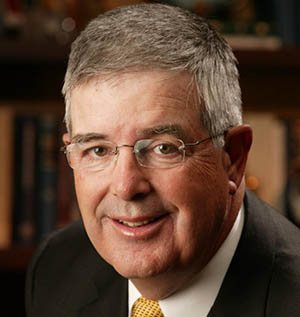 The Affordable Care Act might eventually result in the end of the nation's employer-based health system, and that might not be so bad, said Stan Hupfeld, an author, former hospital CEO and the keynote speaker at NHBR's Health Care Forum, held Tuesday at the Grappone Conference Center in Concord.
Businesses have striven to maintain employee coverage for years despite higher costs, trying to straddle the realities of higher premiums, lower benefits, restricted provider access and higher deductibles. "This is an expensive benefit that you are providing an employee and all you get is grief," Hupfeld told the audience of about 300. "It's a huge human resource headache and the first chance to get out of this, you are going to take it."
The Affordable Care Act might be a way out, he said, since starting Tuesday individual coverage will be offered to those who can't get coverage through their employers.
Employers with fewer than 50 full-time equivalent employees – as defined under the law – will be under no obligation to provide the coverage. And those with over 50 might find it less expensive to pay an annual fine of $2,000 or $3,000 than offer coverage.
Hupfeld said employers might be tempted to pay the fine and even give employees a small stipend to purchase insurance on the exchange.
"It's a pretty easy step to write a check and tell your employee, 'Just go buy some insurance,'" Hupfeld said.
"Why do we (businesses) provide health care? Because we can't hire people without it," he said. "But what if everyone is in the same boat? The first time a competitor sends them to the Internet and they can still compete, that's when you are going to make the same decision – and the history of employment-based system will be over."
Several panelists who followed Hupfeld agreed, but added that the shift will be a long time in coming.
"Why am I buying something for someone else when no matter what you pick, you get grief?" seconded Mike Melville, CEO of IntelliSoft Group, a Nashua firm with 38 employees. "No good deed goes unpunished."
Still, he said, for now his employees expect coverage to continue.
"My folks won't go onto the exchange anytime soon," he said, but agreed that employers will start moving away from such coverage "in maybe less than 10 years. And that will probably be a good thing."
Connie Roy-Czyzowski, vice president of human resources at Concord-based Northeast Delta Dental, agreed that it will happen eventually but said it may take longer than a decade.
Northeast Delta Dental, which pays 100 percent of an employee's coverage and 75 percent of family members, offers a Health Reimbursement Account to fill in the deductibles.
Such benefits are costly, said Roy-Czyzowski, but they provide the necessary "competitive edge" businesses need to attract good employees.
Besides, she said, the end of the employer-based system might not result in the kind of cost reductions employers might expect.
"We've been sending benefit statements to employees for 10 years. They know what their benefits are worth," she said. "If we push them off the health plan, they are going to expect the same in compensation."
And if a company increases wages and foregoes providing health benefits, both the employer and the employee lose tax benefits.
"There will have to be a lot more changes than there are now before employers are comfortable" just sending people to the exchange, she said.