Is a severe labor shortage in the cards?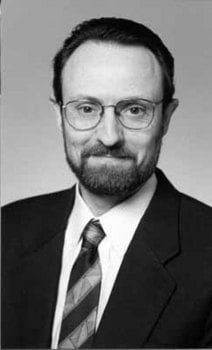 By 2010 the number of U.S. jobs will outstrip the number of workers by 10 million, according to the U.S. Bureau of Labor Statistics. And by 2030, the agency reports, that number may jump to 35 million.
But some economists believe the labor shortage will not be as severe as predicted because baby boomers are living and working longer, and larger cohorts are waiting in the wings.
For two New Hampshire human resources experts, the impending worker shortage may not be as severe as some forecasters say, but there is still cause for concern. They say the solution is obvious – keep the employees you have and start training your future workers now.
Dianne Durkin, president of the Portsmouth training and consulting firm Loyalty Factor, already sees of the labor shortage: "Specialized information technology and biotechnology fields continue to be difficult positions to fill. Health care, lower-wage jobs — they can't find people."
And while Ross Gittell, economist and professor of management at the University of New Hampshire, issued a caution about forecasting labor conditions, he said employers should be concerned about the trend.
"Most of our highly educated folks are baby boomers and are retiring," he said, adding that while the looming shortage is something to watch "it's not a crisis, and we have time."
Chief among the labor shortage doubters is Peter Cappelli, a professor at the Wharton School at the University of Pennsylvania and director of its Center for Human Resources.
In his landmark and provocative August 2003 study, "Will There Really Be a Labor Shortage?" he claims that the labor force will actually grow.
"The Bureau of Labor Statistics estimates that the labor force will grow from 153 million in 2000 to 159 million in 2010. The assertion that the labor force will be smaller in the years ahead is simply wrong," writes Cappelli.
In fact, Cappelli told New Hampshire Business Review, what employers are calling a shortage has to do more with wages than workers.
"You have to ask people what they mean by 'shortage.' If they're having trouble finding people at the price they want to pay, that's one thing, but that's not a shortage. There is no evidence of an upcoming labor shortage."
While many employers and analysts point to the size of the baby boom generation – there are 73 million boomers — "it's not that huge, and the group below age 20, the so-called 'echo boom,' is more like the baby boom in size," said Cappelli, suggesting that there are plenty of workers in the pipeline.
Cappelli said he has heard companies complain that they're hiring like mad and can't keep up, so they assume there must be a shortage.
"The problem is, their employees are leaving out the back door. It's like bailing out a sinking boat without plugging the leak."
Changing views
But are those future workers learning the skills they need?
According to Durkin, colleges and universities appear to be out of synch with employers, which could contribute to a labor shortage.
"The skills students are learning now don't meet job needs," said Durkin. "Leadership skills, decision-making skills, customer relations. Employers need these."
"We have a very high high school dropout rate for a state with such a high standard of living," said Gittell. "We need to encourage young people to go into science and engineering. There is a shortage in high-level engineers and in computers."
But, according to Cappelli, "employers have historically complained that students are ill-prepared for the workplace. They have changed their view on what they want. They used to want raw material that they could mold. Now they want folks that can hit the ground running. That is remarkably different than in the past."
In fact, he said, evidence shows that educational performance has been rising since 1978. "There is no evidence that schools are doing anything worse and there is, in fact, plenty of evidence that says schools are doing better at preparing students."
Cappelli writes in his 2003 study that "the overall number of college graduates in the period since the baby bust cohort (the cohort immediately following the baby boomers) left high school has actually risen because more students who might not otherwise have gone to college are being pulled up into the system, including others from older cohorts who have come back … IT enrollments have exploded, and those much larger graduating classes are entering the labor force just at the point when the demand for IT workers has collapsed, creating a surplus of labor."
Furthermore, "the U.S. Department of Education projections suggest slow but steady growth in all degrees through the foreseeable future."
Some solutions?
According to Durkin many of the companies she speaks with are not hiring, not so much because there are not enough workers, but because they can't afford to pay them.
"They are focused on profit margins," she said.
Cappelli said that businesses are having a more difficult time passing the costs of wage increases on, so they don't raise wages, and consequently they encounter hiring difficulties. But this is not evidence of a worker shortage, he said.
"There is nothing funny going on in the demographics. Who you hear complaining are consultants selling solutions and employers who want to hire cheaper labor," he said.
Where Durkin and Cappelli do find room for agreement is in labor shortages in nursing and in lower-wage positions.
"In the medical field, nursing in particular, they can't find people," said Durkin. "With the baby boomers now starting to turn 65, we need more caretakers as the population ages, but younger workers are not finding that to be a desirable career."
U.S. Labor Department estimates predict a nursing shortage of about 275,000 by 2010 – numbers that may nearly double by 2020.
Cappelli writes in his 2003 study that the industry may be to blame for the alarming nursing shortage. "Resource constraints have prevented wages from rising enough to attract more employees while regulations and old-fashioned thinking on the part of management have limited the ability to make nursing positions more attractive in other ways."
While not as severe as the nursing shortage, service industry employers are already finding it hard to attract workers, according to Durkin.
"I have anecdotes from McDonald's. They can't find people. People say they do not want the 'menial' jobs," she said.
To fill these positions, Durkin said that employers are "looking at non-English-speaking workers."
Cappelli writes that there are two problems in looking to immigration to ease labor shortages. Immigration "suffers from inevitable time lags," making it "hard to time exactly when to initiate the process," he said.
The labor supply also may have inherent problems in that it holds wages down, which stagnates the growth of living standards – neither of which is good for the economy, said Cappelli.
What can New Hampshire companies do to protect themselves against labor market fluctuations? Durkin and Gittell point to better education, and all three suggested better hiring practices.
Durkin and Gittell both said they would like to see more partnerships between education and employers. "Employers need to invest in their employees and upgrade their current skills," said Gittell, adding that improvements in access to higher education with tuition support and incentives to stay in New Hampshire after graduation may help stave off problems.
To Cappelli, companies need to improve their recruiting practices. "They need to do more of it. Companies hire from outside now, so they need to do a better job of looking for candidates. This hasn't been a competency in a decade," he said.
Durkin said employers also need to get creative in their staffing. For instance, "many baby boomers would like to work part time or work flexible hours as consultants," she said.
Another solution is for companies to implement retention programs and look to their older employees as a resource. "There is a problem retaining college-educated people in this state as they move to larger markets and warmer climates," said Gittell.
Durkin said companies need to place more emphasis on retaining their older workers. "They have the skill sets a company needs, especially those business contacts and relationships," she said. "The potential brain drain is huge."
But that potential only becomes a reality if employers create it, countered Cappelli. "The baby boomers are not going to retire all at once. And there shouldn't be a problem unless employers push them out. There is only a problem if employers make it a problem," he said.