Iran OKs more intrusive nuke checks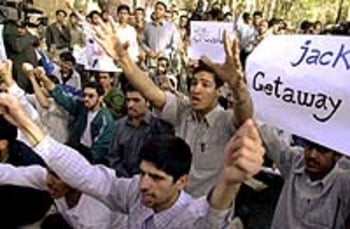 The announcement came after weeks of pressure on Iran to meet an Oct. 31 deadline to come clean on its nuclear program, which Washington believes aims to build a nuclear arsenal. The United States – which has led the charge for the U.N. Security Council to take action against Tehran – gave a cautious welcome.
If Iran follows through with its promises, it "would be a positive step in the right direction," White House press secretary Scott McClellan said. "Full compliance by Iran will now be essential."
Iran, which says its nuclear programs aims only for electricity production, made the commitments after three European foreign ministers came to Iran to press the demands by the U.N. International Atomic Energy Agency. Tehran did not say when it would take the steps, though a British official said it would likely be before the deadline.
Iran also agreed to hand over other information long sought by the IAEA, said diplomats in Vienna, where the IAEA is based. Most importantly, said the diplomats, who spoke on condition of anonymity, Iran promised to account for the origin of traces of weapons-grade uranium IAEA inspectors discovered at two facilities, raising alarm bells in Vienna and Washington.
IAEA head Mohamed ElBaradei has called those traces, found in environmental samples, the most troubling aspect of Iran's nuclear activities. Iran says the contamination was on equipment it imported for peaceful nuclear purposes, but it resisted IAEA requests that it name the country of origin. Once the agency knows where the equipment comes from, it can test the truth of Iran's claims.
The direct intervention by the foreign ministers of Britain, Germany and France – who flew to Tehran for talks Tuesday, after which Iranian officials announced their promises – highlighted the differing strategies Europe and Washington have toward Iran's Islamic government.
The United States characterized Iran as part of an "axis of evil" – alongside Iraq, whose regime U.S. troops later ousted. Washington has pushed fellow members of the IAEA board to declare Tehran in breach of the Nuclear Nonproliferation Treaty. That would likely prompt the U.N. Security Council to impose sanctions on Iran.
The head of Israel's military intelligence warned on Tuesday that if Iran completes its program for enriching uranium, it would be able to produce its own nuclear weapons without outside help by the summer of 2004.
The Europeans have tried to engage the Tehran government. On Tuesday, the three ministers promised that if Iran does meet its commitments, their countries will help it get peaceful nuclear technology.