Intel unveils Segway personal robot at CES
The personal transporter transforms into a self-balancing robot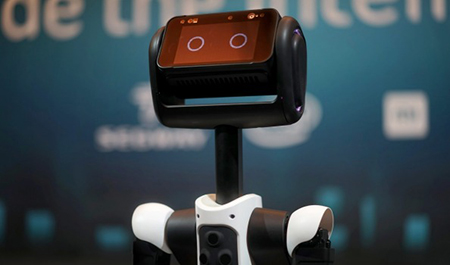 Intel on Wednesday showed off the fruits of its partnership with Bedford-based Segway at this week's 2016 International Consumer Electronics Show in Las Vegas: a personal transporter that can transform into a robot.
The Ninebot Segway can be ridden like a Segway hoverboard, holding it steady between your legs, at speeds of up to 11 miles per hour. The device also can turn into a self-balancing robot.
The robotics platform, developed by Intel and robotics startup Ninebot, which bought Segway in April last year, is capable of sensing its surroundings, recognizing objects, people and voices and can be extended to perform a variety of other tasks through a development kit.
"We designed this Segway to be an open platform," said Intel CEO Brian Krzanich in a speech at the event.
Krzanich said that the robot will eventually become a commercially available product. Segway said it expects to have the device available for developers in the second half of the year.