Insurance watchdog idea wins '15 Social Venture Challenge
Student track winner eyes Manchester center for young professionals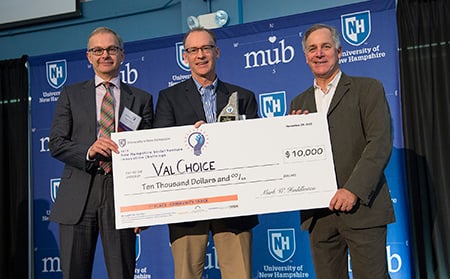 A not-for-profit gathering place for young professionals and an analytics company with the goal of keeping insurance companies honest were the winning ideas in the 2015 New Hampshire Social Venture Innovation Challenge at the University of New Hampshire.
The final round of 16 finalists was judged by a dozen social venture founders, leaders and investors from New Hampshire and beyond.
Matt Wilhelm, a UNH master's student in public administration, won in the student track for his idea to create Old Sol Music Hall, a not-for-profit concert venue and community center in downtown Manchester committed to building social capital for young professionals. He received $5,000.
In the community track, Dan Karr of Bedford won the first-place prize of $10,000 for his idea to create ValChoice, an analytics company to protect consumers, particularly in disadvantaged groups, from auto and home insurance companies that don't deliver the protection and value promised.
In addition to the cash, he will receive 100 hours of consulting from PixelMEDIA and 12 months of flex membership (worth $150 per month) for use of a co-working space in one of many locations in New Hampshire, provided by Alpha Loft.
The second-place team in the student track was Connected C&D, which won $3,000 for their its to divert all construction and demolition waste from landfills in the greater Portsmouth area by establishing and maintaining connections with construction, demolition and recycling agencies.
The third-place team in the student track was Project OASIS, which won $2,000 for its plan to provide families with fresh vegetables and fish-based protein by developing a low cost, easily maintainable aquaponics system that runs on renewable energy.
In the community track, second place (with a prize of $5,000) went to Asha Stuart of Hooksett for Creole Ble, a nonprofit seafood supply chain micro-enterprise with plans to create a sustainable seafood ecosystem that will provide all Haitian people with access to quality and affordable seafood products.
Third place in the community track went to UNH Solar Power for Schools, a plan to bring solar power to hundreds of students who currently lack access to electricity. The team received $2,500.
In the student track the judges also awarded an honorable mention and $1,000 to Road Recycle, which proposes to buy unwanted sand byproduct from foundry companies and sell it to construction companies to use as road base.
The judges also awarded an honorable mention to a team of students from Phillips Exeter Academy for their idea to improve the efficiency of primary care by bringing the doctor's office to the patient.