Inn's 'Wellness Room' features healthy amenities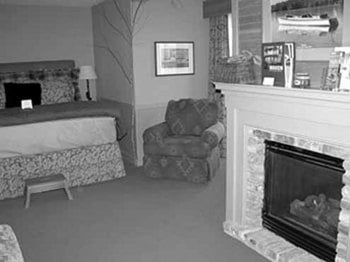 Travelers looking to take rest and relaxation to a new level now have the option to book a night's stay in a "Wellness Room" at the Inns at Mill Falls in Meredith.
Billed as the first wellness accommodations offered in New Hampshire, the Wellness Room opened in late February. It is a lakefront guest room with several features that promote overall relaxation and well-being.
"Travelers who place an emphasis on making choices that have a positive impact on their health and wellness at home are looking to keep that up when they are on the road for business or pleasure," said Gail Batstone, general manager of the Inns and Spa at Mill Falls. "This is becoming a national trend, and we wanted to get ahead of the curve by opening a Wellness Room in our newest inn, Church Landing at Mill Falls, to ensure travelers have an individualized experience that caters to their needs."
Among the room's wellness features are:
• A king-sized patented Nikken Kenko Dream Sleep System featuring viscoelastic memory foam and magnetic technologies in the mattress, comforter and pillows. The bed's comforter also features far-infrared technologies that capture and re-emit energies and control temperature for all-season comfort. The sleep system was designed to offer a relaxing and refreshing night's sleep, contributing to overall wellness, said Batstone.
• An Air Wellness Power 5 air filtration system that Batstone said is designed to improve the air through five stages of filtration. It also has an optional aromatherapy system with various blends to enhance relaxation.
• A PiMag water system that uses a highly sophisticated filtration system that combines magnetic energy and ceramics from deep-sea coral to filter drinking water right out of the tap.
• A PiMag shower head that uses magnets and filtration technologies to filter out impurities and infuse the water with Vitamin C, leading to better hydration and moisturization of the skin by allowing the body to naturally absorb Vitamin C.
All of the specialty products are part of the Wellness System developed by Nikken, whose representatives also host monthly wellness seminars for employees of the Inns and Spa at Mill Falls.
Batstone said rates for the Wellness Room at Church Landing are $239.00-$289.00. Since mentioning these rooms in their recent newsletter, she said, several guests have called to inquire about it and many have booked reservations.
For more information call 800-622-6455 or log on to millfalls.com.