Industry support for Lakes Region Community College advanced manufacturing programs unanimous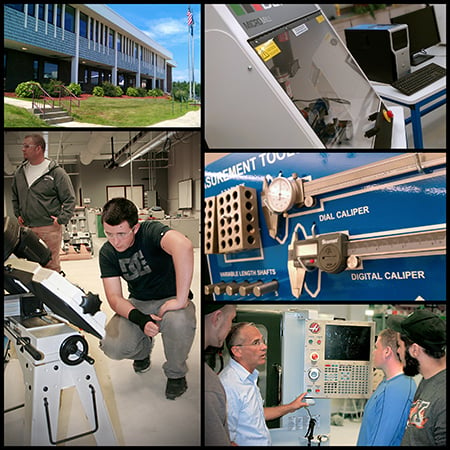 Critical jet engine components, medical drills, prosthetic implants, super computer and cell phone parts and security scan equipment all have something in common: They're made right here in New Hampshire by world-class advanced manufacturing companies in serious need of highly skilled technicians.
Lakes Region Community College is answering that need by working alongside NH Ball Bearings, Aavid Thermalloy, Watts Water Technologies, Baron Machine, Scotia Technology, EPTAM Plastics, Freudenberg NOK and other manufacturers to develop training and education programs laser-focused on delivering high-tech operation, maintenance and repair skills required by employers competing in global markets.
The college offers an Advanced Manufacturing Certificate, as well as Electromechanical Technician and Advanced Manufacturing Processes and Control associate degrees, all approved by dozens of advanced manufacturing employers.
"The students we have in these A.S. programs take the CNC courses because we want them to be knowledgeable in operation," said Don Brough, project coordinator at LRCC for NH's Advanced Manufacturing Partnerships in Education initiative. "But they also learn the hydraulics, mechanics, pneumatics, robotic capabilities, program logic controls and electronics that keep machines running. When someone calls for maintenance and repair, they can do root-cause analysis, isolate the problem and quickly fix it. When employers hear that, they get giddy."
"What drove our new programs is industry told us there's a great need for two types of people: Those who understand how to operate the machines and those who can maintain and repair them," Brough said. "Both are extremely important, because in New Hampshire if you ask how difficult is it to find someone who has those skills, the answer will most definitely be: 'Nearly impossible.'"
To aid in seamless transition from classroom to career, LRCC's fully updated advanced manufacturing lab features three- and five-axis CNC machines, a parametric probe, training simulators and more. Its online learning library offers programming training to cover blueprint reading, SolidWorks and Mastercam.
LRCC is extending career pathways by strengthening training relationships with high schools and career and technical education centers. Paid internship and incumbent employee training programs are also in development with industry partners.
"Employers are increasingly contacting us directly to support their hiring efforts," said Brough. "In short order, they're seeing the quality of our students' work and saying, 'Whoa. We need more of those.' In some cases, they're creating new positions so they can extend job offers. One company is requiring employees to complete our certificate program as a prerequisite for a 15 percent pay increase. It sends an incredible message that industry believes our training has merit for both entry-level and experienced employees."
WorkReadyNH
Lakes Region Community College also recognizes the need for strong foundational and "soft" skills in any successful workplace. To this end, the tuition-free intensive WorkReadyNH program is available to eligible students at all NH community colleges. WRNH helps job-seekers and career builders improve math, reading, information-gathering, communication, team-building and problem-solving skills. Its assessment and training services enable students to earn two nationally recognized certificates, while helping employers identify qualified career candidates.
AMPedNH
LRCC and its six sister colleges are part of NH's Advanced Manufacturing Partnerships in Education, a statewide initiative that unites the colleges with more than 200 industry, state and federal agency partners to offer industry approved education and training. Under a $20 million USDOLETA TAACCCT grant, advanced manufacturing labs at each of the colleges were opened or overhauled with state-of-the-art equipment.
Five ways NH community colleges serve employers:
1. Their diverse selection of more than 30 advanced manufacturing certificate and degree programs was designed in partnership with industry, ensuring delivery of relevant skills across myriad disciplines.
2. Programs customized to meet specific employer needs can be offered online, on campus or on the worksite.
3. In-class visits, industry tours and the AMPed NH Student Online Suite (offering an online networking community, ePortfolios and more) put employers in touch with potential employees.
4. Career-focused training at the colleges reduces on-the-job training time once students are hired.
5. Staff can connect eligible students and employers with resources for traditional financial aid and funding from the Workforce Investment Act and NH Job Training fund.
"I can't begin to explain how excited we are about the potential LRCC is bringing to the area with the new manufacturing programs. We are encouraging many of our employees to sign up … and I feel [LRCC] will have a direct impact on Baron Machine in that it will be pouring young, interested and — most importantly — educated potential lifetime employees into the community."
— Jeremy Baron, vice president of Baron Machine