In N.H., a new generation of game designers riding a resurgence in tabletop board games
It may sound counterintuitive in a digital world, but analog board games are currently enjoying a moment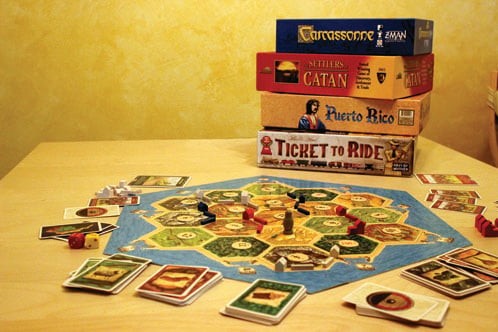 Quick – name a few board games you grew up playing. There's a good chance your list includes Monopoly, Sorry, Clue, The Game of Life, or Chutes and Ladders. Classics, for sure – but they tend to be remembered more for nostalgia than for their strategic gameplay.
"There is this canon of classic American games, the majority of which are terribly boring, or frankly not a lot of fun except for the one person who is winning," says Glenn Given, a graphic artist who lives with his wife and two kids in New Boston.
Given, 35, has been a lifelong gamer. Every other Christmas, when his stepbrother from Texas would visit – who, Given admits, was at the time "one of the only other nerds in my life" – the pair would binge-play tabletop games, of the sort that don't require players to pass go or collect $200.
"All the best moments of my childhood involved games of some kind," said Given. So perhaps it's no wonder that the game aficionado is now working to turn his childhood passion into a business.
After Given was laid off last October from his graphic design job at The Hippo, he used the state's new Pathways to Work program, which allows those collecting unemployment benefits to work full time starting their own businesses instead of hunting for jobs. He and two partners, Meghan McGinley and Daniel Brian, created Games by Play Date, a New Hampshire game design and publishing company that aims to design and manufacture four titles a year.
It's being financed through crowdfunding campaigns on Kickstarter. They also run a related nonprofit, Play Date New Hampshire, which organizes game-playing workshops for kids at local libraries.
Given is part of a new class of tabletop game designers who are making thoughtful, niche games, and finding audiences for them online.
It may sound counterintuitive in a digital world where smartphones are practically extensions of people's hands, but analog board games are currently enjoying a moment. Or, as The Vancouver Sun summed up in a recent headline: "Board games: Not just for geeks anymore."
"It's referred to as 'the golden age of board games,'" said Given.
Meetup gaming groups are taking place in zip codes around the state, and gaming culture is increasingly moving into the cultural consciousness. Boston just got its first board game café, called Knight Moves. Last year, the abi HUB, a Manchester business incubator, hosted a 36-hour "Game Jam," organized by Given and a friend, Mike Taylor. Some two-dozen participants were broken into teams and challenged to design a game (analog or video) in less than two days.
Euro-style games
At a time when many brick-and-mortar retailers are shuttering or downsizing stores, New Hampshire now has more game stores than it did a few years ago. Myriad Games, a local chain of tabletop game stores, has three locations in New Hampshire; Manchester-based Double Midnight Comics – which sells games in addition to comic books – just opened a second location in Concord; and Portsmouth has a new game store in Diversions.
Even big-box retailers, like Walmart and Target, have started stacking their game aisles with more complex, Euro-style games, like The Settlers of Catan, a German board game that has reportedly sold some 18 million units worldwide. Catan is often credited with introducing Americans to Euro-style games, which have really grown in popularity over the last decade and a half.
Despite their name, Euro-style games – which are also known as Eurogames or German-style games – don't necessarily have to be European, but they do share several similarities, according to the website BoardGameGeek.
The games all emphasize strategy over luck; they tend to have nice artwork and components; and conflict between players is "indirect," involving more fighting for limited resources or points than direct combat (unlike, say, sending an opponent's piece back to home in "Sorry").
Kickstarter phenomenon
In some ways, the so-called "golden age" of gaming shares similarities with the craft beer boom; consumers are looking beyond mass-produced games with watered-down rules in favor of more complex, independent games made in smaller batches – er, print runs.
"It is definitely true that a surging or resurgent gaming culture is partially responsible for our success," said Brian Kelly, the "Dungeon Master" for Dorks in Dungeons, a Portsmouth theater group that performs monthly at the Seacoast Repertory Theatre. The troupe blends improv comedy with on-stage gameplay inspired by role-playing games like Dungeons in Dragons.
Before a recent Dorks in Dungeons show, Given was on hand to introduce Slash, Games by Play Date's first game to attendees.
Slash is a card game inspired by Internet fan fiction, which – for the uninitiated – is pretty much exactly what it sounds like. Devoted fans of a book, movie, TV franchise or other media property write stories about their favorite characters, often "shipping" characters into unlikely romantic relationships. (Think Harry Potter and Hermione, or Kirk and Spock.) The game plays on that concept, with a "matchmaker" choosing a character card out of their hand – be it Cruella de Vil, Boo Radley or the Marquis de Sade – and players match them up with a character card from their own decks.
Obviously not for everyone. But it quickly found its target audience online. In the game's Kickstarter campaign, Slash raised $21,264 – more than double its original goal. With an initial print run of 2,500, more than 900 games were presold through Kickstarter, leaving the rest to be sold at gaming conventions.
Given is far from the only game maker trying to bring his game to fruition via the Internet.
In 2012, Kickstarter reported that more money had been pledged to games than to any other category of goods on the site – some $50 million – and about a third of that went to board games. If you can think of a subject, there's probably a game about it – there are games out there about making coffee, firefighting, spawning salmon and tax evasion, to name just a very few.
"Kickstarter basically allowed for companies to step up and do more with less and allow companies to take chances on games they otherwise wouldn't," said Taylor.
Theme and mechanics
If there's a king of crowdfunding in New Hampshire, look no further than Dan Yarrington, whose board game empire includes Myriad Games and Game Salute, a boutique board game services company that, according to Yarrington, has raised about $4 million through countless Kickstarter campaigns to get games from conception into consumers' hands.
The company, likely the most successful online fundraiser in New Hampshire, is housed in a nondescript Londonderry office park overlooking the runway of the Manchester airport. At its warehouse, boxes upon boxes of board games with titles like "Pixel Lincoln," "Impact City Roller Derby" and "Alien Frontiers" fill four bays.
Game Salute has its hands in many facets of the gaming industry, but its core business is publishing games. On top of its own titles, it also licenses games from independent designers. But that's not to say that Game Salute will publish just any game that a would-be designer can throw together with a d20, a dozen hex tiles and some cones.
There's a form on the Game Salute website for submissions of game ideas, and it's quite comprehensive, asking designers not just for the game basics – its objective, mechanics, components – but also what other games it compares to, how often it has been play-tested and how many versions it has gone through.
The form is detailed for a reason. When it comes to picking games to make, Game Salute can afford to be choosy. In the last year and a half, the company had about 800 game submissions, "and out of those, I think we accepted maybe 20," said Yarrington. The company has about 40 games currently in the queue in various stages of production.
"The whole fun of a game is the layering of theme on top of mechanics, and the marriage of those two makes it interesting," said Yarrington.
Game Salute also provides à la carte logistics services to independent game designers once their game is designed – running their Kickstarter/marketing campaigns, warehousing, packing, shipping, promotion to stores, and so on.
These services arose because of a pain point that indie game designers often experience when trying to get their games manufactured and shipped.
"Board games really just grew tremendously over the last 10 years," said Dan Yarrington, owner of Myriad Games and Game Salute, shown here at the Game Salute headquarters in Londonderry.
In the crowdfunding world, horror stories abound of creators who vastly underestimated their future shipping costs, or who got stuck storing pallets of games in one-bedroom apartments. Rare is the person who is prepared for "the sheer amount of work that goes into" running such a campaign, said Yarrington.
"Effectively, you're probably going to lose money your first campaign, no matter how much you raise. In fact, the more you raise, the more you're likely to lose. The question I would ask is, 'Can you afford to spend 10 percent of whatever you raise?'"
Offering these boutique services was a smart move on Yarrington's part, said Mike Taylor, one of the Game Jam organizers, who himself used to work at Myriad Games before joining Dyn as its community and outreach coordinator.
"Dan, through Game Salute, devised a way that they were able to help act as a marketing firm for individuals who want to get their games published and then in turn act as the back-end component … From an executable, it definitely is a lot more convenient for folks."
While games are fun to play, the business of making tabletop games certainly isn't all fun, all the time. New employees often come into Game Salute expecting to design and play games all day, when, in reality, much of the work is packaging games to get shipped out.
"Once in a while we have to evaluate games, but even evaluating games is horrid," said Yarrington. "You think that would be awesome, but no, because the vast majority of them are awful or unfinished, and even the good ones don't always work."
'Very strong community'
You might say that Yarrington knows a thing or two about what makes a good game. A New York native, Yarrington started up an early incarnation of Myriad Games out of his dorm room at Houghton College, hawking board games to fellow college students. He was even able to convince the school to treat his side business as an independent study, getting free space on campus and taking classes on entrepreneurship.
"The whole industry really relies on that bedrock of local stores that are effectively underwriting all the online stores … we can't be cheaper than online, but we're going to offer you things that online can't," said Yarrington.
When he and his wife Sara moved to New Hampshire in 2003, the business moved too. They opened up the first Myriad Games in Salem, and now have two more locations in New Hampshire, along with another that just opened in Edmonds, Wash. After Myriad, he started Game Salute as a news source for the industry, and it ultimately morphed into the publishing and services company it is today.
"Board games really just grew tremendously over the last 10 years," said Yarrington, who said he's seen a "steady 10 to 20 percent growth rate" in the industry annually.
While game retailers face stiff competition from online sellers and mega-retailers – which can better afford to discount games – the selling point for local game stores is the feeling of community that they offer, and the chance to try games firsthand.
"The whole industry really relies on that bedrock of local stores that are effectively underwriting all the online stores … we can't be cheaper than online, but we're going to offer you things that online can't," said Yarrington.
Myriad customers get a personalized thank-you email from staffers after buying there; the stores host open gaming nights when people can try out games before they buy; and they have a rewards program that, among other things, encourages those who come in and teach others how to play games.
"You have these small independents who have a very strong community around them that's really driving business. Right there, that's probably a lot of what the board game industry is right now. A really small community that is really passionate about what's out there," said Taylor, whose wife Becca is a therapeutic recreational therapist at the Anna Philbrook Center, the state's psychiatric hospital for children. She uses games at work as therapy.
"A lot of the skill sets that are important to playing games — patience, sportsmanship, cooperation, collaboration – all carry over."