In Keene, the Rynborn gets its mojo working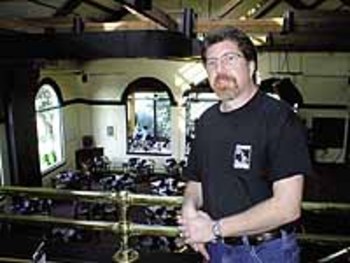 Given the fickle nature of the industry, it takes a certain amount of business bravado to shut down and move a successful and popular restaurant and musical venue from one community to another. But that's what Doug Aborn did earlier this year when he closed the Rynborn Restaurant and Blues Club in Antrim and opened a larger version at the Colony Mill Marketplace in Keene.
With the move, The Rynborn quickly emerged as a major draw in the growing and increasingly diverse Keene restaurant scene.
Aborn said he made the move because it was time "to present The Rynborn to a much larger population. After 16 good years in Antrim it was time for some great years in a much more populated area."
Aborn said the reception he's received in Keene "has been outstanding." So outstanding, in fact, that in addition to typical opening-night glitches, Aborn remembers a slight fear that the restaurant would run out of food.
But it is the Rynborn as a live music magnet that has left Aborn, a self-confessed blues fanatic, pleasantly surprised.
Despite Antrim's lack of proximity to blues centers such as Chicago, Kansas City or the Mississippi Delta, the Rynborn gained a strong reputation for being the "in" spot for blues acts in New Hampshire. The Keene reopening has only validated Aborn's vision of tapping into a wider, enthusiastic audience.
"We've had lines out the door every Friday and Saturday night," Aborn said, for the mostly blues-related musical acts that include such national legends as Honeyboy Edwards and Luther "Guitar Jr." Johnson. Aborn said the Rynborn draws a "diverse crowd" of young and old, male and female, and blues devotees and novices.
"It's a little early to give you percentages, but the knowledge these fans, including from the days in Antrim, is very impressive."
The Rynborn now offers live music five nights a week, which includes acoustic and folk acts and a Sunday "Blues Brunch."
Aborn considered making the move for a while, and when a restaurant vacated the prime Colony Mill location, Aborn decided to take the space.
"While we were successful in Antrim, unfortunately I had to borrow money too often to keep the place going. This was a good opportunity," he said, as he pointed out the advantages of the split-level, 4,500-square-foot Keene complex, which can seat up to 160. Aborn's renovations included the creation of a permanent musical stage and wall space aplenty for his collection of instruments and photographs of past acts.
A former bartender and ski bum, Aborn is a native of Westchester County in New York. When he decided to open his own place, his Realtor mother found the Antrim location where he moved with his family in 1987. He bought out his business partner in 1992, but decided to keep the name "Rynborn," portions of their combined names, anyway.
With a staff of 50 and a wide-ranging menu of ribs, steak, fish, chicken, pasta, sandwiches and appetizers, Aborn insisted he's a restaurateur first and foremost, despite his passion for hearing and sharing live music.
"Running a restaurant takes up most of my time. I personally do not play but have such an unquenchable thirst for music, mostly the blues, that doing this is a blast," he said. Over the years, he's developed such a strong network with musicians that "they all have contacted me, which has made (booking) easier. Not easy, but easier."