In Keene, innovators wanted
310 Marlboro facility offers room to grow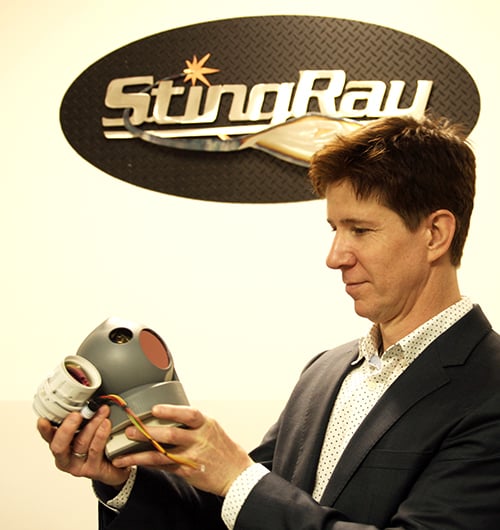 Retired entrepreneur Donald Brehm figured the best way to attract those working in advanced manufacturing and technology to Keene is to get them all under one roof – with plenty of space to spread their wings.
Brehm's 80,000-square-foot commercial/industrial center focuses on supporting early and mid-stage companies involved in innovation, entrepreneurship, technology and advanced manufacturing. It's meant to provide a blank canvas for business owners to realize their vision. Spaces vary from 200 to 4,000 square feet.
Trained as an engineer, Brehm worked in the manufacturing business in Keene, including in research and design at what was then MPB (now Timken) and in his own businesses – first Pneumo Precision, which designed and manufactured air bearings, followed by Precitech, a diamond turning machine manufacturer, and then Accura Technologies, which built grinding machines for metal parts. Brehm eventually sold Precitech and Accura Technologies.
In the 1980s, Brehm bought an old brick building on Marlboro Street, restored it and started a woodworking businesses, which closed in 1986 after 10 years. Both Precitech and Accura operated partly from this building, which Brehm turned into a rental property.
About 12 years ago, he decided to market the property as a flexible rental space, with a mix of professional office, industrial, manufacturing, assembly and lab space, with infrastructure to support new growth.
In the past year, he gave the building a name – 310 Marlboro Business Center for Innovation and Technology.
The most important benefit for businesses that move into 310 Marlboro is the space it provides along with the necessary infrastructure – the right type of electricity service, a fiber-optic server, air lines, a forklift truck and a loading dock. The lease also includes utilities and maintenance.
Another perk for tenants is close proximity to like-minded businesses. The center is designed to become a hub for innovators and entrepreneurs to network, share and learn from their peers.
'Very connected'
There are three CPAs located at 310 Marlboro. Brehm said they supplement their income working for other tenants in the building. Three commercial photographers also have set up shop there.
With a background in manufacturing, Don Brehm turned his rental property into a flexible rental spot to house professional, industrial, manufacturing, assembly and lab work.
Others leasing business space include a fiber-optic Internet server, an online home goods business (which Brehm said makes good use of the fiber-optic Internet service available in the building) and an information technology services company operated by a group of former engineers with Kingsbury Corp.
Of the 23 tenants at 310 Marlboro (the building is a little more than half-occupied), is StingRay Optics, a graduate of the Hannah Grimes Business Incubator Program, which itself has been located in the building a handful of years.
The company designs and manufactures advanced optical assemblies used in business, scientific and defense applications. It recently doubled its 800-square-foot office space.
With more than 20 percent year-over-year sales growth, StingRay Optics founder and president, Chris Alexay, has attributed part of that success to the adaptable, multi-purpose space 310 Marlboro offers.
"Don was very supportive," Alexay said of Brehm. "Him being a part of the technical industry – he understands the kind of business we do. Stingray and this building go hand-in-hand. We're very connected with the people here at 310 Marlboro."
So far, Brehm said, the building has no tenants that are strictly manufacturers, but his hope is for 310 Marlboro to attract some and grow that type of industry in Keene.
Bigger picture
The 310 Marlboro building has an affiliation with the Hannah Grimes Center, which offers business and leadership expertise and programs as well as relationships. Brehm was a board member for a handful of years.
Several businesses that graduated from the center's business incubator program are now located at 310 Marlboro. This year, the center, located on Roxbury Street, underwent a renovation of its second floor to include eight offices for startups, small businesses and nonprofit organizations and a meeting/conference space for up to 70 people.
The center also plans to expand part of its operations to 310 Marlboro as well, with an addition of office space and light manufacturing space. The focus for both new spaces there will be the innovation, technology and advanced manufacturing sectors.
"One of the biggest things aside from the [310 Marlboro] building is to really put a focus on the technology innovation and advanced manufacturing sectors for this region…"
Mary Ann Kristiansen, director of the Hannah Grimes Center, is working with other local organizations to reach out to companies and collectively market jobs.
"Attracting high-value employees is very difficult," she said.
One website, Discover Monadnock, includes a new portal to a list of companies currently hiring. A single upload of a resume goes to all of the companies at once.
"One of the biggest things aside from the [310 Marlboro] building is to really put a focus on the technology innovation and advanced manufacturing sectors for this region and dovetail existing programs, augmenting them as needed," Kristiansen said. "It's not just about filling the building with businesses and focusing on that building. We want to connect these very important sectors in our region and better resource them. It doesn't stop at the walls."
There is more to the bigger picture for the neighborhood in which 310 Marlboro sits.
For the past year and a half, a committee has been planning to revitalize Marlboro Street, including establishing new zoning districts to entice businesses to move there.
Studies show manufacturing business strengthens the local economic base. According to the National Association of Manufacturers, on average, the "manufacturing multiplier" is 1.58, which means a typical manufacturing facility that employs 100 people supports an additional 58 jobs in various ancillary businesses, from supply chain support and professional services to local retail and restaurants.
Analysis by Keith Nosbusch and John Bernaden of Rockwell Automation shows that as manufacturing companies become more advanced, the multiplier increases significantly.
Creating businesses
Keene is strong in advanced optics, precision machining and specialty printing technology, which has grown from a rich history of manufacturing.
Marlboro Street was once a vibrant neighborhood, with the former Kingsbury Corp. as its economic center. The street has fallen into decline in recent years, with few businesses.
The Marlboro Street committee's recommendations include creating an "innovation zone," a new mixed-use area to entice small businesses and startups to the area. Although Keene isn't Boston or Silicon Valley, the idea is that if Marlboro Street's atmosphere changes, development and business will follow.
The concept has now expanded to include the entire east side of town. The city of Keene and the Greater Keene Chamber of Commerce recently hosted a forum with stakeholders and community members to generate ideas for the redevelopment/re-use of property along the Beaver Brook Corridor, from north Marlboro Street to Washington Street, with an eye on what the area could look like in 10 to 20 years.
The city has had success in redeveloping vacant, economically challenged areas, such as the former railroad corridor, which is now home to the Monadnock Food Co-op and Courtyard Marriott Hotel.
The top priority determined at the forum, in addition to creating a green space and upgrading infrastructure, is creating businesses to generate jobs.
"It's enticing for young professionals to do business in a walkable environment," said Michele Chalice, a Keene city planner.
Chalice said the terminology of the Marlboro Street Re-zoning Initiative – including the "innovation zone" – will change in the coming months to include the east side redevelopment.
"We don't want to be limited," she said. "We want to make sure well-paying jobs blend into the community as a whole."
Brehm said he believes there is much more room for Keene's growth.
"It's a bit of a manufacturing wasteland compared to Manchester or Nashua," he said. "There's not much new. In time, there should be some graduates from Keene State's [Sustainable Product Design and Innovation] program who want to start their own businesses. Or Antioch students could start their own green businesses. That's the kind of thing I see here in the future."