Ice storm leaves 400,000 in the dark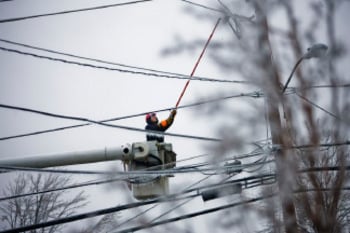 The ice storm that slammed New Hampshire closed schools, roads, and businesses and left nearly 400,000 people without power.
Making matters worse, a cold blast is expected to hit the area, bringing the potential for more damage as crews work to restore power to thousands. State officials expect many people might not have their power turned back on for days.
The outage has caused "the absolute, most significant power restoration effort we've ever had. There has not been a storm before that has affected more customers," PSNH spokesman Martin Murray said.
The power restorations will be "incremental'' and should accelerate over the weekend once state utility crews get assistance from utility companies from Connecticut and Canada.
Every town in the Nashua area suffered from the storm, losing heat, electricity and in some cases, major portions of town roads.
New Hampshire Gov. John Lynch declared a state of emergency. Municipalities and aid agencies have established shelters in Nashua, Milford, Londonderry and Manchester.
PSNH says that 300,000 of the company's 500,000 customers are without electricity, and they could have no power for several days. Overall, as many as 392,000 people in the state had no power.
At one point Friday, officials in Merrimack estimated that 90 percent of the town had no power.
In, Litchfield 100 percent of PSNH customers lacked power, according to Fire Chief Thomas Schofield.
Despite the storm, all area emergency responders said they haven't handled any serious emergency calls. There have been no serious motor vehicle accidents, as many people used caution and stayed off the roads overnight, dispatchers said.
Weather forecasters expect temperatures to drop to freezing later today, potentially causing trouble on roads already strewn with fallen tree limbs.
"I urge all New Hampshire citizens to take sensible precautions and heed all warnings from public officials," Gov. Lynch said.
The outage has also affected publication of The Telegraph. Printing Friday's paper became impossible with The Telegraph's Hudson facility in the dark.
School was canceled in Nashua, Milford, Hudson, Amherst, Mont Vernon, Litchfield, Merrimack, Wilton and Lyndeborough and in hundreds of other schools and communities in the state.
National Weather Service urges people without power to not light candles, but to rather use battery-powered flashlights and floodlights.
In Nashua, the Red Cross set up an emergency shelter Friday morning at Nashua High School South and the city's emergency operations center kicked into gear, Mayor Donnalee Lozeau said.
While emergency officials were hopeful that power would be restored soon, they were preparing for a "possible multi-day outage," Lozeau said. City Hall had power, as did most city buildings, although there were a few glitches, Lozeau said.
Jim Mealey, the school district's chief operating officer, said the call was made around 4:30 a.m. to cancel school for the day. That decision was made after conversations with Scott Pollack, superintendent of streets, who told Mealey that the roads were fine, but that six schools were without power, Mealey said.
Superintendent Christopher Hottel was also involved the discussions, Mealey said.
"This was a fairly easy decision today," Mealey said.
Mealey said there were no reports of any damage or flooding at any schools. There was a brief discussion about the possibility of a delayed opening, but Mealey said there was no way of knowing whether power would be restored to the schools in time.