Hudson fire chief getting feel for the job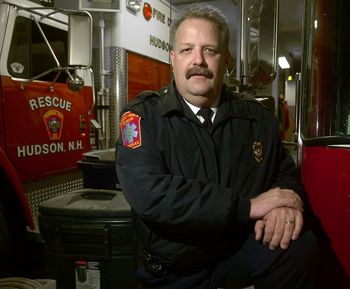 HUDSON – Months after being named acting fire chief, Shawn Murray's new office is still a little Spartan.
There is a framed picture of his wife, Dorothy, and two children, Casey, 12, and Allison, 8. A little toy firefighter hangs on the wall.
Murray, whose appointment was made permanent by the Board of Selectmen last week, isn't rushing to make any immediate changes in his office, or the department.
He wants to take a pause, Murray said in a recent interview, to see where the department stands, and whether there's anything that can be done differently.
"Then we can work on different initiatives," he said.
Murray replaces Frank Carpentino, who resigned earlier this year. Carpentino left in August to lead the Goffstown Fire Department.
Murray, 42, also has personal goals. He's seven courses away from earning a bachelor's degree in business, management and economics with a concentration in fire administration.
He's also enrolled in the National Fire Academy's executive fire officer program, which is four years long. "Your career doesn't stop when you're the fire chief," he said.
Before coming to Hudson, Murray was a captain and EMS coordinator in the Goffstown department.
His interest in firefighting started many years ago.
Growing up in Manchester, Murray was curious about fire engines and the nearby fire station. "I used to go to the firehouse," he said. "I was intrigued by the whole thing."
In high school, Murray decided to join the Air Force. He served four years as a firefighter.
While in the Air Force, Murray was stationed in Eielson, Alaska. "It's still a vast, uncharted wilderness," he said. "You could drive 15 to 20 minutes and be in the Alaskan tundra with nothing around you."
There were some unique challenges to firefighting there.
Fire hydrants are covered with 50-gallon drums and there are tunnels underneath to keep them from freezing.
Murray fought many car fires while stationed there. Because of the cold temperatures, most cars have engine block heaters that circulate antifreeze through the engine. The electric pumps would often seize up, shorting out and causing engine fires, he said.
"It was a great start to my career," Murray said of the Air Force, adding later: "When in the Air Force, it solidified my decision to make (firefighting) a career."
He went on to work in the Manchester Airport Fire Department and at Goffstown.
Working in a smaller department, such as Goffstown, gave him the chance to work on different pieces of equipment and in different areas of the fire service, such as fire suppression and emergency medical services, he said.
One day, he could be driving an ambulance, the next working on a fire engine, Murray said.
"It provides a good balance," he said.
Those who work with Murray in the department said he's emphasized training and education.
"He's supported education in the Fire Department," Fire Capt. Steve Gannon said.
"He's been a real solid influence on the department," added Fire Marshall Charles Chalk.
Murray has worked hard on providing training for firefighters and having new personnel get started on training immediately, Chalk said. It's important to have training constantly, he noted.
Because Murray has worked in different areas of fire service, he's also a good person to talk to about different issues, Chalk said, describing his new boss as "stable" and "calm."
Murray credits his family with helping him advance his career. "When I was training in Goffstown, I spent a lot of times working nights and weekends," he said. "I missed some family time."
His family was understanding of the time he spent away from them, but that doesn't mean his new title carries any extra weight at home.
He leaves the chief's hat at the station, Murray said, joking. "They tell me I'm not the chief at home."
Anne Lundregan can be reached at 594-6449 or lundregana@telegraph-nh.com.