How's business in the North Country?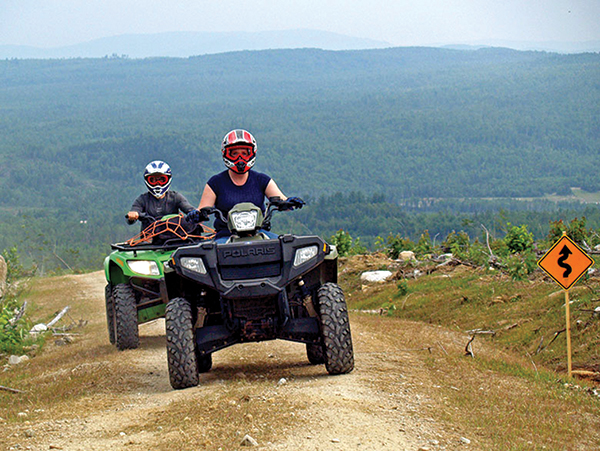 NHBR asked several members of the North Country business community to give their take on some of the key issues facing the region as well as to offer their views on how the area's economy is faring.
Those taking part were:
• Shelagh Connelly, president, Resource Management Inc., Holderness
• Cathy Furtek Conway, vice president economic development, Northern Community Investment Corp., Lancaster
• Katharine Eneguess, president, White Mountains Community College
• Jeffrey Hayes, executive director, North Country Council Inc., Bethlehem
• Dick Huot, director, Northern Forest Heritage Park, Berlin
• Rick Kelley, general manager, Loon Mountain Resort, Lincoln
• Pamela Laflamme, community development director, Berlin Industrial Development and Park Authority
• Benoit "Beno" Lamontagne, New Hampshire Business Resource Center, Bethlehem
• Jayne O'Connor, president, White Mountains Attractions Association, North Woodstock
Here are their answers:
Q. What are the strengths of the North Country economy?
Pamela Laflamme: Those who live and work here have a very strong work ethic. That's a strength for our economy. Obviously, the weakness for the economy is that we don't have enough jobs to fulfill that work ethic and that commitment to being in the area and making it a better place. We have to provide more diversity and offerings at this point for them.
Shelagh Connelly: In our business, the North Country requires a diverse strategy to keep afloat. The wood fuel suppliers and farmers and haulers all have to do more than one thing to keep their livelihood sustainable. This means that lots of small businesses are not relying solely on their traditional income stream, but are branching into synergistic opportunities.
For instance, traditional dairy farms are building year-round greenhouses to meet growing popularity of local farmers markets. The price of milk is staying steady – which helps, but farmers are looking to cut expenses on all levels. This is critical in keeping business alive.
Cathy Conway: Tourism is one sector of the economy that is growing and growing at a faster rate than the rest of the state. For the first five months of 2013, the state saw a 5 percent increase in rooms and meals tax revenue over the same time period for the previous year while Coos County saw a 15 percent increase. The region also has a strong work ethic and a network of collaboration among service providers such as the Business Services North program, a virtual resource center supported by North Country Investment Corp., White Mountains Community College and the Small Business Development Center.
Katharine Eneguess: We are experiencing new investment on both sides of the county. To the east, we have seen the development of FCI-Berlin and the Berlin biomass project, as well as the rebirth of Gorham Paper and Tissue. To our west, the recent sale of P.J. Noyes and the birth of Tillotson Performance Polymers offer exciting new opportunities.
The continued strength of travel, tourism and outdoor recreation and the opportunities that the Ride the Wilds project offer ensure that the North Country will remain a desirable recreation destination.
As always, our best strength is our people, who are resilient and want to live and work here. And of course, one of our strengths is the investment in White Mountains Community College. Community is our middle name and we are directly connected to our regional economy's success.
Jeffrey Hayes: First off, the North Country has seven labor market areas. A lot of them are distinct from each other. In upper Coos, there has been a lot of weakness. There has been the loss of population since the 1950s. The energy sector is definitely a strength, where there is a net energy export out of the region. The Portland natural gas line has been tapped already but could have potential to do a lot more. There is major hydropower and wind. That's one of the region's great assets and opportunities. There is the natural beauty and the forest resources.
Rick Kelley: Tourism and recreation are now the major economic drivers of this area, so the natural beauty of our landscape, national forest lands, small towns which are unique and friendly in character, and easy accessibility from major market areas are our strongest assets.
Dick Huot: I think the strength is in its people. Those people who were born and brought up here, found a way to stay in Coos County and make a decent living are the glue that binds. There are others who moved to Coos County to find tranquility and a way to make a living. They make their home here and are a proud part of our communities. All of the people who live in Coos County are very much community minded and help those in need.
The outdoors and majestic scenery is unmatched anywhere else in New Hampshire. The various outdoor activities available cover the full spectrum from hundreds of miles of walking and biking trails, hundreds of miles of motorized trails, lakes, ponds, rivers and streams abound for the sportsmen or the passionate recreationist. Skiing, golfing, hunting and all of the above are within minutes from our front doors.
Jayne O'Connor: We are fortunate in the North Country to have businesspeople accustomed to the ups and downs of a seasonal economy. So many of our businesses are tourism-based and used to fluctuations, so this has helped the businesses to survive the economic swings of the past five years. I think that is why you see so many businesses up here that have been around for decades. They are resilient and savvy – and survivors. A major strength to the White Mountains region is the amount of attractions and activities in this one area. We think of this region as everyone's "backyard." A place to go to relax and play. Even when the economy is down or the gas prices are up, the White Mountains remain close enough for a quick family vacation.
Beno Lamontagne: The strengths of the North Country economy certainly are its people, work ethic and resilience, its natural beauty and four-season opportunities to attract tourists. I believe its proximity to our largest trading partner can also be considered a strength, especially in lieu of the Buy America Act opportunities coming our way.
Q. What would help invigorate the North Country economy?
Laflamme: Infrastructure. Having really good roads in and out of the area. Another infrastructure item would be having really good cell towers and broadband infrastructure countywide. There are pockets, but the system is not contiguous enough to be attractive for people who are thinking of moving their business here potentially. Fixing those two infrastructure issues would go a long way in attracting more business to the region. The small entrepreneur who wants to work out of their house needs a really reliable Internet connection. A business that wants to move product needs good roads.
Connelly: More jobs. Lower fuel prices for transportation. Relief from high electricity rates. Some farms are creating value-added products, but there is not a good distribution network for getting their products to market. If we could grow more meaningful jobs then perhaps we would have less "generation drain." Young people are leaving because there are not many meaningful jobs that are beyond seasonal tourism. Hoping that the new business incubator in Plymouth will catalyze some innovative opportunities.
Conway: New entrepreneurs with private investment to develop new energy solutions or other manufacturing opportunities, such as the Cate Street Capital investment into the Burgess Biomass plant in Berlin.
Eneguess: There are any number of possibilities, but let me suggest three in particular: the reopening of the Balsams would offer renewed job opportunities both on property and in secondary industries; built infrastructure improvements are badly needed in order to boost our desirability to industry (particularly St. Lawrence and Atlantic rail bed improvements); and an end to the federal sequester would allow full employment at FCI Berlin, thus bringing additional millions of dollars in payroll and purchasing to the North Country.
Hayes: Basic infrastructure development is still needed, especially in the Coos area. I think the east-west transportation issue really holds back the economy. The Northern Forest sustainable initiative proved that the four northern parts of New England and New York do have an integrated economy, and east-west transportation is needed to link those economies. I think we also need energy planning done at the regional level. I know that work is being done at the state level. I think all of that would greatly help the North Country.
Kelley: Continue to improve tourism services and delivery of guest services at our businesses. We need to embrace the business we are in, which is the people business, and strive to make every visit an exceptional experience. Also, improved access to connectivity through better cell service and high-speed Internet to meet guest expectations and facilitate commerce.
Huot: Cheaper electric rates. Outside investors. Growth of outdoor recreation. Ride the Wilds must be heavily promoted!
O'Connor: Marketing dollars for New Hampshire tourism is vital. The industry brings millions to the economy, and we still lag behind most states in what we invest to bring people here. The new welcome centers in Hooksett will help to get the word out about what New Hampshire has to offer our visitors, yet we have closed most of the welcome centers north of the Lakes Region, even though that is the largest tourism area of the state.
Lamontagne: The North Country economy can certainly be invigorated with an infusion of job opportunities. If we are successful in strengthening our existing companies, helping them expand and attracting new companies in the Mt. Washington Valley, northern Grafton County and Coos County — all areas that are in definite need of job growth and good job opportunities — the impact would be very noticeable.
Q. What impacts, if any, have you seen and do you expect from the Northern Pass project?
Laflamme: It hasn't been as much of an issue on the eastern side of the state. It is hard to balance the needs of all involved. There is a need for electricity and generation, even if it doesn't stay in New Hampshire, and balancing that against the wishes of those who have lived here for generations — or visit and feel connected to the land — they want to keep the landscape as pristine as possible.
I don't know enough about all the pros and cons to come down on the issue one way or the other.
Q. What impacts, if any, have you seen and do you expect from the Northern Pass project?
Connelly: Real estate being affected negatively (unless you sold your land to Northern Pass). Divisiveness among neighbors and communities. Short-term gain for construction jobs does not offset loss of pristine wilderness and impacts to tourism. In our town of Holderness, the residents voted at town meeting in complete opposition to the project. The vote was unanimous.
Eneguess: The impact of this project has been and will be substantial. This is not a North Country project and will impact the entire state.
Hayes: They are obviously in their planning stage now. The North Country Council has voted against the project as it is configured. We don't see a lot of benefits from the Northern Pass. We're concerned about the fact that we do have high energy prices in the region and we are not going to be able to tap into that energy source. There is no way to tap into it until it gets down to Franklin. We are concerned about the visual impact on tourism and other industries.
Kelley: Uncertainty, lower property values and negative impact on the vast beauty of our mountains and valleys, which is our most precious resource.
Huot: All negative if the current plan is fully implemented. I feel there would be a very different outcome if Northern Pass is buried through Coos County.
O'Connor: If the Northern Pass Project goes through, and that is yet to be seen, I would hope the towns affected would receive benefits more than equal to their losses, which will be great. Public Service of New Hampshire will owe those towns exceptional cell service, new technology in the schools and in the towns. The cost of mitigation should be as high as the cost to the region.
Q. How do you see the North Country economy in general faring over the next 12 to 24 months?
Laflamme: We've been behind for so long we probably see glimmers of light more quickly than others because we've been waiting for them. The biomass plant is almost open and getting ready to go online. That's good for the economy, not in terms of the jobs on site, but for those who would have a chance to provide wood chips for the plant. That can have a huge impact. The ATV economy is really taking off. With just money for marketing it could really explode. It has made a huge difference to the local economy in terms of restaurants and the hotels as evidenced by the county's share of the rooms and meals tax revenues earlier this year.
Connelly: Stagnant, sluggish and likely getting worse. Some bright spots like the ATV initiative in Berlin really bringing money into this region, but loss of the construction jobs from the new Berlin biomass plant will be felt as they are already down from a high of over 500 construction workers in June to under 300 in September, and when complete only 35 employees will be needed on site. Good news though is that the biomass plant will actually keep another 100-plus people employed in the related wood industry in support of this clean power.
Conway: The economy will not grow by leaps and bounds, but with persistent support will have small, steady increases one business at a time. Hopefully we will start to see signs of recovery as new families move in to work at the prison or other manufacturing businesses are developed.
Eneguess: There are encouraging signs across the region. I am hopeful that we'll continue to see local businesses recovering from the economic stresses to which they've been subjected over the last five years, and that we'll see capital investments expand as employers gain confidence.
The emergence of ATV ridership as a constituency for our businesses to serve across the county seems destined to grow substantially, and quickly. What we see locally seems to suggest that a slow overall recovery to pre-2007 levels will continue, but the hard truth is that even with a full recovery to those levels, our losses in manufacturing mean that we have to find thousands of new jobs to replace those lost.
Hayes: There are widely different conditions across the region, looking into Grafton County and the Hanover area versus upper Coos County. There is investment going on in Coos County, and I think that's going to help improve the economy in the county. Our challenges are in the western side of the county and the Groveton area in particular still has not recovered from the Great Recession and the loss of the paper companies that happened just a year before the Great Recession. They had a one-two punch that they are still reeling from.
Kelley: Flat with minimal growth. I believe that until Northern Pass is resolved it will soften the sale of real estate and continue to have a negative impact on real estate values.
Huot: Not good but not worse.
O'Connor: We are very dependent on consumer confidence. Every movement in Washington is felt in the tourism industry. The more people are confident about their money and their future, the more confident they are about spending time relaxing in our region and others.
Lamontagne: I believe growth will be slow and hopefully accelerated by the current interest in some companies looking to expand and new companies asking about locating in the North Country.
Q: What could be done to improve North Country infrastructure, especially in communications and access to health care?
Laflamme: I already alluded to roads, cell towers and broadband. Health care access is also something that we struggle with here. The population doesn't support having three independent locations — Berlin, Lancaster and Colebrook — on the face of it, but when you look at how spread out everyone is geographically, it dictates that you need those health care centers to be available to attract jobs and families.
A big piece is in making it affordable and accessible and making sure that equitable Medicare and Medicaid funds are going back into the community, to the recipients and the hospitals/health care centers.
Connelly: Access to high-speed Internet is as essential a function as clean water and roads. Businesses, small and large, cannot compete without dependable high-speed Internet access. The health care situation is still out of control. Costs are beyond the means of many, and now losing health care centers in remote locations is tough for people up north. New Hampshire should increase the gas tax and keep a dedicated fund to maintain our roads and bridges. Our company runs several trucks year round, and we want to invest in the infrastructure that keeps us in business. And we don't want the road tax fund raided for the general fund.
Conway: The traditional infrastructure, such as roads, cannot be left out of the mix. A new cell tower in Groveton will be going online shortly, so we need to continue the expansion of cell coverage north along the major corridors such as Route 3. Internet access is still a problem for many communities, but it is very difficult to entice private companies to the area because there is not enough return on investment in the rural regions so it must continue to be a public/private partnership that improves and increases access to telecommunications.
The hospitals seem to be working very well together and have streamlined their operations, but it is not right for people to have to drive two hours for service. This is a really tough issue with no easy answers.
Eneguess: Geography presents enormous challenges in health care. Local and regional collaboration seems both logical and inevitable. The recent collaboration between the three northern hospitals shows great promise and a model to be leveraged. I hope that it will be expanded, and that we can find ways to leverage the economies of scale that collaboration between our health care institutions provides to ensure full access to health care for everyone in the region.
As I travel across the North Country, I am astonished at the strides that have been made in both cellular connectivity and broadband access in recent years. That said, cellular connectivity remains elusive for many of our residents. Significant investment, whether private, public or in combination, is necessary to ensure that we are not left behind in the digital revolution. We are at a juncture in time that we must look at communication and connectivity in the same way we viewed rural electrification decades ago: as an economic imperative.
Hayes: Telecommunication and access to health care can be related. Tele-health is a field that's growing. We do need higher broadband capacity for that to work. It can work in some downtown areas now and at the hospitals. Broadening that out will help. Broadband coverage has greatly improved. It is an affordability issue now. Dirt roads with a just a few homes on it — it is a real challenge. Sometimes they have access, but it is very expensive. The real challenge is to integrate broadband more into our lives and industries to makes us more productive and competitive.
Kelley: Continue to improve roads and transportation infrastructure to allow for good access. Continued improvement of connectivity with more cell service coverage and high-speed Internet. We have seen improvement in this area, but more needs to be done to develop more consistent and reliable service over a broader area. Connectivity is a guest expectation now, and if it's not available here, they may choose to spend their time elsewhere. It's a double-edged sword – our guests want to get away and have a break from the pace of their daily lives, but they still want to be in contact. These improvements can also help diversify the business base, allowing businesses which could be located anywhere to choose to locate here.
Huot: The hospitals need to coordinate and collaborate more. Not really knowing, I'm guessing there is a redundancy of medical services that could be eliminated. Health care may be the largest overall employer in Coos County and we need to make sure all medical facilities stay and prosper.
Somehow a way needs to be found to encourage local multi-employer businesses to expand production and create more jobs.
Lamontagne: I am concerned about the availability of "ready to go" buildings in some areas in the North Country. It is difficult to show buildings to companies who might be ready to do something in 60 days. We need more inventory of "turn on the lights and go" properties.
Concerning access to health care, I think there is much being done to improve accessibility with three northern hospitals forming a consortium, if you will, and sharing services. Let's face it, the downturn in job opportunities over the last decade is hurting health care and educational facilities. Communications have certainly come a long way with the efforts being made to expand broadband although we need to continue improving coverage for cell phone service.