How's business in the Lakes Region?
Business leaders discuss tourism, expanding the manufacturing base and retaining young people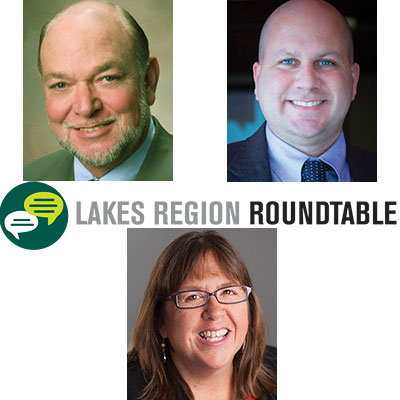 NH Business Review's editors recently asked representatives of different industries in the Lakes Region their views on the economy and issues affecting the area.
Participants were:
• Karmen Gifford, executive director, Lakes Region Chamber of Commerce
• Justin Slattery, executive director, Belknap County Economic Development Council
• Russ Thibeault, president, Applied Economic Research, Laconia​
Q. How is the area tourism industry doing so far this year?
Russ Thibeault: The Lakes Region is doubly blessed in that we have beautiful lakes, ponds and nearby mountains that are located close to the affluent metropolitan Boston and southern New Hampshire markets.
By all accounts, Lakes Region tourism activity remains prosperous, as reflected in rooms and meals tax receipts, which have been growing at an annual rate of about 5 percent recently.
I've lived in the region for 40 years, and I continue to find new beautiful nooks and crannies to explore. The county-owned Gunstock Recreation Area continues to diversify its offerings, including a focus on summertime activities including 22 Zip Lines, Segway tours, tubing, stunt jump, camping and paddle boats, while continuing to invest in its popular ski offerings. A $2.6 million Alpine Coaster at Gunstock has received approval and will be open year-round beginning next year.
Karmen Gifford: The Lakes Region is having a strong tourism year. We went from a banner ski season into great summer weather.
The Lakes Region is truly a destination area. Winter attracted visitors for the annual Sled Dog Derby Championship, New England Pond Hockey on Meredith Bay, and the 35th annual Great Rotary Fishing Derby, which transformed the frozen surface of Lake Winnipesaukee into a bustling metropolis of ice-fishing bob houses. May truly celebrates ice-out; the marinas are very busy launching boats and island properties are opened up for the season. June brings motorcycles from all over the world for the annual Motorcycle Week event. New Hampshire has plenty to offer, from car shows to antique boat parades, the 18th anniversary of Soulfest at Gunstock Mountain Resort, athletic competition for the Big Lake Marathon and the Timberman Triathlon, the Multi-Cultural Festival and the NH Coffee Festival in September.
This year, we are very excited to be the host region for the Pumpkin Festival 2015, which will draw over 30,000 visitors after Columbus Day weekend.
Justin Slattery: The tourism industry is having a very strong year in the Lakes Region.
The year started off strong with visitors enjoying many winter activities such as skiing, ice fishing, and other outdoor recreation. The summer season has been outstanding with perfect weather. Many tourists have vacationed on one of our many lakes and enjoyed all that the region has to offer.
Q. How about the real estate market?
RT: The residential market is continuing its recovery from the dramatic downturn brought on by the national real estate bubble.
Median home prices for year-round housing, as reported by the NH Housing Finance Authority, have risen in each of the past three years, and the region's unsold inventory — currently about 12 months — is half its recent peak.
The lakefront market remains active, with just under 150 sales on Winnipesaukee in the past 12 months at a median price for lakefront properties of about $900,000. There are plenty of lakefront properties to choose from, with about an 18-month supply (250 Winnipesaukee units) – ranging from modest island offerings at under $300,000 to a palatial 63,000-square-foot building on an Alton lakefront estate for $38 million.
The commercial and industrial real estate markets are relatively quiet, with the exception of some overdue and encouraging activity in downtown Laconia. New investors have acquired several prominent downtown buildings and the Belknap County Economic Development Council has purchased the historic Colonial Theater building downtown with plans to undertake a multi-million dollar renovation in collaboration with the city.
Young entrepreneurs are filling formerly vacant downtown storefronts with innovative offerings.
KG: Demand is the positive indicator for the real estate market in the Lakes Region. Median prices for sold property have been increasing slightly. Over the past six months, the median price for property sold was $212,000, with an average of 67 days on the market.
New construction is active throughout our region, including new developments near Weirs Beach and plans for a CATCH Neighborhood Housing development in a historic mill building in Franklin.
In the past few weeks, the Lakes Region chamber has celebrated groundbreaking events for expansion projects with Wesley Woods in Gilford, AutoServ Kia in Tilton and Titeflex Aerospace in Laconia.
JS: Demand is up in the region, with median prices slightly rising. Recently, new construction has increased, and this summer, we have had several ground breakings for expansions including Titeflex Aerospace in Laconia and Wesley Woods in Gilford.
Q. What is being done in the Lakes Region to retain young people in the area?
KG: Retaining and attracting young people is a top priority in the Lakes Region.
We have a strong collaborative energy amongst many local businesses, including Fusion, a very active nonprofit young professional organization encouraging civic involvement, engaging and developing future leaders. We also have a collaborative workforce development initiative creating a stronger relationship between local schools, educators and the our business community to ensure our students know about the industries and jobs that are available and the skills that are needed for those career opportunities.
JS: Retaining and attracting young talent is a key goal of Belknap EDC.
In recent years, we have partnered with our local young professionals organization, Fusion, to highlight the region as a great place to live, work and play. Our local businesses have many cutting-edge opportunities, and it is important to help them recruit and retain talent. Weekly, Belknap EDC features a young professional profile on our social media channels and other outlets to highlight young talent success stories and market the region to young professionals.
Q. How is the effort coming along to build up the manufacturing base in the Lakes Region?
RT: The region's manufacturing base remains healthy, having undergone a transition wherein locally owned manufacturers have been acquired by out-of-area investors. There is space available, both land and buildings, for new firms. Firms report difficulty recruiting employees, a reflection of Belknap County's 3.2 percent unemployment rate.
KG: The Lakes Region promotes a Manufacturing Week every fall to spotlight the manufacturing operations in our region. We have grown the manufacturing program at our technical high school from five students to over 100 students. There is now a two-year manufacturing program offered at Lakes Region Community College. Both of these education programs are supported by local manufacturers including curriculum advising, internships and mentoring as well as financial support.
The Lakes Region knows the importance of developing our future workforce.
JS: Workforce development is another key goal of Belknap EDC. We have partnered with our local schools and Lakes Region Community College to build a "pipeline" of future talent for our local manufacturers. We are fortunate to be the home of many leading advanced manufacturers developing cutting edge product lines. It is very important to New Hampshire and the Lakes Region's economic vitality to support our local manufacturers with workforce development programming and career/skills development.
Manufacturers are a key component of our economy and an economic driver for the region.
Q. What is being done to diversify the region's economy?
JS: The Lakes Region has a healthy mix of industries, including hospitality, tourism, manufacturing, retail and professional services. Entrepreneurs, as a sector, continue to grow in the region.
Belknap EDC has supported entrepreneurs by building strong collaborations with several partners including Lakes Region SCORE and the NH Small Business Development Center. Providing technical assistance, financing, and other support has been a key component of our efforts to assist small businesses in the region.
Q. NH Business Review recently covered the growing income disparity in the state, particularly in the Lakes Region, between wealthy retirees and low-wage workers. What can be done to boost the middle class in the area?
KG: There has been considerable focus in the Lakes Region regarding the increased aging population and retirement communities. This has led to more discussions about what activities, entertainment and amenities are offered. Community input is very important. Where do you shop? What amenities are not available here that you wish were? It's important to ask our high school students these questions, along with our young professionals, as well as our retired residents.
The city of Franklin is focusing on permaculture planning, care for the earth and care for the people. The city of Laconia initiated Re-Imagine Laconia, including community open houses and design charrettes to better understand what is important to thrive and grow in the future.
JS: A strong and growing middle class is key to the region's economic vitality and sustainability. Community investment and development is important to ensure the region remains an attractive place to work and live.
The Financial Stability Partnership, sponsored locally by the Granite United Way and representing many community development organizations, has worked hard to build economic opportunity for our citizens and financial stability.
While we face challenges as a region, I think those challenges also present opportunities to continue to build economic opportunity in the Lakes Region.