House, Senate disagree on eminent domain bill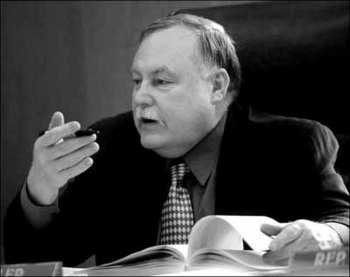 Hopes for a quick House-Senate agreement on eminent domain legislation suffered a setback earlier this month after members of a House task force criticized some elements in a Senate panel's proposed bill.
Members of the separate task forces met Oct. 11 with the aim of forging an agreement on legislation and a constitutional amendment to respond to a U.S. Supreme Court decision that angered property rights advocates across the country.
But House leaders took issue with the fine print of a draft Senate bill aimed at blocking government from taking property to benefit private developers. Bartlett Republican Rep. Gene Chandler said the proposal would appear to allow cities and towns to give benefit to private developers by declaring property as "blighted."
"This is opening the door to exactly what we are trying to stop," Chandler said.
Derry Republican Rep. James Rausch agreed, arguing the Senate bill would allow a town to convert farmland into private condominiums by first condemning the parcel.
"The wording of this causes real problems rather than solves them," Rausch said.
Claremont Democratic Rep. John Cloutier said officials in his hometown are worried that the bill goes too far and could frustrate redevelopment.
"We are trying to create a more viable, economically prosperous community. To totally eliminate economic development efforts may harm some of our larger communities," Cloutier said.
In a letter to the Senate panel, former Concord Mayor Martin Gross concurred with that concern, adding that the eminent domain process is often used even when government and a private owner agree to a sale. That's because using the process can clear up cloudy titles and make banks more willing to lend, Gross said.
Nashua Democratic Sen. David Gottesman said senators had the same debate as House members did, but the language of the bill was discussed with business and agricultural leaders.
"I think we can work this out," said Gottesman, acting as chairman of the Senate panel because Lempster Republican Robert Odell was at the scene of massive flooding in Alstead, a town in his district.
Nashua Democratic Sen. Joseph Foster tried to convince House leaders that some sweeping changes could affect other state laws involving development.
"If we start rewriting development statutes outside eminent domain, there could be unintended consequences," Foster said.
Gov. John Lynch, Senate President Ted Gatsas, R-Manchester, and House Speaker Douglas Scamman, R-Stratham, have all said the legislation will be a priority for them when lawmakers return in January.
Under the Senate plan, eminent domain for private development could be used in a limited way if that private use was "incidental" to the total project. Private development also could occur if a city or town purchased a property outright from a private owner rather than taking it by eminent domain.
The two legislative panels studied eminent domain this summer after the nation's high court permitted New London, Conn., officials to take a group of older homes along the city's waterfront for a private developer who plans to build offices, a hotel and convention center. The court said states can pass more restrictive laws.
– KEVIN LANDRIGAN
THE TELEGRAPH