Hotel app turns your smartphone into a key
Starwood's Upper Valley Element Hotel test-drives new technology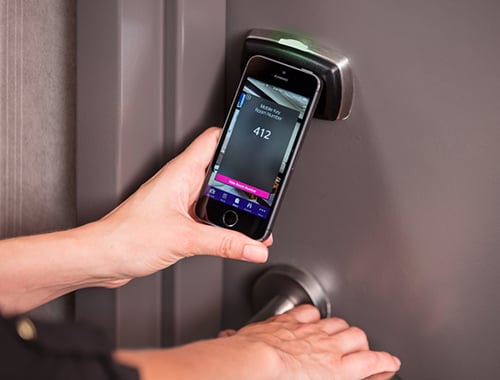 When you stay at The Element Hanover-Lebanon, there's no need to check in, stop at the front desk or swipe your key card. With the Starwood Preferred Guest app, you just hold your smartphone near the lock of your room and walk right in. No need to check out either.
Welcome to the new world of keyless entry technology, which might transform the hospitality industry the way Uber has revolutionized transportation and Apple Pay could alter banking. It reached the Granite State on April 1 at Starwood's new, and only, property in New Hampshire.
"It's really neat," said Matt Blanchette, who has been the 120-bed hotel's general manager since last summer, before it opened to guests, shortly before Christmas. The hotel's 25 employees often cater to long-term stays, working with Dartmouth College or Dartmouth Hitchcock Medical Center and other nearby institutions and businesses that need to put up people for weeks at a time.
"We like guests to think of this as a home away from home, so this way they can come and go as they please," Blanchette said.
A guest can download the Starwood Preferred Guest app for free, similar to loyalty apps provided by many airlines and hotels. After making a reservation, the system looks for the guest to arrive via a location-enabled smartphone. After arrival in the area, the guest is emailed the room number and a code that enables the phone to unlock the door.
Starwood, which has 1,200 properties in 100 countries worldwide, has been playing with keyless technology for some five years, and when smartphones were able to transmit digital code via Bluetooth, "it was a quantum leap," said Brian McGuinness, senior vice president of Starwood's Specialty Select brands. "Smartphones caught up to the technology."
The hotel loyalty system has about 100,000 participants, but it's too early for statistics on how many people have downloaded and are using the smartphone app as a hotel key.
The Element Hotel in Hanover-Lebanon will be one of the first 150 Starwood hotels where the program is being initially rolled out. Blanchette thinks that it fits in well with the hotel's "green" philosophy – expressed in such ways as low-flow showerheads – because it will mean fewer plastic keys left in people's wallets and then tossed in the trash when they return home.