Hopping the Washington merry-go-round
Observations from the nation's capital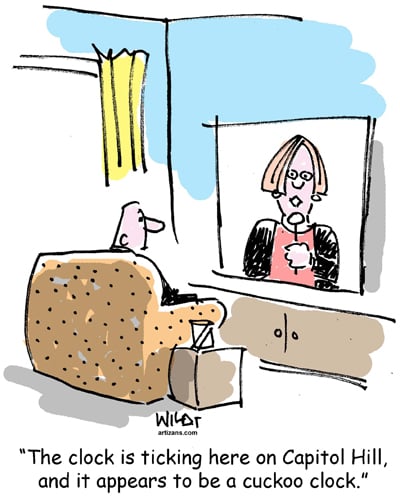 "Live Free or Die." Brilliant branding. I just returned from the District of Columbia, and their license plate motto made me laugh: "Taxation Without Representation." I love comedy and I got a free four-hour show, without a cover charge or two-drink minimum, while walking the city recently. As I strolled from Thomas Circle south to the Tidal Basin, Will Rogers sayings kept sweeping through my head.
"I don't make jokes. I just watch the government and report the facts" is one of my Rogers faves. My observations will never be confused for those penned by America's great storyteller, writer and philanthropist. I do, however, have a few of my own for you.
While approaching the Washington Monument, I was happy to see literally hundreds of port-a-potties because I had to go badly. Those little plastic outhouses might as well have been a mirage. They were all fenced off and in place for the Fourth of July on the Mall. This just made it worse.
Imagine not eating for days and looking at a juicy cheeseburger you can't get to. It was torture. I pressed on.
Once I returned to the business district, I paid my $10 cover charge to use the bathroom at a Starbucks. They really don't make you pay, but on this day it was money well spent for a sandwich and beverage. Then, good luck finding a trash barrel in parts of D.C. After sucking the life from my iced drink, I couldn't locate a garbage can near the Treasury Building. A security thing probably.
What made absolutely no sense, though, was shopping at a store called Peruvian Connection to buy gifts for Barb, and then leaving with two items not made in Peru. One came from Thailand and the other Argentina.
"I thought everything in here was from Peru," I offered to an associate. "Sir, about 85 percent of our stock is from Peru," she politely informed.
Leave it to me to find the other 15 percent.
Oddly, my walk through the Capitol was filled with Argentine encounters. A lovely couple at the Washington Monument asked me to take their picture and later, a second group from Argentina asked me for directions to the National Air and Space Museum. Since I love the musical "Evita," I insisted they sing "Don't Cry for Me Argentina" before assisting them.
Washington, D.C., even has a city bus with a massive bacon ad wrap. Five tons of rolling pork made me smile. I couldn't catch it, though, to see if the exhaust fumes would give me a contact bacon buzz.
I had one sidewalk celebrity walk-by. CBS Evening News anchor Scott Pelley breezed by me in a lavender shirt and gray slacks before I could ask him to take a selfie with me.
And the tackiest tourist souvenir? At the Ford Theater, where Lincoln was shot, packages of presidential Pez candies featured Lincoln, Grant and other PEZidents.
How about a new D.C. license plate motto? "Hydration Without Relief Representation."
Writer Mike Morin can be reached at heymikey@yahoo.com.