Honing their hospitality skills
Nashua Community College hospitality, culinary students get real-world training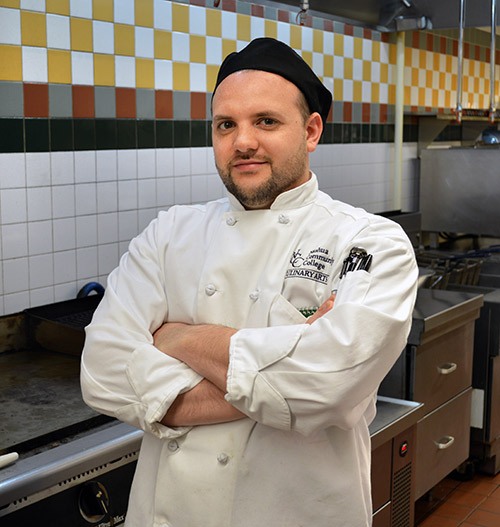 Students enrolled in Nashua Community College's hospitality and restaurant management and culinary arts associate degree programs are learning the real-world skills they'll need to run a commercial kitchen or manage a hotel by working with industry partners throughout the community.
The partners, which offer resources and expertise, while also helping fulfill future employment needs, include restaurants, shops and charitable organizations like the Nashua Soup Kitchen & Shelter, The Salvation Army and the Front Door Agency (a provider of transitional housing for families and individuals), enabling students to sharpen their skills while helping others.
Along with hosting student workers, partner organizations also offer internships, job opportunities, mentorship and a connection to the latest trends in hospitality, said Cheryl Hirni, coordinator of the programs.
"Our business partners bring immense experience, expertise and knowledge of industry standards to the table," said Hirni. "They help our students graduate at the top of their game and are always there for them if they need assistance."
The assistance works both ways.
The programs all work with the Nashua Soup Kitchen, where students prepare all side dishes for the organization's Thanksgiving dinner, and the Front Door Agency, where culinary arts students participate in its annual Gourmet Festival fundraiser.
NCC is also involved year-round with The Salvation Army, where students help with a variety of volunteer activities, including the recent Apple Fest at Sullivan Farm. NCC students prepared apple crisp, which was sold to festival-goers and proceeds will aid social services.
The options available to students through NCC's programs provide a holistic look at the diverse hospitality industry, which is the second-largest employment sector in the United States. As part of the programs' curriculum, students are required to participate in a 120-hour offsite internship, during which they receive training in business, management, behavioral science, communication and technology skills. This combination of hands-on experience and academics enables graduates to quickly move into a culinary or hospitality career, or to transfer to a four-year institution in pursuit of a bachelor's degree, said Hirni.
Among those providing internships and job opportunities for students is the Crowne Plaza Hotel in Nashua, which currently employs a handful of NCC grads and is also a large supporter of the school's fundraiser, Swing into Spring. The hotel also serves an advisory role to the college.
LaBelle Winery in Amherst and Whole Foods in Nashua are two of the program's newest partners. Both plan to offer internship and employment opportunities and plan to work together at community events, said Hirni.
Other businesses that work with the college are Nashua Country Club, which offers internships and has hired graduates; Vesper Country Club in Tyngsboro, Mass., which provides internship opportunities (and its head chef is an adjunct professor at NCC); Michael Timothy's Dining Group, which, through its network of restaurants across New Hampshire, provides mentorship to students and hires many of NCC's graduates for a variety of employment opportunities; A&E Coffee Roastery and Tea, whose Amherst location was started with help from an NCC program graduate; and, Harvest Bread Co. in Nashua.