Honesty, integrity, commitment drive Peters Auto Center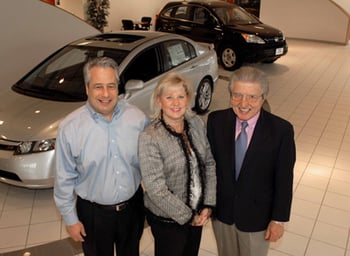 More than half a century ago, a father-and-son team from Nashua entered the car business with $200 in cash and two cars parked in a small Main Street lot. Now well known as Peters Auto Center on Amherst Street, that business has grown to become a multi-line dealership that boasts between 600 and 700 cars at any given time, a certified used car department and a body shop and service center.
According to Terre Weisman, the company's CEO, Peters Auto Center has made that transition simply by making car-buying the positive experience they believe it should be.
"Buying a car should be an exciting time in our lives," said Weisman. "For most people buying a car is the second biggest investment they'll make, and we work hard at making it a positive experience because that's the way it should be."
The fact that a similar commitment has been extended to company employees and the greater Nashua community since the company's 1955 inception has earned Peters Auto Center recognition by Citizens Bank and New Hampshire Business Review as this month's Not Your Typical Business award recipient.
"Peters Auto goes the extra mile to ensure complete customer satisfaction," said Gary Barr, senior vice president, financial services for Citizens. "Dealership colleagues are always treated with respect and dignity, leading to very low turnover."
It was Peter G. Proko, co-founder and father and grandfather of today's owners, Peter B. Proko and Peggy Proko-Weisman, respectively, who introduced and nurtured a commitment to "always take care of the customer."
According to Weisman, that philosophy lives on today and remains instrumental in earning Peters' dealerships ongoing recognition as a Nissan sales leader for the entire Boston region and one of the top-selling Honda dealerships in New Hampshire, Maine and Vermont.
"Our employees know that the customer writes their paycheck," Weisman said, adding that this understanding lends itself to top-notch service delivered by all 160 employees at Peters.
Whether buying a new Honda, Kia, Nissan, Isuzu or pre-owned vehicle or visiting "The Bump Clinic," customers like Pastor Robert "Odie" Odierna have come to expect dependable, honest service.
"Everyone there is very personable, very friendly, from the top down," said Pastor Odie, who has purchased three cars from Peter's since moving to the area 20 years ago. "Their honesty and integrity has always impressed me."
Today, Pastor Odie's wife, son and brother also drive cars purchased and serviced at Peters Auto Center.
The provision of consistent service like that experienced by Pastor Odie comes from a staff built on a foundation of teamwork, Weisman said. Management at Peters Auto Center considers company employees to be its "number one asset," he said.
To Susan St. Onge, the company's human resources manager, such an attitude became apparent on her first day. Brought on originally as a temporary worker four years ago, St. Onge knew right away Peters Auto Center was a place she wanted to remain.
"Right from the start I felt like part of a family," said St. Onge. "Management is really sincere. There's always a 'thank you,' and there's always respect for everyone, no matter what their job is."
Thanks in part to this familial environment and team focus, Peters experiences very little turnover, with some employees remaining at the company for more than four decades.
"We don't feel any one person or any one job is more important that another," Weisman said. "We know employee satisfaction goes hand in hand with customer satisfaction. If our employees are happy, our customers will be happy."
Having grown along with the southern New Hampshire region, Peters Auto Center's role in the community is taken as seriously as its commitment to customers and staff.
"The company's commitment to the community starts with senior management," Citizens Bank's Barr said. "They are continually being recognized for their contributions to their community and industry."
Longtime supporters of the Nashua Rotary Club, Nashua Pastoral Care and the Nashua Soup Kitchen, members of the Peters Auto Center family also step up to the civic plate with one-time events, such as supporting families of fallen firefighters and raising funds for local flood victims.
The company's highly visible Amherst Street location makes Peters Auto Center a perfect spot for drive-in drive-out collections — something the business is always willing to do.
"I've always felt that it's important to give back to our community," Weisman said. "We get so much support from our community, not just business-wise but we're lucky enough to live here, this is our home. It's only right that we do what we can when there's a need."
The Citizens Bank Not Your Typical Business Award is presented in partnership with New Hampshire Business Review. Businesses are selected each month based on the company's commitment to community, colleagues and customers. Visit Citizens Bank online at www.citizensbank.com.