Hollis voters consider land conservation purchase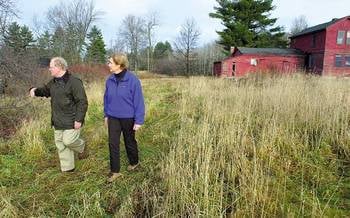 Voters in Hollis are not only considering the largest land purchase in town history, they are preparing to make the type of decisions that will determine the state's future.
"Something is going to happen with all of the land in southern New Hampshire in the next 25 years," said Dijit Taylor, the director for the Center for Land Conservation Assistance in Concord. "It's either going to be developed or it's going to be conscientiously conserved. It's not going to just sit there."
At a special town meeting on Thursday, voters will decide whether they want to open their wallets to conserve 260 acres of privately owned land. The cost of the two proposed purchases will be around $4.2 million, but many in town say there's much more at stake than money.
The true cost of the proposed purchases can be calculated several ways, residents say. On the one hand, some consider the vote as the ability to save the town's famous viewscapes, its unpolluted aquifers or its oft-mentioned "rural character."
On the other hand, many residents have asked, "How much land will we buy?" and "When will we stop?"
Keeping it rural
The Society for the Protection of New Hampshire Forests, which is linked with the Center for Land Conservation, has been researching conservation efforts across the state for more than a century. The group notes trends and watches with interest as citizens consider spending municipal funds on land stewardship.
"Hollis stands out as being even more concerned and even a little more willing than others to put money into it," Taylor said. "Theystarted early, they were very well organized and visionary."
Other towns have taken notice of Hollis' actions, and some are contemplating their own massive land purchases for many of the same reasons.
Hollis officials often mention the "rural" character when talking about town priorities. The word is written into the 1999 Master Plan for the town in a couple of places, including the summary, which says, "Two clear objectives of the Town are to maintain the rural lifestyle and to protect the quality of the water resources."
This philosophy has led to success regarding land conservation, according to longtime Selectman Richard Walker.
"We put two-acre zoning into place in the mid-1970s, which keeps the large developers somewhere else," Walker said. "You can get quarter-acre lots in Nashua."
The town has several groups that work together to identify and manage land for conservation. Two of those are the Conservation Commission, which was put together in 1964, and the Land Protection Study Committee, which was formed in 2000.
In 2001, Hollis was one of three towns in the state to set a standard by preauthorizing municipal bonds for land purchases at the annual Town Meeting in March. Near the end of each year in Hollis, after the land committee has considered all of the available properties, the town comes together at a Special Town Meeting to consider each individual parcel and vote whether or not to purchase it.
"I think a lot of people are attracted to Hollis because of its lack of density and rural character, and they want to preserve that once they get here," said Gerry Gartner, chairman of the land committee.
Conservation Commission members estimate that the town alone holds 25 percent of its land in conservation. Since 2001, Hollis has spent $4.97 million to protect over 404 acres. This year, voters earmarked another $5 million in bonds for land purchases.
If voters approve the Woodmont Orchard West and the Siergiewicz Forest purchases, it would be the largest, most expensive land purchase the town has made in the past three years.
Digging deeper
Not everyone is on board, however.
"Preserving the rural character is certainly a noble cause . . . but the rural character I knew is gone," Hollis resident Jim Belanger said last month at an informational meeting regarding the upcoming land purchases. "How many of us have deep pockets? It's not a question of digging deeper. It's a question of not having it at all. How many times have we stood at town meeting and said our children can't afford to live here?"
Selectman Walker expressed some of the same sentiments.
"Your first children can't afford to live here," he said. "I'd like to see some lower- and moderate-income housing built. We have two retirement communities. No sooner are they getting built than they're filled. I think we could use two more. It's sad when your mother or grandmother can't afford to stay (in town)."
Yet Taylor says land conservation is less of a burden than residential development for many towns.
"In most communities that we've studied, residential development requires more in services, whereas open space requires less services and costs less in taxes. Trees don't go to school," she said.
By curbing development, Hollis has been able to invest in its schools.
"We've been able to afford a better school system than our sister towns have been able to," Walker said. "Over in Brookline, you're buying land at $100,000 or $110,000. Here, it's about $200,000. By stuffing in a lot of houses, you're not helping yourself a bit."
Yet Walker was the lone selectman who voted against recommending the purchase of Woodmont Orchard last week. He doesn't feel he has enough information to support the purchase. He wants a clearer picture of how these and other land purchases will affect people in town. Furthermore, an appraisal won't be available until mid-January, he said.
"We just began appropriating funds three years ago," Walker said. "The town really hasn't begun to see it on their tax bill. If you're going to buy land to keep people from moving in, you've got rocks in your head."
But some residents say that the town's open space is what makes it such a good place to live. Ironically, Walker is one of those people.
When it comes to town land purchases, at least for Walker, the priority is the protection of natural resources, like the town's water supply.
"I would rather spend our money on better things (than Woodmont and Siergiewicz)," he said. "We have to let the town grow without doing damage to our natural resources. The day is going to come when we have to have town water."
Gartner disagrees with Walker. The preservation of the two parcels will only help the town, Gartner said, especially in the long run.
"The development of certain parcels that typify that rural character will change it," he said. "It's hard to claim cause and effect, but (open space) is one of the things that differentiates Hollis from towns around it, and people are willing to pay a price for that."
Budget Committee estimates show that the combined tax impact of purchasing the two parcels would be an additional $144 a year on a $350,000 house.
If the town were to purchase Woodmont Orchard, Gartner said the land committee has hammered out a plan to keep the farm running as an agricultural operation. If the town does not purchase the orchard, Gartner said the owners, Robert and Stephen Lievens, have a competing offer, and it would almost certainly be developed for housing.
A ripple effect
The actions in Hollis are certainly noticed and perhaps even emulated in other towns in the Greater Nashua region. In Milford, where taxes have gone up 22 percent since 2000, voters are considering the first large conservation purchase in the town's recent history. Voters will consider spending $2.3 million on the 445-acre Mile Slip parcel, which is located in the town's southwest corner abutting Mason and Brookline. If the town does not buy the parcel, there is a plan to build 115 homes on it, which would surely increase the number of students in schools.
"I think the town is ready," said Diane Fitzpatrick, chairwoman of the Milford Conservation Commission. "They've been watching land conservation in all the towns around us and the townspeople have been feeling that there's a lot of pressure to build homes."