Hollis puts local color in parade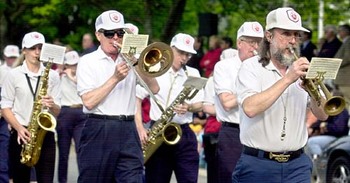 HOLLIS – It was a day of celebration, remembrance and somber reflection as residents watched the town's Memorial Day parade, which ended in a ceremony on the grounds of Monument Square.
Town officials in classic cars, Girl Scout and Boy Scout troops, costumed kids, and a line of fire trucks made their way from the Hollis Primary School campus through the town at about 5 p.m. as part of an observance in honor of those who have lost their lives in battle.
About 200 residents lined the walls of Monument Square waiting for the arrival of the parade and to take part in a ceremony in which local fallen soldiers were honored and a Silver-Star was awarded.
As the crowd waited for the parade to arrive, many spoke of the recent news of the town's latest casualty, U.S. Army Capt. Daniel Eggers, a former resident who died Saturday while serving in Afghanistan.
Although the Eggers family had moved from the town in 1987, and nobody seemed to remember the family when it lived in town for almost a decade, people took the news personally.
"It really brings it home to you," longtime selectmen Dick Walker said.
"These kids, they are putting their life on the line every week and we forget about it because of all these politics," he said.
Walker, who bought a farm in town with his brother, James, in 1941, said the farm kept him from serving in World War II.
"They said 'You'll do more good here than you will with a gun,' " Walker said military officials told him.
Memorial Day brings back memories of his high school friends who served and lost their lives.
Standing next to the monument, World War II Navy veteran and Hollis resident Steven Piccolo, 80, stood in the sun with his wife, daughter and son-in-law. Piccolo, who served in the Pacific on the USS Bunker Hill, spoke about the 400 men lost when Kamikaze aircraft crashed into the ship. "I lost a lot of good friends," Piccolo said.
The Piccolos were planning to visit Washington, D.C., next week to see the new National World War II memorial.
Members of the Hogan family were among many who sat along the wall of the square waiting for the parade to arrive.
Marilyn Hogan of Nashua received the disturbing news in April that her son, Timothy Hogan, 24, the youngest of 11, had been shot in the arm while serving Army duty in Iraq.
Members of the family, which included many youngsters, said they felt grateful and patriotic this Memorial Day, as they were anticipating Hogan's homecoming.
Shortly after 6 p.m., the parade, which included the Hollis Town Band, loudly arrived to the town center and a ceremony honoring the soldiers began.
"You are what this day is about and your sacrifice to this country is really appreciated," Hollis Selectman Mark Johnson said.
As part of the ceremony, Hollis resident Stephen W. Grunewald, 82, was scheduled to accept the Silver Star medal for his late father, World War I veteran Stephen H. Grunewald, but could not attend the ceremony due to health problems.
Grunewald's daughters, Pat Crawford of Rye, Kathleen Lantagne of Lowell, Mass., and Grunewald's 22-year-old grandson, David Lantagne, accepted the honor from Army Lt. Col. John Dorman.
"My father is so proud. He worked so hard to get the Silver Star for his father that was lost," Crawford said after the medal was given to the family. "My father really, really fought to get this here."
"Oh, he really wanted to make it. There is no prouder American than my dad or his dad," Crawford said through tears.
She said her father plans to put the star in a shadow box along with her grandfather's other military medals.
As the ceremony wrapped up, wreaths were laid and the names of local fallen soldiers and the wars they served in were announced. Eggers' recent death was added to the list of casualties, before the flag on the common was lowered and town speakers gave their final words to the crowd. "Let us never forget those who served. Let us never forget those who died. . . . Let us never forget that freedom is not free," Johnson said.