Hollis/Brookline students pack up care, hope for Iraqi kids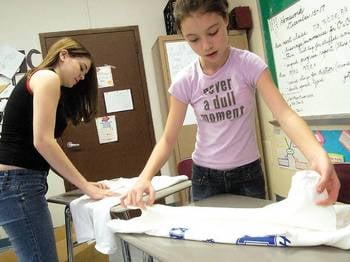 HOLLIS – Many of Carolyn Cicciu's assignments for her eighth-grade students involve discussing foreign cultures and exploring others ways of living. This season, Cicciu found another way to show her pupils that there is more to life than what happens in Hollis and Brookline, or even the United States.
On Thursday, Cicciu and her students worked on packing up three boxes of T-shirts to send to Iraqi schoolchildren. The blue cotton shirts were custom-made for the occasion, screen-printed across the front with the message "Hello from the HBMS Knights."
The idea for the project came months ago, after the teacher received a few thought-provoking e-mails from her nephew, who is stationed in Iraq with the Army National Guard.
Ken Boufford's letters painted vivid pictures of Iraqi schoolchildren, who wore the same clothes every day and had no shoes. Moved by what she saw through her nephew's eyes, Cicciu shared those stories with the students in her English classes.
"Every time they leave the base, these kids come out of nowhere in the same clothes, and they're asking for food and water," Cicciu said.
After hearing about the conditions in Iraq, Cicciu's students had an idea. Each academic team at Hollis/Brookline Middle School sponsors a yearly dance, and some of the ticket proceeds usually go towards helping students who can't pay for field trips.
This year, the Cicciu's team agreed that raising money to send shirts and other supplies to Iraq would be a great way to help make things better.
"We have pen pals in Japan that we write to, but I thought this would be a good way (for students) to situate real people living in a real place," she said.
The idea grew from there. Students decided to ask dance attendants to bring along a T-shirt or sweatshirt with their admission fee. That way, they could send even more clothes over.
"I think some kids are really, really affected," she said. "One student even said for her, it was a life-changing experience." Cicciu mailed the first shipment of shirts to her nephew at the end of November. After Cicciu's nephew distributed those clothes, he sent an e-mail to thank the class for all of their efforts.
In the e-mail, he said, "I cannot thank you enough for all of your generosity towards the Iraqi people. I know it firsthand that all of the people that received gifts from you are truly thankful. The full impact of the goods you sent will be hard for you to realize."
As students packed the second t-shirt shipment this week, they squeezed dozens of purchased and donated stuffed animals in between the shirts. The Iraqi children have few, if any toys, Cicciu said.
Students said over and over again Thursday that the project helped them realize how fortunate they are to live in the United States. Many also said that seeing how other people live has changed how they view their own day-to-day existence.
"Our culture is so different," said Sara Schmidt, 13. "We're so lucky."
Cicciu said that this project isn't the only time the students have done something to help out the community. They've also collected toys and made Christmas ornaments for the Nashua Children's Home.
After her nephew returns in the spring, Cicciu said he plans to share pictures and videos of Iraq with the class so they can see how they've influenced others.
"That will bring it more into reality," Cicciu said. "I hope they see that you don't have to do a whole lot to make a big difference. I hope this is the beginning of a new way of life for them."