Hockey equipment maker Bauer buys baseball firm
$330m acquisition of Easton-Bell turns firm into a two-sport power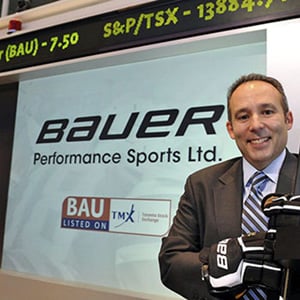 Bauer Performance Sports has completed the $330 million acquisition of Easton-Bell Sports' baseball and softball business.
Bauer – an Exeter, N.H.-based sports equipment supplier whose stock is traded on the Toronto Stock Exchange – said that the acquisition would position it as the market leader on the diamond as well as the hockey rink.
Bauer already has 53 percent of the global market in ice hockey and roller hockey. The Easton acquisition, it said, will make it the No. 1 seller of softball and baseball equipment as well.
"This is the largest and most transformational acquisition in our history," said Kevin Davis, CEO of Bauer.
Easton-Bell is owned by private equity firm Fenway Partners LLC.
The deal results in a company with $593 million in annual sales, with $95 million in adjusted earnings based on the recent filings of both companies – and that doesn't take into account "anticipated operational synergies and efficiencies of the integrated business," the company said.
Bauer also said that the acquisition will add to earnings by the end of the first year.
The deal means Bauer now owns the Easton brand, though Easton-Bell Sports retains Easton Hockey and Easton Cycling, who will be able to license the Easton name from BPS. BPS will also keep intact the existing Easton baseball/softball operations in California and Utah, as well as most of its leadership team.
However, Mike Zlaket, the operation's president, will step down, and Cliff Hall will run the division as executive vice president.
The acquisition came a week after Bauer reported it lost $4.9 million (or 14 cents a diluted share) in its third quarter, despite a 13 percent increase in revenue to $62.2 million – the largest in the company's history.
But Bauer's third quarter is usually weak, and the company recorded a significant increase in bookings for the hockey season, which bodes well for the future.
Year to date, sales are almost exactly a third of billion dollars, a $21 million uptick compared to last year.
Bauer, with $7.7 million in cash on hand, paid for the Easton acquisition by tapping into a $200 million asset-backed revolving credit facility and issuing some $450 million in senior secured loans. The company also said it's considering selling more stock, either publicly or privately, to repay some of the loans.