Hirshberg makes the case for social innovation
Stonyfield chairman to keynote UNH challenge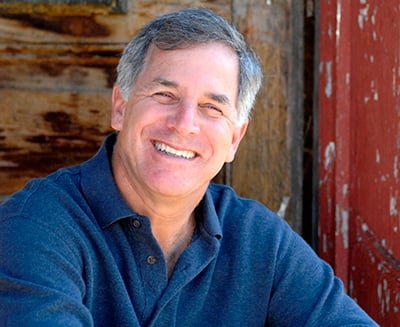 The concept of social innovation is just only blooming in New Hampshire, but the state has already bred leading examples of businesses that use their enterprise as a force for society.
Gary Hirshberg, co-founder and chairman of Londonderry-based Stonyfield Farm and founding partner of Just Label It!, a national campaign to label genetically engineered food, is one such social entrepreneur.
Hirshberg will be the keynote speaker at the University of New Hampshire's third annual Social Venture Innovation Challenge finals, set for Friday, Nov. 20 at the University of New Hampshire. He also will be honored as the 2015 NH Social Innovator of the Year.
The SVIC is a competition that rewards participants for the most innovative and sustainable business-oriented solution to a social or environmental problem.
As keynoter, Hirshberg will talk about his idea of social innovation. He defines social entrepreneurship as a means of using business to find and promote solutions to societal or environmental problems.
"To me, social entrepreneurship is a continuous improvement process that starts with thinking differently," he told NH Business Review.
He believes this concept manifests itself in methods like Stonyfield's organic purchases, which promote smaller-sized farmers and "chemical-free farmland," as well as the company's "innovative waste management system," which helps reduce pollution.
His SVIC keynote speech will be titled, "Inventing the Future: How Social Entrepreneurship Can and Will Save Our World."
Using such examples as the expansive organic products industry, he plans to discuss how desirable economic results can also lead to positive societal impacts. The importance in social entrepreneurs crafting public policy will be another subject considered in the speech.
'Good business'
He also thinks highly of the growth of social innovation in New Hampshire.
"New Hampshire has long spawned a plethora of gritty, stubbornly determined entrepreneurs who are committed to using their businesses to improve the world for their customers, employees and other stakeholders," Hirshberg said.
Some key examples of the state's socially innovative entrepreneurs and businesses are outdoor apparel maker Timberland, insurer Northeast Delta Dental, Pete and Gerry's, a provider of organic eggs, and WS Badger, a producer of organic body and skin care products.
In Hirshberg's view, the opportunities to create successful businesses that solve social problems are "unlimited."
"Social entrepreneurs embrace the dual notion that business can be the most powerful force to resolve societal ills and that addressing societal ills is good business," he said.
In the past, Hirshberg – author of the book, "Stirring It Up: How to Make Money and Save the World" – acted as a coach for several SVIC student finalists.
He said he supports the challenge for its encouragement of young entrepreneurs to "be more opportunistic and expansive in thinking about the potential impact of their enterprises."
The SVIC is designed to encourage the next generation of social entrepreneurs, by engaging aspiring and practicing student and community social entrepreneurs in designing novel, sustainable, business-oriented solutions to some of society's most pressing social and environmental challenges.
Challenge winners receive awards that help bring needed resources to advance their models.
Following presentations by the finalists beginning at 9 a.m., Hirshberg will speak at 11 a.m. in the Memorial Union Building's Granite State Room. He will also make the case for why social entrepreneurs need to engage in crafting positive public policy.
Following his address, the winners of the 2015 Social Venture Innovation Challenge will be announced.
Over $25,000 in prizes are given to winners to fund their ideas. Deadline for registration for the SVIC is Nov. 5 at unh.edu/svic.
Attendance at the Nov. 20 challenge finals and his speech is free and open to the public, but registration is required.