Hillcrest Terrace: a premier senior living community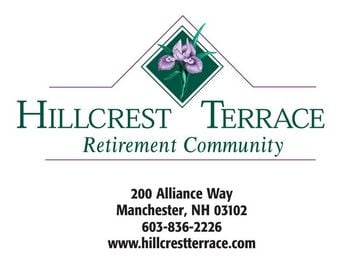 At Hillcrest Terrace, you'll find a warm and caring community that promotes wellness and independence, while offering a wide variety of services and amenities – each designed to promote an independent and active lifestyle.
While residing in spacious apartments, residents enjoy a worry-free and enjoyable lifestyle, which includes such on-site conveniences as restaurant-style dining, beauty salon and barber shop, country store and a billiards room. Hillcrest Terrace's Wellness Center – which includes fitness equipment, exercise classes, Jacuzzi and scheduled health clinics – is available to all residents. And when you live at Hillcrest Terrace, your pets are always welcome.
Hillcrest Terrace's social calendar offers more activities and trips than any other retirement community in the region, with a wide variety of social, cultural and recreational programs. Residents can choose from a breathtaking cruise on Lake Sunapee, an exciting theater trip to Boston, a day at the park – or the ballpark – or just spend time enjoying a musical presentation or lecture.
When residents need transportation to shopping or appointments, it is provided by staff at no cost. The flexible transportation schedule makes it easy to take care of all those necessities.
All this and more awaits future residents at a community that offers 17 beautifully wooded acres but is near two major highways for easy access to downtown Manchester and all the surrounding towns.
Hillcrest Terrace is part of Hillcrest Manor Inc., a not-for-profit organization formed in 2004 to become the new parent company of Hillcrest Terrace and The Women's Aid Home, which is known as Pearl Manor at Hillcrest Terrace.
Hillcrest Terrace began as a 138-unit independent living community that was owned and operated by Catholic Medical Center Health Care Systems. Pearl Manor Assisted Living, which was owned and operated by Elliot Health System, consisted of 58 traditional assisted living units and nine intermediate nursing care suites.
Catholic Medical Center Health Care Systems and Elliot Health Care Systems relinquished control of Hillcrest Terrace and Pearl Manor on Oct. 1, 2005. Hillcrest Terrace and Pearl Manor subsequently became wholly owned subsidiaries of Hillcrest Manor Inc. The operations and employees of Pearl Manor were transferred to Hillcrest Terrace. Pearl Manor remains solely as the holding company for the organization's charitable endowment.
Hillcrest Manor Inc. has a 12-member board of trustees consisting of the president/CEO, two appointees from Catholic Medical Center Health Systems, two appointees from Elliot Health Systems and two resident trustees, who can be residents or family members of the retirement community. The remaining trustees were recruited from the surrounding greater Manchester professional business community.
For more information, call 603-836-2226 or visit www.hillcrestterrace.com.
The NHBR Business Profiles section contains content provided by New Hampshire Business Review advertisers.