High school students get a taste of hospitality
Summer UNH program offers an introduction to careers in the industry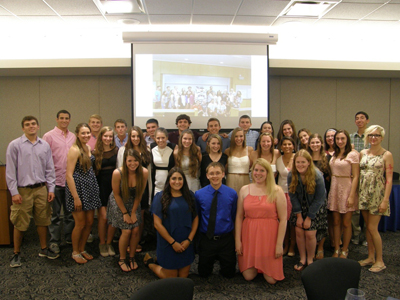 The University of New Hampshire Peter T. Paul College of Business and Economics, earlier this year, held its first annual Hospitality Management Summer Program for rising high school seniors who are considering a career in the $3.5 trillion hospitality management industry.
The one-week program, which took place July 20-26, introduced 29 participants to the wide variety of careers available in the industry, including hotels, resorts, event management, food service businesses and revenue management.
Nelson Barber, interim chair and associate professor of hospitality management, developed and managed the Hospitality Management Summer Program.
He called the program a first-class introduction to the field for students who are interested in pursuing a career in the industry. This year, participates came from states as far away as California, Michigan and Pennsylvania.
"The Hospitality Management Summer Program is designed to give high school students the opportunity to learn more about the hospitality industry, meet successful alumni, and industry leaders, while experiencing what college life is all about at the state's flagship public university," said Barber.
Scope of the industry
The program "was a tremendous opportunity to immerse rising high school seniors into college life and to gain an appreciation for what the hospitality industry can offer as a career opportunity," said Interim Dean Arnold Garron of the Paul College of Business and Economics. "The college fully supports this program and is looking forward to next summer's program."
While living on the UNH campus, participants took college courses and met with current students and alumni involved with the UNH Hospitality Management Program. Participants were also introduced to the scope of the hospitality industry, senior-level executives and the market forces at play in the industry through presentations, hands-on experience, guest speakers and computer simulations.
A typical day included a field trip to Wentworth By the Sea in New Castle, where participants learned firsthand how a four-star Marriott resort operates, an afternoon tour of a mid-size Portsmouth historic inn, and an evening event on campus with hospitality management faculty and students.
"Overall, the summer program exceeded my expectations by far. I learned so much, made so many new friends, and fell in love with UNH even more," said Erin Clarkin, a participant from Pennsylvania. "Most importantly, the program clarified my passion for the industry. I think I speak for all the students when I say this was the best week of my summer and leaving was so hard."
The 2015 summer program application process will begin in early spring 2015. To learn more, visit paulcollege.unh.edu.