Helping lawyers succeed
NH legal consultant has honed a national reputation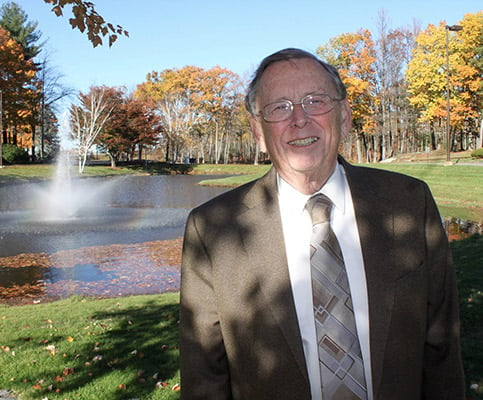 Arthur Greene has seen it all in the world of law firm management in the more than 20 years since he's shifted gears, going from a practicing trial attorney to managing partner of the law firm now known as McLane Middleton to launching his own Bedford-based consulting business.
In that time, he's helped guide more than 200 small and mid-sized practices around New England and beyond, and Greene says demand for firm management services continues to be strong.
He suspects that is based primarily on the growing challenges law practices are facing, including heightened competition in a shrinking marketplace. For the most part, Greene, along with his partner, former litigation paralegal Kathy Fortin, focuses primarily on revenue enhancement, profitability studies and succession planning.
Passing the torch is something Greene understands well, from his own family lineage – his father and grandfather were both attorneys. His grandfather had a practice in North Conway, and his father worked for the McLane law firm before him. His daughter, Samantha Ladich, is a fourth-generation lawyer who serves as senior deputy attorney with the Nevada Attorney General's Office.
"I never felt pressure to follow their footsteps. I suspect it was more the experiences I had growing up in that environment. I've loved every minute of it, I can tell you that," says Greene.
There was a brief period when his career could have gone in a completely different direction – just after high school, to be exact. That's when he found his bliss as a traveling musician.
"I was better at playing trombone than my studies, and performed with any group that would have me, including the Syracuse University Marching Band – which got me some travel and good seats at the games. During summers, I got to play with the Center Harbor Band and be paid $5 a night. I used to think, 'It can't get better than this.' The only regret I have is giving up on the trombone, and not continuing playing with part-time opportunities," says Greene.
A fresh perspective
Fortunately, his career in law has been just as rewarding, and he credits Jack Middleton for being the man who changed the course of his life.
"I got started in law practice management in the early 1980s, when I was elected to the McLane management committee. After about six months, I asked Jack Middleton if I could attend a weeklong law practice management program in Minneapolis. After attending a second year, the organizer of the program asked me if I would be interested in being a speaker the following year. As they say, the rest is history. I'm not sure that Jack appreciates this, but that one decision he made granting my request was a defining moment that changed my life – for the better – for the next 35 years," says Greene.
Attorney and law firm consultant Arthur Greene with his business partner, former litigation paralegal Kathy Fortin.
He's been married to his wife Ellen for 49 years, and they love to travel. They spend a good amount of time each year at their condominium in Reno, Nev., where they can be nearer to their daughter and two granddaughters, ages 7 and 8. Although he doesn't play trombone any longer, Greene enjoys river fly fishing and downhill skiing. He also has spent a good amount of time in Europe, and has participated more than once in Volvo's European Delivery Program, where you get a good deal on a new car if you plan to pick it up in Europe – and then you can spend some time traveling there by car before having your new Volvo shipped back to the U.S.
He and his wife also had the chance to travel to China a few years ago as part of a cultural exchange program, which gave them an opportunity to meet with Chinese lawyers, and learn more about how Chinese law firms operate.
Consulting has also allowed Greene to keep a fresh perspective on law firm management. But please don't refer to his sage advice as "best practices" – it's a term that rankles him.
"I just feel that phrase is overused and leads to generic advice of limited value," says Greene, who would prefer to emphasize a couple of universal truths, to which he finds most successful practices adhere.
"For a law firm, having a good partnership agreement is critical, so everybody knows what the rights and duties of partners are, and more importantly, what's going to happen when partners retire. What I find is they either don't have an agreement, or they don't have a very good one," Greene says.
'A new challenge'
The other key to success is goal-setting, says Greene. When you get to the financial part, setting goals for the firm and for individuals, and then tracking and monitoring those goals, is critical.
"And probably the last thing is having an entrepreneurial spirit," says Greene. "A lot of lawyers think being good at what they do is all it takes, but things like visibility and community involvement, and being able to generate clients, that's what it takes. I find fewer and fewer lawyers these days are good at that."
When speaking to groups, he favors the following illustration to make his point:
"You can take two small to mid-sized firms in the same city, and they can have equal reputations within the community and with the bar, and one is doing well while the other is financially struggling. And it has nothing to do with how good the lawyers are; it's how well they manage and plan, which is why lawyers should spend more time doing strategic planning and putting together a financial model, and make time for managing a firm," said Greene. It's important, and there is always a good payback on that time investment."
Greene has written several books, including his most recent self-published "Succession Plans for Law Firms and Rewards for Retiring Lawyers," a practical guide for those exploring the process of succession.
He was recently honored with a lifetime achievement award for his work, as the 2016 recipient of the Samuel S. Smith Award for Excellence in Law Practice Management, bestowed by the American Bar Association in September.
It was quite an honor, says Greene, who has lived in Manchester since he was two years old. He considers himself fortunate to have benefited professionally from his associations with some of the state's finest attorneys right in his own backyard.
"Surely, I'd start with my dad, who was at McLane years ago, and many others who were important to me, particularly Stanley Brown, one of the finest trial attorneys around. They were the two people who had the most influence on me. I carried the bag for Stanley for many, many years," says Greene, who will soon celebrate 49 years in the business of law.
For the foreseeable future, there's no place he'd rather be.
"Making the transition, from practicing attorney to writing about management issues, to becoming a speaker and a consultant, was a very good move for me," says Greene. "My whole life I wanted to take on something new and different. I'm always looking for a new challenge, and I'm enjoying helping new lawyers with the everyday problems of running their firms, while helping them accomplish their goals."
This article originally appeared in the Nov. 16 issue of NH Bar News.