HEB Engineers attracts young talent
Who says all the young professionals are leaving the North Country?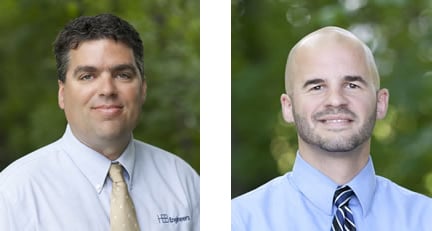 Jay Poulin, president and lead civil engineer at HEB Engineers in North Conway, drives through Pinkham Notch every day on his commute to work. It's about a 40-mile ride from the home he shares with his wife and sons in Berlin, but instead of battling urban sprawl traffic he only occasionally has to slow down for skiers, hikers and moose.
Josh McAllister, HEB vice president and senior civil engineer, has a shorter commute than Poulin – he and his family live in Center Conway – but it is not any less scenic.
The two men have different views of the White Mountains, but they share a common path to HEB. Both are graduates of Clarkson University, both held their first professional positions outside of New England, both married women who they knew in high school and both came back home to live, work, play and raise their families.
Poulin graduated from Berlin High School in 1993 and joined HEB in 2003. McAllister grew up in Hart's Location (population 41), graduated from Kennett High School in 1998 and came back home to work at HEB in 2004.
Poulin, McAllister, Christ Fournier (vice president and lead structural engineer) and business manager Elizabeth Lajoie are the majority owners of HEB, having taken over management from the company's founders, Ed Bergeron and Doug Burnell over the course of a few years.
Bergeron started his engineering business in 1974. Burnell joined his surveying firm with HEB in 1985. The transactions took place between 2006 and 2013 through the creation of an employee stock ownership plan (holding 30 percent HEB stock) in which all HEB employees participate and through the private sale of the company's remaining shares to the four principal owners.
The company specializes in civil and structural engineering and land surveying.
The ages of the 10 engineers and one intern, four surveyors and two administrative employees range from 40 to 21, much younger than the median ages of Coos and Carroll counties, which are the fastest-aging counties in the state.
According to the U.S. Census, the 2011-2013 three-year average median age in Carroll County was 48.5 years for males and 50.3 for females. In Coos County, the male median age was 47.1; the female median age was 48.8.
Company's legacy
While state and regional agencies look for ways to attract young professionals to "stay work play," HEB has been successful in doing just that.
"We're really proud that we can offer professional opportunities to young professionals in the North Country," Poulin, who turned 40 in June, says. He adds that there is a brain drain, saying there are just not that many opportunities for young people who leave the area to go to college.
"We're a young company with a 40-year reputation," Lajoie remarks. "Ed passed on a great legacy; we're really fortunate."
That legacy includes offering scholarships to area high school students, both in the Androscoggin and Mount Washington valleys, internships for college students, support for continuing education and robust community involvement.
Several former interns now work at HEB, and the present intern has an invitation to join the firm after he graduates.
"We live and work here, and many of our staff are very active in the community. As an employee-owned company, it makes sense to support our staff's interests outside of work," Lajoie says. "It's important for our staff to continue to build their careers and connections, both for themselves professionally and for the firm."
McAllister says that Bergeron and Burnell were good role models.
"The amount of participation they had in the community became an expectation, as a leader coming up, that's how much you are involved in your community," he says.
Staff get two paid days each for their volunteer work, with many contributing more of their free time to nonprofits. "Here, and in Berlin definitely, there's a strong sense of community that people are looking to give back to," says McAllister.
Young professionals
That sense of connection to place is something management looks for when hiring. Successful new hires aren't just the ones who have come home, but also the ones who have found a home in the White Mountains and the North Country.
Those factors combined with workplace flexibility and the region's outdoor recreational opportunities have made HEB attractive to young professionals. Staff recruitment efforts include attendance at University of New Hampshire and University of Maine career fairs.
Potential employees also find the company online. Lajoie says they do receive inquiries from those in older age groups, however they tend to be professionals who want to retire to the area but aren't quite ready yet and their backgrounds are more specialized than what HEB needs.
"For the most part, we've found growing our staff from the bottom up is the most successful approach," she says.
The firm has commercial, municipal, state and federal clients. It is currently designing the reconstruction of a stretch of Route 16 and of Hutchins Street in Berlin, and is entering into a contract with the NH Department of Transportation for the replacement of a bridge in Center Harbor. It also has a USDA contract with the United States Forest Service — White Mountain National Forest for surveying and structural and civil engineering and another with the NH Bureau of Public Works.
Among HEB's bridge rehabilitation and replacement projects are Loon Mountain Bridge, Stark Covered Bridge and the Tuckerman Ravine Trail bridges.
"Those are good clients and good contracts because it's an extended period with the potential for several projects." The variety of work and clients, he says, is a good balance.
'A great place'
Several members of the HEB staff answered brief questions about their background and how they came to be at HEB. Their answers to "Why did you choose to come back to/move to the region?" and "Why do you stay?" were so positive they could be used in business recruitment brochures for economic development agencies.
Many on the staff grew up in the Androscoggin Valley or Mount Washington Valley. Senior structural engineer Jason Ross sums up why he came home after graduating from UNH in 2000, echoing a sentiment held by his colleagues: "It is close to family and I love the area. I like the slower pace of life and I don't like crowded cities."
Ryan McMullen is from Derry and just started with HEB after receiving his degree from UNH. He spoke with McAllister at the UNH career fair last fall. "I was looking for an engineering firm that was on the smaller side where everyone knew everyone and you were not just a number," he explains.
Evan Henderson grew up in New Jersey. "My family would always spend a week camping in the summer. I loved being out in nature."
Staff surveyor Jake Therriault hails from Milan and interned in 2008 during his summer break from UNH's Thompson School: "With my wife's family and my family in Berlin and Milan, we chose Gorham to raise our family, which is halfway between family and work."
Junior engineer Michael Larson started with HEB in June 2014. He's an HEB scholarship recipient, grew up in Eaton and attended the University of Connecticut.
Says Larson: "I really enjoy working five minutes from Cathedral Ledge, Cranmore and the White Mountains. It's important to be able to work and play all in the same day. HEB is very flexible, allowing their employees to take advantage of the area, as long as you put in the hard work first."
Seth Burnell, son of Doug Burnell, left Conway to attend Cornell University. He did his first work for HEB when he was in junior high, then interned at HEB after his junior year of college: "I thought for awhile when I was in school that I could be happy living down near Boston, for example, with college friends and with a job in my field of study. Upon returning home, however, I quickly realized I would not be happy trying to be a city mouse."
He continues, "This is a great place to live and give my kids the same experiences I enjoyed in my youth. I realize, however, that finding a professional position here plays a significant role for many in making these ideals possible."
Originally from Biddeford, Maine, Fournier joined HEB in 2006. He reached out to the company because he wanted to live and work in the area. "My wife and I chose a semi-close location with plenty of outdoor activities to keep busy," he says, noting the plus of lower taxes than working and living in Maine.
"My first job out of school was with an engineering firm just outside of Washington, D.C., and I went seven miles to work every day and it took me 45 minutes, in four lanes either way," McAllister recounts. When he was transferred to Albany, N.Y., he asked himself, "What can I do to not be living in Albany and be closer to home? I never took vacation, I was always going home."