Health Innovator Award: St. Mary's Bank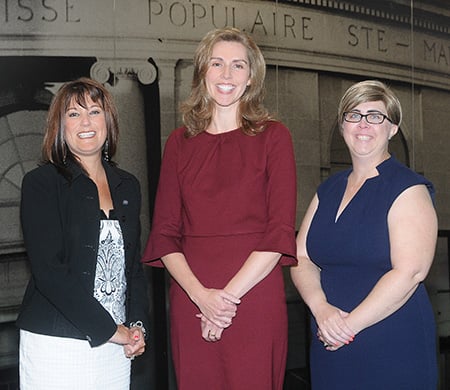 For its focus on wellness and extending multiple offerings to its employees, St. Mary's Bank has been recognized by Harvard Pilgrim Health Care and NH Business Review as the latest recipient of the Health Innovator Award.
St. Mary's is the first credit union in the United States and has been helping New Hampshire residents for over a century with a wide range of affordable products and services — including checking accounts, personal loans, real estate loans, business banking and savvy financial planning.
Q: What types of wellness programs and incentives does St. Mary's offer to its employees? What was the impetus for beginning to offer these programs?
A. St. Mary's Bank strives to promote a positive and healthy work environment by providing a Workplace Wellness Program available to all employees. This includes physical, emotional, financial and social well-being. We have a commitment to develop employees to their fullest potential. We want the Credit Union to be a rewarding place to work where employees are happy, healthy and productive. Our main focus has been on health education, fitness, nutritional planning and stress reduction. The program consists of activities such as medical screenings, goal setting, on-site fitness, fitness challenges and more. We have a volunteer-run Wellness Committee, as well as a partnership with Nutrition in Motion to teach nutrition education and encourage physical activity. We've offered a comprehensive 8-week program called Weigh-to-Go!, group education sessions called Nutrition Talks, interactive wellness fairs, fitness challenges and ergonomic assessments. We also offer two on-site fitness centers, as well as on-site yoga.
Overall, as the nation's first credit union caring for our community, we also care a lot about our employees. St. Mary's Bank strives to create a healthy work environment that is fun and promotes healthy lifestyles.
Q: Have your employees been receptive to these wellness offerings? What have the response and participation been like?
A. St. Mary's Bank employees are engaged with wellness offerings. The committee plays an active role to promote and advocate for good health habits. They enjoy organizing fitness challenges with the spirit of friendly competition. The committee has done a survey to understand what motivates employees. We try and make it easy, fun and convenient for employees to participate.
St. Mary's Bank employee participation can range from two thirds of the total employee population to ten employees, depending on the activity. It is a delicate balance of providing programs that achieve results and employee participation. St. Mary's Bank's most successful program to date has been Nutrition in Motion. In St. Mary's Bank initial offering of the program, two employees were identified during the initial screening to have potentially life threatening ailments and were sent for immediate care. That success resulted in two employees proactively working to resolve a potential health crisis.
Whether participation is 100 employees or 10, the cost of employee wellness pays off when employees develop new habits, reduce stress, enjoy wellness activities with their teammates and improve their lifestyle!
Q: Does St. Mary's have any new health/wellness initiatives on the horizon for employees that you can tell us about?
A. Our next phase of wellness is the implementation of a Wellness Portal for September. The portal will provide employees self-guided educational workshops, nutritional and fitness guidance and tracking, and will keep them up-to-date on new trends and event announcements. The portal will also keep employees informed on incentives being offered by St. Mary's Bank and progress on new incentives. The portal is the next step on focusing wellness initiatives towards employees' individual health.
Q: How would your company and its culture be different today had you not implemented these wellness programs?
A. Employees taking part in activities have had fun! Group activities have made connections amongst teammates and families. This sense of community towards wellness has built bonds for employees to lean on one another and thrive together to achieve wellness goals. Wellness is an extension of our culture and supports employees leading healthier lifestyles. By caring about employees and their well-being, we have happier employees offering the desired service we strive to create for the members of our Credit Union. We are a company that thrives on people helping people and without the existence of a wellness program, St. Mary's Bank's culture wouldn't reflect our mission statement, which is to help members achieve their financial goals by providing best-in-market service and trusted financial advice.
---
"It has truly been a pleasure for us to work alongside St. Mary's as they continually add to the wellness offerings for their employees. In addition to onsite events, St. Mary's implementation of our wellness site will be a wonderful asset to the employees, giving them access to robust tools, including online workshops, meal planning, fitness and exercise plans and much more. We especially appreciate Merideth Gurall's commitment to the wellbeing of the St. Mary's Bank community."
– DR. WILLIAM BREWSTER, VP OF NEW HAMPSHIRE REGIONAL MARKET, HARVARD PILGRIM HEALTH CARE