Health Innovator Award: Scott Electronics Inc.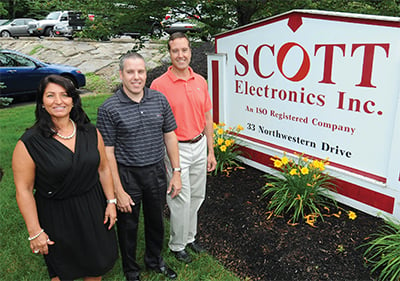 For educating its workforce about the importance of wellness, and encouraging its employees to establish and maintain a healthy lifestyle, Scott Electronics Inc. has been recognized by Harvard Pilgrim Health Care of New England and NHBR as the most recent Health Innovator Award recipient.
Scott Electronics, based out of Salem, is a leading electronics manufacturing services (EMS) company incorporated in 1986, providing manufactured electronics assembly services for a range of industries. The company is a total solutions manufacturing provider for cable, harness, electro-mechanical and fiber optic assemblies.
Q. What makes Scott Electronics a standout local company in terms of its health and wellness initiatives/ benefits for your employees?
A. We educate and promote a healthy and positive way of living at work and home. We have informative lunch and learn sessions that educate employees on healthy ways to eat, we promote preventative office visits through monthly drawings, and we offer morning group stretches with the entire facility. We also have wellness visits from medical personnel to check for high blood pressure and diabetes, along with educational visits from local nutritionists. The wellness program is encouraged from top management and fully embraced by our employees.
Q. When did Scott Electronics begin implementing wellness programs for your workforce, and how did this decision come about? What was the first program you offered and how did it benefit your employees/what changes did you see as a result?
A. In 2010, it was suggested that we implement a wellness program to empower healthy lifestyles which would eventually lead to lower insurance premiums. We started by making positive changes at little to no cost, with the help of our health benefits broker Hub International and Harvard Pilgrim. We added healthier options in the vending machines and supported physical activity during lunch and breaks. The stretching we do during our morning break has not only helped our employees physically, but also mentally. They now look forward to this daily 3 to 5 minute routine. We have seen a more alert and less stressed staff as a result of these changes.
Q. Can you cite one specific example of a wellness offering at your company changing or positively affecting the life of an employee?
A. The lunch and learn sessions have been a great source of information for our employees. The nutritionist at one of our local supermarkets worked with employees one-on-one, similar to a personal trainer, and their efforts have been very positive. We have also had high blood pressure screenings that have found a couple of employees with high readings, which they then discussed with their physician.
Q. Going forward, how do you plan to keep the momentum you have achieved with employee health/wellness, as well as expand your current programs even further?
A. We plan to implement a walking club and offer various healthy challenges which would be an incentive for employees to do well. We will continue to promote wellness through monthly cash drawings we offer for preventive visits, where all of our employees, whether they are on our insurance or not, have a chance to win. We will also continue to work with Hub International and Harvard Pilgrim to help us expand our current wellness programs.
"Harvard Pilgrim commends Scott Electronics for providing simple and effective health programs that result in extraordinary results for their employees. We are thrilled at the progress their entire company has made and wish them continued success in building a healthier workforce."
– BETH ROBERTS, SVP, REGIONAL MARKETS, HARVARD PILGRIM HEALTH CARE