Health Innovator Award: Pennichuck Corporation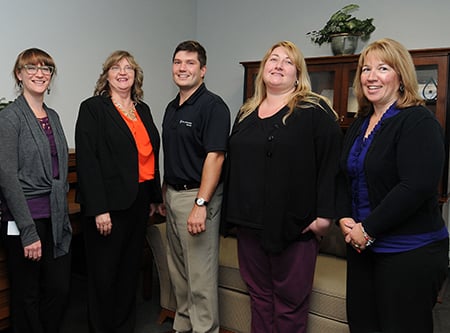 For making a concerted effort to make the well-being of its workforce a priority – from free screenings to fitness challenges – Pennichuck Corporation has been recognized by Harvard Pilgrim Health Care of New England and NHBR as the most recent Health Innovator Award recipient.
Headquartered in Merrimack and incorporated in New Hampshire in 1852, Pennichuck Corporation became a utility holding company in 1983 and is engaged primarily in the collection, storage, treatment and distribution and sale of potable water in southern and central New Hampshire.
Q. In what ways does Pennichuck Corporation show its commitment to wellness, especially for its employees?
A. With the support of our senior management team and the promise of the company's long term commitment, a group of enthusiastic employees established the Wellness Committee in 2013. Our Committee developed a mission statement that says it all: "Pennichuck's mission is to maintain a culture that promotes the physical and emotional well-being of our employees and their families. Our effort is to support healthy lifestyle choices by increasing access to relevant information and creating opportunities for personal and occupational betterment."
The key to our success was understanding what was important and of interest to our employees. In the fall of 2013, a stress management seminar was offered through our Employee Assistance Program. In the winter of 2014, our focus was on physical fitness. In the spring of 2014, nutrition was our focus. In the summer, we continued building our holistic wellness platform by focusing on cancer prevention.
Throughout the year, both our company newsletter and our wellness bulletin board have provided tips, tricks and ideas to support a healthier lifestyle. We have continued to offer training in first aid, CPR and the use of defibrillators. In the fall, we offered flu shots and sun damage screening, and the nutrition program, Weigh to Go, is already half way through the 8-week program.
Q. In what ways has Pennichuck Corporation taken small steps towards promoting wellness in the workplace that have already made, or have the potential to make, a big difference?
A. The small steps we have taken each quarter have led the company on a more holistic path to wellness. We knew from the beginning that the key to our success was sustaining momentum. We have learned that not every program we offer will work for every employee and that certain programs are more attractive to employees at certain times of the year. If something does not work, we refocus and move forward.
Q. Why is an emphasis on health and wellness so important to Pennichuck Corporation and the work that you do every day? How does it set your organization apart?
A. Like other companies today, Pennichuck is confronting rising health care premiums and legislative changes. While this was the initial impetus to establish the program, the enthusiasm for wellness has caught on for a number of our employees. For those who have become involved in the programs, it has made the work day more fun!
Q. If you had to convince another organization to develop a similar wellness program for its workforce, citing only one benefit of doing so, what would it be?
A. If you make a difference in just one person's wellbeing, it is a major accomplishment. We held a sun damage screening that uncovered a potential skin cancer issue for one of our employees. That person would never have considered going for care without the screening. Several of our employees and their families are attending our on-site evening nutrition program, Weigh to Go, and are reviewing what and how they eat to increase their vitality and their health, while the baskets of fruit that are offered make healthy eating more accessible. You never know what will make a difference.
"Harvard Pilgrim is honored to present the Health Innovator Award to Pennichuck Corporation for the wide variety of wellness initiatives they have established for their employees and families. Promoting small changes in their employees' every day health and offering innovative education programs has clearly made an impact on the entire company's desire for total wellness, both today and in the future."
– BETH ROBERTS, Senior Vice President, REGIONAL MARKETS HARVARD PILGRIM HEALTH CARE