Health Innovator Award: Northern Human Services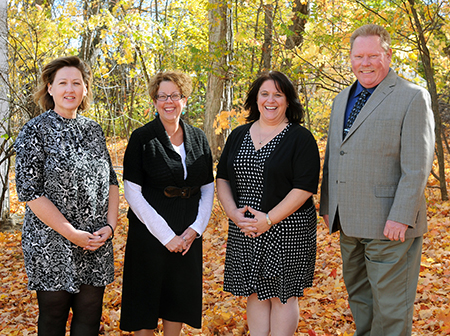 For its unwavering dedication to employee health and wellness, Northern Human Services has been recognized by Harvard Pilgrim Health Care and NH Business Review as the most recent recipient of the Health Innovator Award.
Northern Human Services provides professional support and services to people affected by mental illness, developmental disabilities, substance abuse, acquired brain injury or related disorders.
The organization serves residents of Coos, Carroll and Grafton counties of New Hampshire, and has facilities in Colebrook, Littleton, Berlin, Conway and Wolfeboro.
Q: What types of wellness programs does Northern Human Services offer to employees to keep them healthy? When and why did you begin implementing these programs?
A. We have offered several different types of programs over the years to increase awareness. In 2007, it was about awareness and education, inviting employees to consider their wellness efforts in a new light. That involved things like fitness, nutrition challenges, sharing wellness information in the form of a newsletter and healthy recipes.
Next, we created programs that allowed for tracking fitness and encouraged activities that offered incentives. We wanted to find a way to tie together wellness, health insurance and the bottom line. To do that, we offered a cash rebate for getting certain wellness checks, such as an annual physical and blood pressure and cholesterol checkups. To help accomplish this, we set up wellness fairs with biometrics on-site. This incentive piece has evolved and changed over the years to keep up with the environment and employee's interests. We have also utilized outside vendors for walking challenges and other wellness-related events and initiatives.
Q: What are the benefits of providing these initiatives for your workforce? What has the response been like from your employees?
A. We have seen everything from dramatic weight loss, better nutrition choices, adopting new lifestyle and fitness habits, trying new sports, improving and adopting healthy cooking and eating habits, to changes impacting the families of employees. It's wonderful and so empowering that it has become part of the regular dialogue here at Northern. We have so many people who go for walks or runs during lunch, or work out before or after work. And I have seen food choices changing throughout the agency. Certainly there is always room for improvement, but we have made significant strides toward helping employees take their wellness journey into their own hands and joining in along the way at whatever level they are comfortable participating.
Of course, it impacts our lives in so many ways, such as better choices, reducing stress and sleeping better – which ultimately allows us to better serve the individuals with whom we work with every day. It is so common to see folks in the human service industry doing a great job at taking care of others; we want to remind employees that it is also important to take care of ourselves.
Q: What advice would you offer to other organizations on how to go about implementing an employee wellness program, and why is it worthwhile to do so?
A. First, I would say it is a huge undertaking and you need to know your workforce and have a realistic approach. You have to take steps towards changing the culture and that takes time. It's great to have a vision, but it's impossible to change the culture overnight. We had a stepped process starting with awareness and education, moving through to incentivized participation programs. In addition to the overall impact the changes can have on wellness and ultimately the health insurance claims, it lets employees know that you care about them and their health, and with all that employees need to juggle in this day and age with work-life balance issues, it's good to know that we can help on this front.
It most definitely is worthwhile because when you feel healthy and strong (mentally and physically), you can tackle just about anything!
Q: Do you plan to expand your health offerings for employees? If so, what are your plans and goals for the future?
A. We would love to expand our offerings; there are always challenges to doing that, including having limited resources within a nonprofit environment, which is why we welcome partnering with Harvard Pilgrim and their commitment to wellness. We are always looking for ways to keep employees interested in participating in wellness initiatives, looking for new ways to share information and to educate people and expose them to new possibilities. As each year passes, we are encouraged by employee participation and enthusiasm, which keeps us excited to enhance, engage and grow the program even further.
It is our goal to continue to reach out to staff who are at different places along their wellness journey, keep the dialogue going and be identified as a culture that takes care of ourselves as well as doing an outstanding job of taking care of the individuals we serve in our communities. Wellness is a journey that doesn't have a finish line.
---
"We are thrilled to recognize Northern Human Services for their commitment to the health and wellness of their staff. They have provided quality care throughout the community, and it is inspiring to see that same level of care for the full wellbeing of their employees and their families. Harvard Pilgrim is honored to partner with them on their incredible journey."
– DR. WILLIAM BREWSTER, VP OF NEW HAMPSHIRE REGIONAL MARKET, HARVARD PILGRIM HEALTH CARE