Health Innovator Award: Merchants Auto Group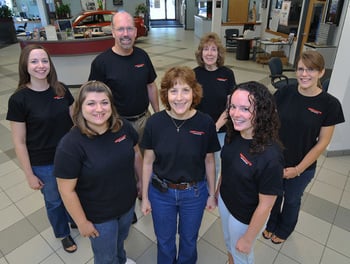 For its commitment to creating a culture of health through its unique wellness programs for employees, Merchants Auto Group has been recognized by Harvard Pilgrim Health Care of New England and NHBR as the latest Health Innovator Award recipient. Merchants Auto has been a leading new and used car dealer in the region of Hooksett, Manchester, Concord and Nashua for almost half a century.
Q:What types of wellness programs does Merchants Auto Group offer to its employees in order to keep them healthy and demonstrate how important their wellbeing is? When and why did you begin implementing these programs?
Merchants' commitment to wellness began in 2005, with a vision to earn the reputation as an employer of choice by providing traditional and leading-edge employee wellness programs that meet employee needs and interests, and that help employees change their behavior. Our goal is to enhance the health and wellness of our employees by helping them improve their physical, mental and emotional wellbeing. The company also established a wellness committee with employees from various departments. Lastly, strong support was provided by senior management, which was vital to the success of the wellness initiative. At the beginning of each calendar year, the wellness committee develops a monthly schedule of activities which are driven by the aggregate Health Risk Assessment results and areas of interest. These include exercise programs, a smoking cessation program and many others.
Q: What are the benefits of providing these wellness initiatives to your employees? What has the response been like from your employees?
The benefits of a strong wellness program include a healthier and more productive workforce, a greater commitment and loyalty to the company, heightened morale, and greater attraction and retention. Employees enjoy the wellness programs as they are educational, informative and fun. They are offered during the day, which makes them accessible and convenient. They also provide a social connection for many employees who may not otherwise have an opportunity to get together with their coworkers. The wellness programs are part of the culture at Merchants, as it is a financial commitment that the company makes each year to its employees. The response by employees to the wellness programs has been very positive. In the most recent employee survey in 2010, employees rated the wellness programs as very beneficial (5.4 out of a score of 6.0). Employees value the opportunities that they have at work to improve their health. In fact, many of the ideas for wellness programs have come from employee suggestions. This employee engagement has made the Wellness at Merchants program very unique and successful.
Q: Do you have plans for introducing any new wellness-centered initiatives in the workplace going forward?
Merchants is always looking to offer new and interesting wellness programs to employees. Many of the programs offered to employees are the result of the Health Risk Assessment results, which identify the significant health risks that are prevalent for employees. Once these risks are identified, programs are developed to address them. The company will begin developing the wellness programs for 2012 following completion of the Health Risk Assessments later this year. Programs that are new and interesting will certainly be at the top of the list.
Q: What would your advice be to other companies or organizations who are considering putting wellness programs in action in the workplace? What is the value of doing so?
For those companies considering instituting a wellness program, I would recommend considering that the investment in wellness must be viewed as a strategic commitment to employees, and support for wellness initiatives must come from the "top" of the organization – senior-level support is vital to the success of wellness programs. Also, employee engagement is essential, and the organization must successfully partner with its health care carrier. Surveys should be periodically provided to employees for their feedback and suggestions, as many creative and fun ideas often come from employees, and wellness programs should be strategically provided based on specific health risks that affect the group. Programs that are new, creative and fun are important for the long-term success of the wellness initiative.