Health Innovator Award: Lakes Region Community Services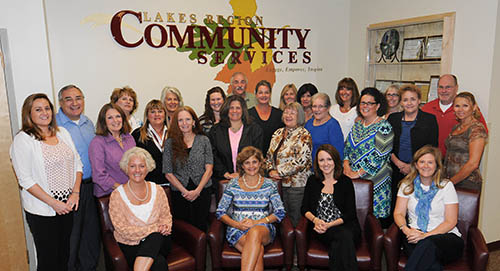 For demonstrating a strong commitment to wellness both in the workplace and the community, Lakes Region Community Services has been recognized by Harvard Pilgrim Health Care and NH Business Review as the most recent Health Innovator Award recipient.
Since 1975, Lakes Region Community Services has been an essential community partner, supporting individuals and families living with developmental disabilities or acquired brain disorders and providing community-wide family supports to enhance quality of life from birth throughout the lifespan.
Q. In what ways does Lakes Region Community Services exhibit its commitment to wellness, both in the workplace and for the families and communities it serves?
A. As part of its work culture, LRCS is committed to supporting the wellness and health of its employees and the people we serve. We encourage employees to take a break from work and go to the gym or for a walk. Our office parking lots, campuses and homes are smoke-free.
This past year, we started an initiative with LRGHealthcare to offer case management for employees or their family members who were experiencing a health crisis to help them obtain local support. It was a beneficial resource and created more effective communication and collaboration, leading to positive outcomes.
Last October, we held an Employee Health and Wellness Fair, where employees had an opportunity to meet with a variety of health and wellness practitioners, ask questions, participate in health screening tests and more.
Each fall, LRCS sponsors Miles for Smiles, a 5K run/walk in Plymouth with proceeds benefitting dental care for adults with disabilities, and each spring we sponsor a community-based Walkathon for the LRCS Autism Center Many of our employees and individuals we serve participate in these events.
Q. How did the idea to implement wellness programs originate? What improvements have you seen in your work environment and culture over time as a result?
A. Our leadership has long been committed to promoting a culture of wellness and is a proponent of exercise, healthy eating and worker safety. We understand that working in a nonprofit, with people who have support needs, can be emotionally and physically draining. A focus on wellness helps some deal with daily stresses, and for others helps them stay in shape to meet the physical demands of their job. When our employees focus on their own wellness, they also educate the individuals we support about important healthy lifestyle factors. We have seen a reduction in the length and numbers of workers compensation cases due to this focus.
Q. Why is an emphasis on health and wellness so important to Lakes Region Community Services? How does it set you apart?
A. As a comprehensive family-centered human services organization, supporting health and wellness initiatives is an important part of creating a caring work culture. It makes our employees feel better and when a person feels good emotionally and physically, then they are better employees and more gratified with their work and employer. We send a message of 'We Care' to our employees and their families by making health and wellness a priority.
Q: Are there any new wellness initiatives on the horizon that you plan to incorporate in the near future? If so, what impact do you hope to see?
A. In September we are holding our Employee Appreciation Day, with an on-site nurse available to offer free flu shots. Moving forward, we plan to incorporate some new training and classes on mindfulness and healthy cooking on a budget. We are also working on offering on-site and increased partnership opportunities with local gyms.
All of our ongoing efforts are aimed at helping our employees to feel better physically and emotionally, experience less illness and injury and appreciate that health and wellness support is a benefit of working at LRCS.
"Harvard Pilgrim is proud to recognize the health and wellness efforts of Lakes Region Community Services. They have shown a commitment to continuously increasing beneficial support to their employees, which in turn, extends healthy measures to their home lives." – BETH ROBERTS, SVP, REGIONAL MARKETS, HARVARD PILGRIM HEALTH CARE