Health Innovator Award: Hitchiner Manufacturing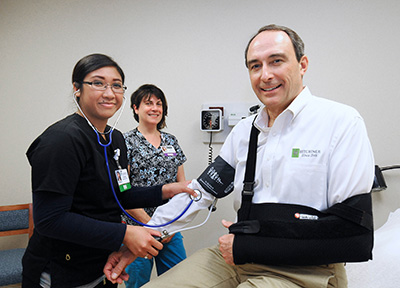 For leading the way when it comes to offering outstanding health and wellness programs for employees, Hitchiner Manufacturing has been recognized by Harvard Pilgrim Health Care and NH Business Review as the most recent Health Innovator Award recipient.
Founded in 1946 and headquartered in Milford, Hitchiner Manufacturing Co., Inc. is the premier supplier of complete-to-print, high-volume, complex thin-wall investment castings and fully-finished casting-based subassemblies and components to industry.
Q. What makes Hitchiner Manufacturing an outstanding company to work for when it comes to health and wellness?
A. For over a decade, Hitchiner has been committed to improving the health and wellness of not only its employees, but its employees' spouses and dependents. Hitchiner goes well beyond simply making health care available to employees as a health insurance benefit.
Q. How and when did you begin offering health and wellness related initiatives/benefits for your employees?
A. Hitchiner's health and wellness initiatives have existed for more than a decade. Initially, the company's interests originated from a review of de-identified aggregate claims data. We found that Hitchiner's insured population was less healthy on average than the insurer's total insured lives, which was having an adverse impact on renewal premiums. As internal management discussions progressed, support for improving the health and wellness of our employees and their families gained significant traction, transitioning from managing health care costs to offering health and wellness benefits as a differentiator from an employer of choice perspective.
Q. What has been the biggest positive outcome or change in your workforce as a result of these offerings?
A. Although there are too many variables to measure outcomes, the benefits to an employer to have a healthy workforce (and healthy families) are well established in the medical community. I think what is most noticeable to employees is the company's sustained commitment to providing health and wellness initiatives. Although these vary in any given year, what has not varied is that initiatives and incentives are offered. The variation encourages employee engagement, avoiding the risk of any one initiative becoming stale. Consistently increasing utilization of the company funded Health and Resource Center, independently staffed and operated by Foundation Medical Partners, a wholly-owned subsidiary of Southern New Hampshire Health System, where employees, spouses and dependents can obtain free and convenient care, is probably the greatest indicator of positive outcome.
Q. Do you plan to add more wellness initiatives in the future?
A. Hitchiner continues to vary and add initiatives. We have been a tobacco free campus since 2008. We also help employees and their families achieve their personal health and wellness goals by providing free and convenient on-site healthcare at the Hitchiner Health and Resource Center opened in October 2011. We provide annual physicals, free flu shot clinics, labs, biometric screenings, weight loss assistance and smoking cessation coaching, to name a few.
This year, with Harvard Pilgrim Health Care's support, we will be able to identify risk factors through health risk questionnaires and focus on those areas for the Annual Wellness Program, which offers a fitness reimbursement, Fall Walking Challenge and online workshops for various topics that provide staffed information tables at lunch and breaks for health care education on a variety of topics.
We are quite proud of what we've been able to implement at Hitchiner for the benefit of the health and wellness of our employees and their families. While not everyone takes advantage of the offerings, we do see an increasing trend each year. We are grateful to John H. Morison III, the company's chairman, president and CEO, for his vision and ongoing support of these initiatives for the betterment of the health and well-being of our employees and the community at large.
"Harvard Pilgrim is thrilled to recognize our partner, Hitchiner Manufacturing, for their commitment to the health and wellbeing of their employees. From providing onsite health care services, to a variety of wellness programs, Hitchiner has created an innovative work environment that provides the resources for their employees to reach their health goals."
– DR. WILLIAM BREWSTER, VP OF NEW HAMPSHIRE REGIONAL MARKET, HARVARD PILGRIM HEALTH CARE
NHBR's Health Innovator Awards Program, presented in partnership with Harvard Pilgrim.