Health Innovator Award: HCS Services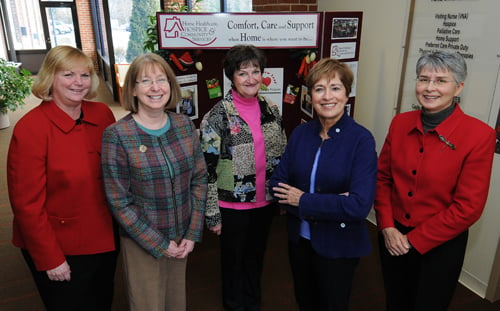 For extending its mission to provide services for health and wellbeing not only to those it cares for but also to its own employees, Home Healthcare, Hospice and Community Services (HCS) has been recognized by Harvard Pilgrim Health Care of New England and NHBR as the most recent Health Innovator Award recipient.
HCS Services is a not-for-profit visiting nurse and hospice based out of Keene that has been providing comfort, care and support to clients at home since the first visiting nurses started in the Peterborough area in 1907. More than one hundred years later, HCS is a unique organization serving southwestern New Hampshire communities with comprehensive nursing and therapy services that help accelerate recovery after hospitalization and provide independence at home for those who are chronically ill. HCS also provides a broad array of wellness programs, adult day services, nutrition programs and transportation.
Q. As a health care organization, health and wellness are engrained in your organization's culture and in the work you do every day. Why is it important to extend this mentality beyond those you serve, to your own employees?
A. We are the experts in providing services that support wellness and independence for people in the community, and that community includes our HCS staff members.
We also want our employees to be role models to our clients and in the community. They will be more effective in teaching about healthy choices if they are modeling these healthy behaviors. Our efforts are part of the larger vision in this community, Vision 2020 — an initiative to become the healthiest community in the nation by the year 2020. HCS is an Organizational Champion in the Vision 2020 effort; being part of this larger goal is energizing for our employees.
Supporting health and wellness for our employees is also good business for HCS as an organization. Improving the health of our workforce improves productivity, morale and employee satisfaction, and reduces sick time and staff turnover. Plus, it helps to contain health insurance costs.
Q. What types of health and wellness programs and initiatives do you offer to your workforce? Which have had the best reception?
A. Our workforce is very diverse, and includes nurses and therapists who travel to make home visits as well as office workers who are sitting at a desk. Our Wellness Committee reflects the diversity of our workforce and is designing programs to meet a wide variety of interests and needs. Our current initiative is a walking program to prepare our staff for participating in our Healthy Start 5K Walk/Run in June. Harvard Pilgrim is supplying the pedometers. This community-wide race is a fundraiser for our Maternal and Child Health Program.
The most well-received initiative is our annual Health Fair, which offers free biometric screenings.
Employees receive individualized explanations of their test results and recommendations for lifestyle changes that can be effective in lowering their risk for chronic disease. The Health Fair also features information and vendors that help employees to implement the changes recommended.
HCS also offers two yoga and aerobic exercise classes on site each week. The classes are at no charge or reduced fees for employees. In addition to physical exercise options, opportunities to "De-Stress at Your Desk" are on the HCS intranet, and an annual Spa Day features mini massages and relaxation technique classes.
Q. If you could choose any wellness-related program to implement within your organization that you don't already have in place, and cost or time were not factors, what would you choose and why?
A. We would like to have healthy lunches to be eaten on site with co-workers or as take-out for our field staff. This would encourage healthy eating and provide examples of nutritious meal and snack options to our staff, who are always on the go.
Q. Some people hold the view that the health and wellness of employees or individuals in general is their own responsibility. What would you say to challenge this?
A. The cost of chronic health issues and health risk behaviors impact all of us as a society, and certainly impacts us as an organization. Offering wellness options to our employees improves our bottom line by improving our employees' productivity, and hopefully reducing the rising cost of insurance and health care utilization.
More importantly, as a health care provider we are acutely aware of not only the financial impact of chronic health problems, but also the emotional toll this takes on the individual and their family members.
"Harvard Pilgrim is proud to recognize Home Healthcare, Hospice and Community Services for their commitment to supporting healthy options for their employees in their individual work environment. HCS has implemented a variety of innovative health programs that raise the standard for employee wellness throughout New England."
– BETH ROBERTS, SVP, REGIONAL MARKETS, HARVARD PILGRIM HEALTH CARE