Health Innovator Award: Fidelity Investments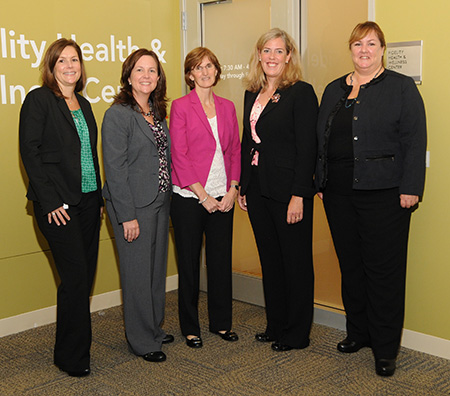 For its dedication to providing a market-leading, innovative and engaging health and wellness program that promotes and encourages associates' healthy lifestyles, addresses risks, and provides tools to manage conditions, Fidelity Investments has been recognized by Harvard Pilgrim Health Care and NHBR as the most recent Health Innovator Award recipient. Based in Merrimack, Fidelity provides investment management solutions and expertise to a diverse set of customers. Privately-held, Fidelity employs 41,000 associates (5,400 in New Hampshire) who are focused on the long-term success of their customers and making financial expertise broadly accessible and effective in helping people live the lives they want.
Q: What was your organization's goal in developing a wellness program for employees? How was the idea born and what was the implementation process like?
A. Our Well for Life program is focused on:
Maintaining and improving healthy eating among associates
Maintaining and increasing physical activity among associates
Maintaining a healthy weight
Knowing and managing biometric results
Building resiliency and managing stress
The Well for Life program features numerous resources, including healthy dining, fitness centers, health and wellness centers, mindfulness meditation calls, free health screenings and health and wellness fairs.
Fidelity offers market-leading health and wellness programs, including comprehensive health care, Health Savings Accounts and an incentive program to help associates and their families lead well-balanced and healthy lives.
We use data from these programs including participation, risk, and employee satisfaction to continue to develop, improve and advance our market-leading programs.
Q: What are some positive changes you've seen in the workplace or feedback you've received from your workforce as a result of your wellness offerings?
A. We are witnessing new highs in our health and wellness engagement scores across the firm. This can be attributed to the number and predominance of wellness-focused communications and information that is more accessible now than in prior years. It also represents the culmination of years of work educating, building infrastructure and creating demand.
Associates are engaged in wellness in ways we've never seen. We are regularly asked to provide speakers focused on wellness for Business Unit off-sites, regional events and Employee Resource Group meetings.
We're also seeing our associates share stories, celebrate successes, and motivate each other as they participate in—and see results through—our programs. This strong culture of wellness is reflected in the increase we've seen with on-site Fitness Center memberships, on-site Health & Wellness Center appointments, healthy dining meal cafeteria purchases, as well as physical activity and biometric health screening tracking and participation.
Q: What are your most popular wellness initiatives currently? What kinds of incentives are offered to employees who participate?
A. Fidelity's Health Incentive Program is offered to associates and their spouses/domestic partners, providing them with the ability to earn up to $500 (single)/$1,000 (employee + spouse/domestic partner) annually towards their medical plan contri-butions for engaging in wellness programs throughout the year.
One of the more popular is our Healthy Dining initiative. Fidelity subsidizes all healthy items in the onsite cafeterias up to 60 percent off local market value. Associates are also incentivized to choose healthy options in the cafeteria by participating in a rewards program where the fifth healthy meal is free after purchasing four. These programs demonstrate the significant commitment to ensuring what is offered onsite represents Fidelity's commitment to employees being Well for Life.
Another popular program is our weekly 15-minute Mindfulness Meditation calls. The program was so popular last year that it has been expanded in 2015 to include global associates, spouses and dependents, and is now offered twice a week.
Q: Are there any new wellness initiatives in the works that you'll be adding to the programs you already offer? Have you seen a demand for more of these programs or more variety?
A. In 2015, we will update our technology infrastructure which will include enhancements to our Fidelity Café nutritional content being made available through the myFitnessPal app. We will also implement employee badge scan technology in our cafeteria to allow associates to buy food with their corporate badge.
We have recently piloted a new seven-week Mindfulness Meditation Program to guide associates on how to increase mindfulness when it comes to managing stress, daily life, relationships, communication, gratitude and forgiveness, and awareness of body.
We will implement a national physical activity challenge in 2015 as a result of a successful physical activity pilot last year in our Midwest region. The challenge will encourage employees to track their physical activity in a fun, competitive and social environment.
"Harvard Pilgrim is honored to partner with Fidelity Investments for their dedication and advanced health and wellness programs. Their modern and innovative programs have certainly raised the bar in employee wellness for the nation." – BETH ROBERTS, SVP, REGIONAL MARKETS, HARVARD PILGRIM HEALTH CARE